Featured
From Saltburn to San Diego and back again – Dale Smith is bringing the North home
Dale Smith is a man on a mission. A mission to transform the way the North East is seen – and sees itself. His company, The SDDE Smith Group, of which he is founder and chief executive, owns a portfolio of property-related businesses, all tied up with the overriding aim of making the region a better place to live, work and stay. Here, North East Times meets the man putting the North back on the map.
Dale Smith, the 34-year-old face behind The SDDE Smith Group, always had ambition.
But, for a long time, that ambition had a sporting, rather than business, bent.
After a broken leg halted a promising football career – he played for Middlesbrough Football Academy from the ages of eight to 13 – he turned to golf, which took him on a transatlantic journey.
"After I broke my leg, I took up golf and, by age 16, I played my first game for England Boys," reveals Dale.
He says: "By 18, I was England Boys captain, and it was then that I got the opportunity to attend the University of San Diego (USD), in California.
"I knew I wanted to go to one of the South West or South East coast cities, so when I started speaking to Tim Mickelson (the younger brother of Open and Masters-winning golfer Phil), who was the head golf coach at USD, I knew I had found the right place for me.
"In fact, Tim and I are still very good friends today and stay in close contact.
"I loved my time in the US, and San Diego really is one of the best cities in the world.
"Playing Division One Collegiate golf and studying at one of the top universities in the US was very demanding, and our typical weekly schedule would be golf practice at 7am to 9am on a Monday and Wednesday (which was a 30-minute drive away), followed by classes for the remainder of the day.
"Tuesday and Thursday would be workout at the gym at 6am, followed by classes until lunchtime and then golf all afternoon.
"There would then be some night classes too.
"A Friday and Saturday would be spent travelling to a tournament, and sometimes Sundays were even taken up with this, depending on where in the country the tournament was being held."
Despite his love for the country, staying in the US wasn't a practical option for a number of reasons, and Dale returned to the UK in 2010 to take up a role with Vertu Motors on its graduate programme.
He says: "I actually wanted to stay in the US at the time of returning to the UK, but it was 2010, mid-recession and there weren't many opportunities for visa sponsorships from US businesses at that point.
"I had been given the opportunity with Vertu, and I decided to take it.
"That's what got me into the automotive industry and set my corporate career direction for the following eight years."
The sector was a familiar one; Dale's father had always worked in the automotive industry and one of Dale's first jobs, in his early teens, was washing cars on the forecourt.
Unable to progress as quickly as he'd like with Vertu, Dale soon followed his father to Peter Vardy Limited, where he took a position as a marketing executive in Scotland.
He says: "It was very much linked to my dad taking a role within that business at the time, but the chief executive Peter Vardy took me under his wing, and I progressed really quickly.
"I was 21 when I joined Peter Vardy Limited, and I was given a board director role at 25, as aftersales director.
"I left as commercial director in 2017, at age 29, at which point the business was turning over around £600 million."
It was during his corporate career that Dale started investing in residential and commercial property with his father, which ultimately sparked the desire to move into property full–time – and the creation of The SDDE Smith Group – in 2017.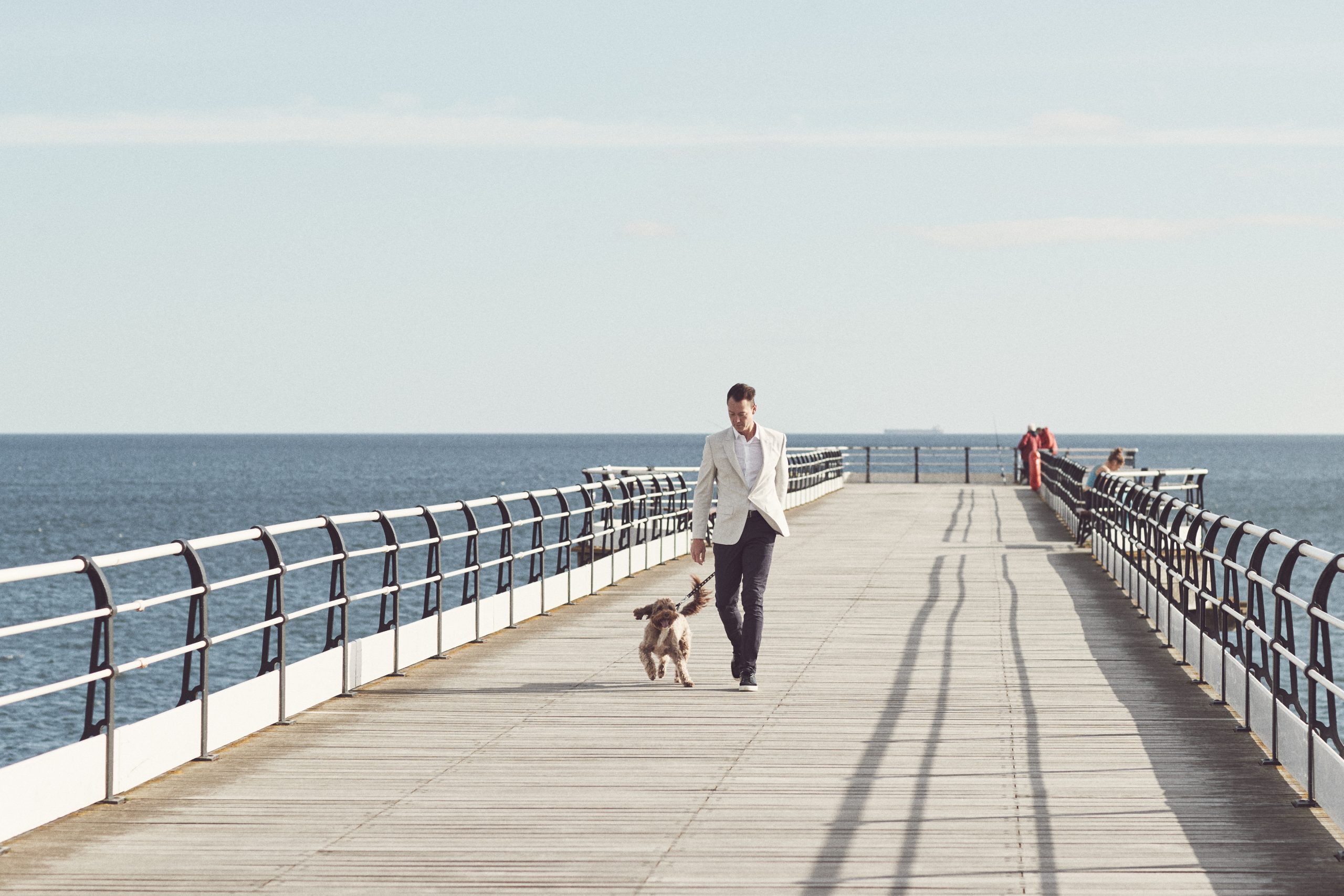 He says: "There was no single goal or single vision.
"It was more that I had a passion for property and wanted to create something of our own.
"The SDDE Smith Group actually started out as 'pension style' investments into buy-to-let residential property, before moving into commercial property in 2015.
"In 2017, we bought our first holiday home rental in our hometown of Saltburn and that sparked the real momentum, as we realised the increased revenue and returns we could generate from a holiday let property, so that then became one of our main focus areas.
"By the end of 2018, we had nine holiday homes owned or under management, and at that point we felt it was time to launch a dedicated holiday home brand, which is when Host & Stay was set up.
"Since then, our other brands have all evolved from providing services to our Host & Stay clients.
"A client would purchase a property and then not know how to design and furnish the property in order to maximise the income potential, so we would do that for them.
"We now have a dedicated interior design business, Styled Interior Design, that carries out not only holiday home projects, but also commercial projects, hospitality projects and domestic design too.
"We have followed that same pattern with the launch of our conveyancing business, Grey-Smith Legal, and then our construction business, WOODSmith Construction Group, which now operates in both the residential and commercial sectors."
And while Dale maintains there was no overarching plan for the business, one goal was clear – to make a mark on the North East.
He says: "There was no master plan or certain target or figure to hit; the journey so far has been an evolution of client services, and continued investment into long–term property assets.
"Since setting up the business, we have developed goals such as annual revenue targets and profitability targets, but it's now shifted higher than that and we've got a wider purpose, which is to make the North East a better place to live, work and stay."
Key to this is providing job opportunities across the region, something The SDDE Smith Group is doing in abundance.
Dale says: "Our teams are our biggest assets, and the current 220–plus colleagues we have in the group today are what allows us to deliver on our objectives and our purpose.
"To ensure we continue to engage our colleagues, we have quarterly line management retreats, hold a Summer Soirée for all colleagues and host an annual conference in December, where we celebrate the business, our colleagues and look to the year ahead."
And as for the North East, what is it about the region that has such a hold on Dale?
He says: "I love that we have everything on our doorstep in the North East – from some of the best beaches in the UK, to magnificent countryside and some great towns and cities.
"Personally, my favourite spots are Saltburn, Durham, Tynemouth and the North Yorkshire Moors.
"There is also so much opportunity in the region at the moment, and it's really exciting to play a part in it."
His vision has ensured The SDDE Smith Group is not only putting the North East on the map – it's putting itself on there too, with an ever-expanding portfolio of businesses coming one after the other.
This desire to move quickly, to strike while the iron is hot, comes from the most valuable piece of business advice Dale ever received.
He says: "Peter Vardy once said something along the lines of, he would always rather have a fast start and be two laps ahead of everyone else in the race, so if the wheels did come off, he would still have time to put them back on again and come out ahead.
"That has always stuck with me, and has driven the philosophy of first mover advantage in our business.
"We don't wait for the perfect plan. We make a plan, we launch, we go at pace, and we refine as we go.
"I'm also a big believer in saying yes and making your own luck through taking opportunities when they're presented."
Dale adds: "In building our business, we have always listened to our clients' needs and provided solutions to those needs, even if at times we had no idea about what the solution was going to be when we did say yes.
"Don't be afraid, say yes and get stuck in – you never know where it could lead."
LinkedIn: The SDDE Smith Group