Observations
Tackling stress and cultivating resilience in today's workforce
At the forefront of mental wellbeing and ED&I solutions, Hebburn-headquartered ed-tech firm eQuality Solutions Group (eQS) is all for driving positive change in the North East business community. Here, chief executive Andy Gough reflects on the challenges faced in today's workplace environment with particular focus on an action plan designed to tackle stress and cultivate resilience in the workforce.
Speak to anyone in business, and they'll tell you the word of the moment is resilience.
It has been our driving force throughout the pandemic. Still, as we navigate the tricky waters of post-pandemic life and move beyond 'Freedom Day', what can we do as business leaders to support and refill our employees' resilience reserves?
We're living in a new age of wellbeing awareness.
We understand more than ever the impact that stress and trauma can take on our bodies.
We've realised the importance of being present and living in the moment, eating healthily and making time to move.
Yet despite our awareness, it seems like we are more stressed than ever before. In light of the COVID-19 pandemic, many people have experienced heightened stress levels from health anxieties to lack of job security and even feelings of isolation and loneliness.
As business leaders, we need to pave the way for supporting our employees, helping them with practical stress management and resilience-building strategies that allow us to improve the workplace environment and create stronger teams, ultimately helping us achieve our business goals while also taking care of our people.
Why do we need to boost resilience more than before?
At the beginning of the month, The Guardian shared data from the National Centre for Social Research (NatCen) that revealed people working from home and living alone are experiencing the most significant increases in mental distress and loneliness.
Working in isolation has become commonplace across all sectors, markets and geographies as those that can work from home have been advised they should during the pandemic.
I took a poll on LinkedIn to gain some insight into whether people really felt like their stress levels had been affected in the workplace by the pandemic.
Results showed a resounding 83 per cent of votes landing on 'yes'.
I then took a second poll to see if workplaces had been implementing new strategies to support stress and resilience; 71 per cent said yes new strategies had been implemented, which is very encouraging. However, 14 per cent said there were no new strategies.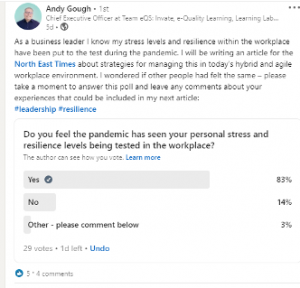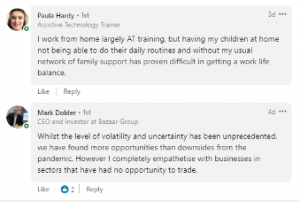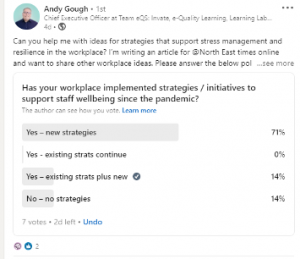 We should not underestimate the instinctual need we have as human beings to feel part of a tribe, and the sense of community driven by our workplaces is one that has been sorely missed throughout the pandemic.
When our teams work together, they feel safe, supported, secure, and connected (no Sunday night fear!)
At eQS, the majority of our staff currently work remotely. However, in line with restrictions easing recently, we have also said if staff would prefer to work in the office, particularly in support of their mental wellbeing, they can.
This still must be carefully managed with social distancing so that everyone can work together safely.
While many of us look forward to the opportunity to return to a sense of workplace normality, there are still many employees apprehensive about returning.
Many of those employees are those whose health anxieties have increased since the start of the pandemic and are now feeling reluctant to re-enter the workplace readily.
The topic of the moment seems to be, 'do you want to return to the office, work from home or a hybrid approach?'
These conversations always see mixed responses, but the majority of votes seem to land on hybrid.
Balancing flexible working and supporting individuals in their return to work, particularly those anxious about the office, is the current dilemma facing business leaders.
If we are to have a strong, secure economy moving out of the pandemic, we need healthy, resilient teams who can make agile decisions that help us move forward.
A three-point action plan for reducing stress and boosting resilience
Tackling this dilemma head-on means creating an action plan.
The physical environment is one part of that plan – at eQS we have installed clear desk dividers, we have created directional pathways and used signage to display messages about rules for social distancing.
We also have supersized tubs of antibacterial wipes and hand sanitiser in every area of the workplace.
However, the other part of the plan, the part I am talking about here, is an action plan to support the non-physical environment that can impact stress and resilience – the intangible side, which is often a lot trickier.
Here is our current three-part plan, which may help to spark ideas for other business leaders:
Communication is key
The business landscape is unpredictable, and the only way through it is to maintain an open and honest dialogue with staff.
Where possible, offer reassurance regularly that both the business and jobs are secure. If the business needs to pivot, keeping the team informed and engaged reduces unnecessary stress.
At eQS, we conduct daily stand-ups to quickly disseminate messages group-wide by 10am every day and we also hold 'all hands' meetings every couple of months to get together as a united team.
Set the right tone with company culture
One of our brand values is 'Be Fearless': we encourage people to be innovative and to not be afraid of making mistakes in doing so.
The culture we have means mistakes are acceptable, as long as you learn from them.
You can't be innovative and fearless without accepting that mistakes can happen.
And of course, this approach also relieves stress because our team knows they're not in trouble when mistakes happen. We just don't accept making the same mistake twice; continuous learning is another of our values.
Equipping teams with the right tools and training
We are implementing a complete wellbeing strategy across our entire group.
This includes a number of measures from appointing mental health first aiders, surveying staff to hear their opinions and launching new wellbeing at work policies.
One of the key tools we have found that supports resilience specifically is our digital mental wellbeing platform, Learning Labs.
Not only can staff learn about mental wellness and assess their own mental wellness, but they can also undertake labs that teach techniques for developing resilience. For example:
What is mindfulness?
Techniques to practice mindfulness
4-7-8 breathing techniques to relieve stress
How to avoid rumination
Our HR team also has an admin login to track anonymised group wellness progress. This insight means we can adjust our action plan if needs be, while anonymisation respects employees' privacy.
In my reflection on this journey to better supporting our workforce, I've learnt that providing the appropriate framework for wellbeing starts with knowing your team and understanding their stressors, and resilience is ultimately all about empowering staff to feel secure and well supported as best as possible.
Moving rhetoric into action to affect positive change
In my next article, my focus is going to be on the key issues we are taking action on in our workplace and why.
This idea of taking action beyond awareness was something I touched on in my previous article on supporting neurodiversity in the workplace. Next month, I'll be looking at this in a much broader sense.
Click here to connect with Andy on LinkedIn and join the mental wellbeing and inclusivity conversation.