Tech & Trends
Baltic Apprenticeships 'will continue making real difference to lives' after outstanding Ofsted report
A training provider has vowed to "further bridge the gap between education and employment" after its support was rated outstanding.
Baltic Apprenticeships says it will continue making "a real difference to learners' lives and employers' skillsets" following high-level praise from industry watchdog Ofsted.
The Darlington-headquartered operator was commended for service delivery across areas including quality of education and behaviours and attitudes, with inspectors hailing senior management's "extensive knowledge of the labour market" and "close working relationships with external stakeholders".
The business, which began in a Hartlepool-based portable cabin in 2006, offers apprenticeships in IT, digital marketing, software development and data analysis, and works with national names such as Asda, Red Bull and Hotel Chocolat, and local firms including Bondgate IT and ITC Services.
Tony Hobbs, managing director, said: "This is a monumental accolade, which we could not have achieved without the continued hard work, dedication and passion of the entire team.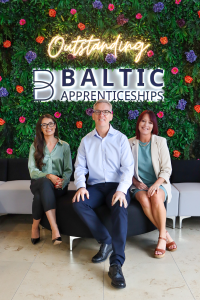 "Our focus on tech and digital apprenticeships isn't just about generating job opportunities, it's about creating solid career foundations and building the skills modern businesses need."
Brooke Urwin, chief operating officer, added: "In 2010, we made the decision to focus solely on providing tech and digital training in response to the UK's emerging digital skills gap.
"Now, 13 years later, we have solidified our place as tech and digital experts, receiving high praise from Ofsted for our technical expertise and highly qualified coaches."