Ideas
The B Corp community: balancing purpose and profit
On May 26, the North East's B Corp community met to celebrate the launch of B Social, a community of people using business as a force for good, a new kind of business that balance purpose and profit. The aim of the North East B Social was to build a collaborative network that want to have a positive impact on their team, community, environment and customers. Graham Purvis, managing director of

Robson Laidler

, and Mandy Barker, founder and creative director of Sail, reflect on the collective momentum of the regional B Corp community
Can you tell us a little about B Corp Certification?
Mandy Barker: Certified B Corporations, or B Corps, are companies verified by B Lab to meet high standards of social and environmental performance, transparency and accountability. It is a global community of businesses evidencing their impact with an aim to do better. Larger organisations include the Guardian, Ben and Jerry's, Patagonia, and Danone. There are now over 4,600 B Corps in 78 countries and covering 155 industries. Over 700 of them are in the UK (and growing). It is for people, business and communities that want to make change, that want to make the future that little bit better and want to connect with like-minded people.
Graham Purvis: The overriding ethos is the envisioning of a global economy that uses business as a force for good. This economy is comprised of a new type of corporation – the B Corporation – which is purpose-driven and creates benefit for all stakeholders, not just shareholders. In order to become a B Corp, you go through a rigorous, comprehensive and rewarding assessment of your business across 5 pillars – Governance, Workers, Customers, Community and Environmental – through which you have to achieve a score of more than 80. B Corp Certification is unique because it measures a company's entire social and environmental performance. From supply chain and input materials to charitable giving and employee benefits, B Corp Certification verifies that a business is meeting high standards of social and environmental performance, transparency, and accountability.
What does it mean to you and the wider team in the business?
Mandy: Sail have always stood for social purpose but I wanted to bring further accountability to our practice and decisions. I asked the team what the commitment to B Corp accreditation meant for them – 'accountability, and the pride in constantly pushing ourselves to be better in all of the key areas for sustainability'; 'being a B Corp shows that we are not resting on our morals, we are acting on them!'; 'the B Corp accreditation acts as a both a professional and personal ethical compass which guides and reinforces our decision making. It also sets a standard and encourages other businesses to follow the same route which brings a sense of comfort that like minded nurture thinkers are making progressive change in the world'; and 'transparency and creating real value and impact for our clients and ourselves alike'. So an overwhelmingly positive view on the power of B Corp status.
Graham: For us, becoming a B Corp meant joining a global community of over 5,000 businesses and leaders with a shared belief that business can be a benefit for the world and for the people who live in it. Becoming a B Corp was the manifestation of our purpose as a business – 'to make a positive difference to peoples lives'. This purpose is intrinsically engrained in our DNA as a business, and so for me it means everything in all that we do. We are a purpose-led, people centric business and in terms of our wider team, one of the B Corp impact assessment pillars is 'workers', which means we pay close attention to the positive impact we have on our people. We hope that our commitment to doing business differently will be an inspiration to others and promote the idea that we can redefine success in business to be as much about making a positive difference to people and planet as it is about profit.
What is the first step for businesses looking to start their B Corp journey?
Graham: I first heard about B Corps in a book called The Business of Good, and after working on defining our purpose as a business becoming a B Corp fell naturally as one of steps to demonstrate that purpose. So, for me I would say the first step is to look at your 'why' as a business – and understand the purpose of your organisation. Once you have established that, and if you feel B Corp resonates, then head over to the B Corporation Impact Assessment (BIA) online. Even if you don't decide to progress with the certification, the BIA will provide you with a useful framework to aid you in your journey to better business.
Mandy: The first step is to take the B Corporation Impact Assessment (BIA). This is free, anyone can do it, even those that have no intention of going through accreditation. It provides a useful roadmap and tool to start measuring and improving performance. To become B Certified you must earn at least 80 points out of 200 on the assessment across the 5 key impact areas which are; Governance, Community, Workers, Customers and Environment. Our top tips would be to go into the assessment prepared with: your brand mission, vision, purpose and values; information on your team, salaries, benefits and review process; latest accounts; breakdown of revenue and products/services; P&L statement; information on your customers and their impact; supplier information; and any policies that exist around impact areas.
What are your short and long-term aspirations for building a B Corp community in the North East?
Mandy: SMEs account for 99.9% of the UK economy. Imagine if 30% of them started to lead with purpose over profit. It would have a huge impact in the region. For workers, society, the planet. We must keep talking about the responsibility of businesses if we want to carve a more equitable, equal and sustainable future. Sail started in 2016 with a purpose of social change. The ethos hasn't changed but I knew we had to evidence what we were saying – actions speak louder than words.  It isn't about being perfect (we're certainly not!), it isn't even about the title of B Corp, it's about questioning decisions and implementing micro changes and actions that benefit greater society. I want to see the conversation happening across all spaces and sectors, about what else we can do to push for change, about what we say no to, about what we say yes to. Clearly communicating core values and what you stand for is key to any business that wants to thrive, retain and attract talent, and be sustainable. Purpose is no longer a 'nice to have'. B Corp is just a helping hand towards strengthening this positioning. It's a win win.
Graham: Our most challenging problems cannot be solved by governments and non-profits alone. By harnessing the power of business, B Corps commit to positively impact all stakeholders – workers, communities, customers, and our planet – so longer term it is about growing the number of B Corps in the region. With Mandy Barker at Sail Creative (a fellow B Corp) we have already hosted our first social event for those locally who are interested in B Corps and what that means. We had a fantastic turnout and are already planning our next event! It's initially about raising awareness of B Corps and the ethos behind it, and encouraging local businesses to follow the same path. We will talk, listen and encourage other businesses to join the movement and help them on their journey too. I know there are a number of other local organisations who are going through the process currently and we will have double figure B corps in the region by the end of 2022. For us as a business being a B Corp is a long-term journey and we are only just at the start of that journey, so our short-term aspirations are about making incremental changes that will make the biggest impact. We'll aim for the low hanging fruit from our Impact Assessment focusing on the areas that we can do better.
How can businesses be a force for good, in both little and big changes?
Mandy: 'Do the best you can until you know better. Then when you know better, do better.' Maya Angelou. Like I said, it isn't about perfection, it's about constantly reviewing and checking your impact. This isn't easy – we are all heads down running a day-day business, but zooming out can give clarity of where you are going. Little changes lead to big changes. If you start the impact assessment (or an impact assessment from another initiative), the rest will follow. A clear roadmap will be put in place and hold your business accountable. It isn't necessarily easy, but it's the right thing to do – and as I said, will soon be the inevitable thing to do for climate change, a fairer, more equitable world and businesses that want to thrive.
Graham: Even the smallest actions are a step in the right direction. If we all try, even with micro actions; together we can build a fairer, more sustainable and prosperous region. As Howard Zinn an American historian and socialist thinker said: "We don't have to engage in grand heroic actions to participate in the process of change. Small acts when multiplied by millions of people can transform the world."
Robson Laidler
i. Want to make a positive impact? As the first North East business to certify as a B Corp – awarded to businesses that balance purpose and profit – we're passionate about sharing our story and helping other like-minded businesses to reach their goals and join the movement. To find out more about B Corp, read our monthly 'Positive Difference' blogs, full of inspiring and uplifting positive stories – www.robson-laidler.co.uk/b-corp/
Sail
i. Getting a B Corporation Certification is a rigorous process and I keep getting asked about our experience, so we have shared some insight on a wider scale. This is a blog on how we moved through the process. Read more on the Sail blog, here – www.sailcreative.co.uk/b-corporation-process-how-it-works/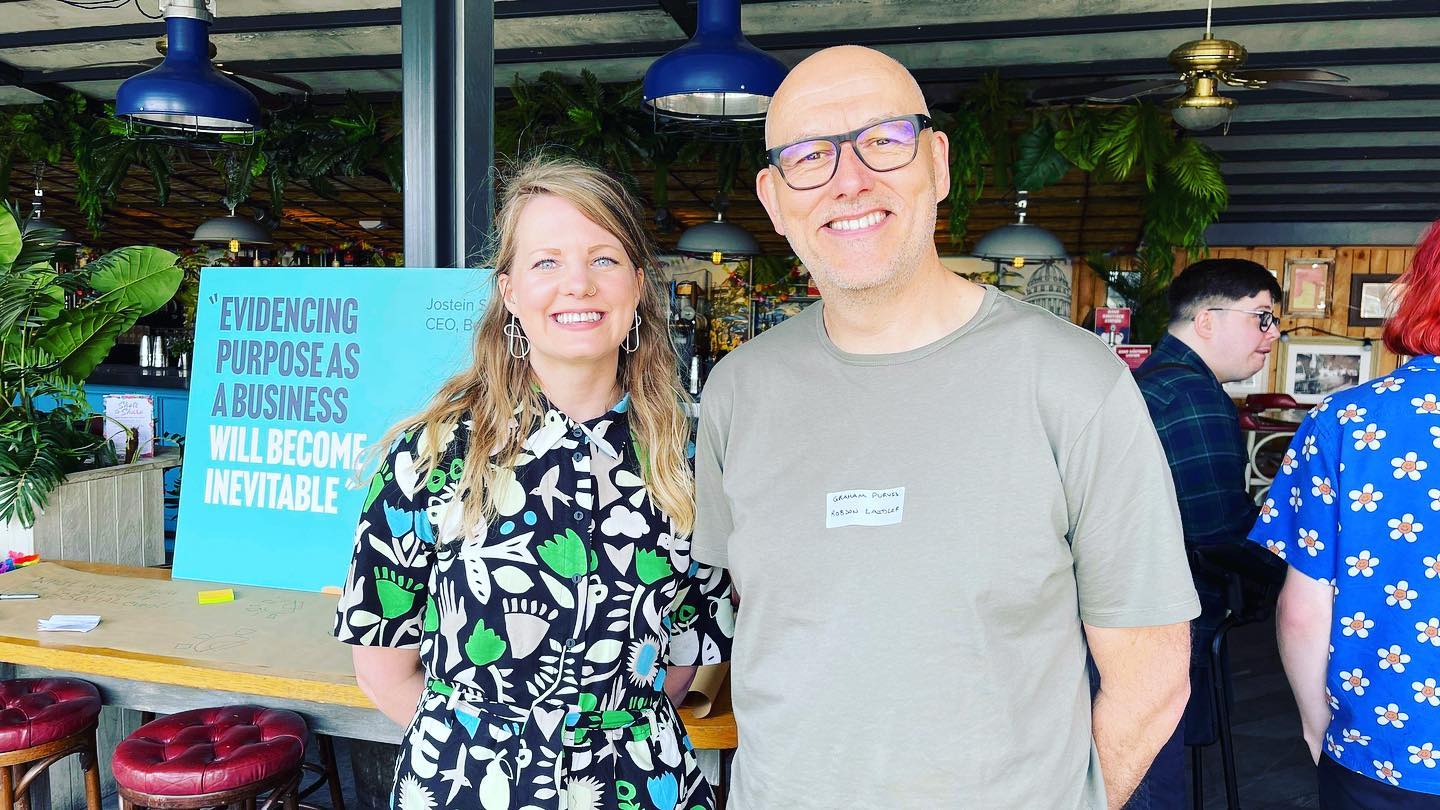 Robson Laidler and Sail are already planning the next B Social event in the region, which will be held in the Autumn. For more information, email Gemma Graham at Robson Laidler – ggraham@robson-laidler.co.uk