Build & Sustainability
£1 billion Teesside green fuel project gets minister approval
A Saudi Arabian firm behind a "ground-breaking" £1 billion Teesside energy development has had its blueprint receive the Government's seal of approval.
Alfanar Group's venture to turn waste into aviation power at a base in Billingham, near Stockton, was given the thumbs-up by Business Secretary Kwasi Kwarteng during a site visit.
Alfanar says it will create 240 full-time jobs and support more than 700 construction posts at a new factory, which will turn waste into aviation power.
Work on its plant is expected to start next year.
Bosses say it hopes to become the first company in the UK to produce sustainable aviation fuel from waste at scale, adding the fuel has the potential to produce 80 per cent less greenhouse gases than fossil equivalents.
Alfanar was previously awarded £2,417,500 by the Government, as part of its Green Fuels, Green Skies competition, to take forward the project, which will convert household and commercial waste.
Mr Kwarteng said: "The investment announced by Alfanar is a huge vote of confidence in Teesside, the local workforce and the North East as a chemicals and processing powerhouse."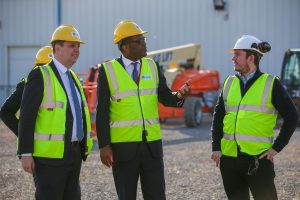 Tees Valley Mayor Ben Houchen, said: "Alfanar's investment in Teesside has cemented our reputation as the global go-to place to develop the clean energy technologies of the future.
"Whether it is developing hydrogen as a fuel of the future, leading the way in carbon capture and storage, or producing ground-breaking clean energy technology, Teesside's scientists and engineers are at the forefront of net-zero innovation."
Mishal Almutlaq, Alfanar's chief information officer of development, added: "We are proud to be part of the UK's journey to become a leader in clean aviation, bringing quality jobs to its industrial areas as well as developing know-how in a sustainable and innovative industry."