Business & Economy
£2 million investment turns iconic Newcastle building into North East first
Following its recent acquisition of the former Café Royal building in Newcastle, MCM Group has unveiled plans for a further investment in excess of one-million-pounds to transform this iconic landmark into a brand new hybrid office concept, the likes of which has never been seen before in the North East.
Designed for an evolved, post-pandemic business world, 8 Nelson Street combines the comfort of working from home with a collaborative social hub, wellness facilities and the high-end interior of a chic boutique hotel.
Unlike traditional offices, the development will be fully fitted-out and features informal working spaces, a fitness studio, lounges with refreshment areas, a private roof terrace, meeting rooms, internal cycle storage and showering facilities, all set across six floors.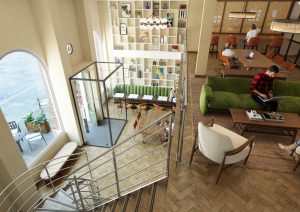 Available from Q2 in 2022, 8 Nelson Street will offer a wide range of office sizes, from a single floor (1,144 sq. ft.) to the entire building (8,569 sq. ft.).
An extensive renovation of the Grade II listed building is currently underway, with Knight Frank and Sanderson Weatherall having been appointed as joint letting agents.
Douglas Cranston, Investment Director, at MCM Group, which is developing the property, explains: "We have designed a coming-to-work experience like none other available on the North East market right now.
Jen Bernard, founder and MD of Bernard Interiors commented, "8 Nelson Street will offer a stylish and unique working environment, combining carefully considered design details with function, comfort and flexibility. The scheme will be a very exciting addition to Newcastle city centre – we're looking forward to fitting out early next year."