Business
Action over awareness – diversity and inclusion in the workplace
At the forefront of mental wellbeing and ED&I solutions, Hebburn-headquartered ed-tech firm eQuality Solutions Group (eQS) is all for driving positive change in the North East business community. Here, chief executive Andy Gough reflects on the need for action over awareness, sharing where eQS is taking action in the workplace and why.
There's an awareness day now for just about everything.
A cursory glance on Google shows the UK now acknowledges almost 80 different awareness days raising public awareness on a range of diverse topics such as cancer and diseases to hobbies and interests.
Awareness days can be an effective tool for challenging beliefs and bringing conversations into the workplace and wider society through the visibility they shed on issues, conditions and belief.
But aside from just raising awareness, what is really the purpose of all of these awareness days and do they really serve the communities they were created for?
Are awareness days really enough these days?
Personally, I think the time for awareness, on its own, is over. What we need from businesses is for them to take action.
What does action over awareness look like?
June is now widely recognised and celebrated as Pride Month for the LGBTQ+ community in most societies across the globe.
Pride month promotes the community's dignity, equal rights, self-affirmation and is a way of increasing society's awareness of the issues they face.
A glance around the business community and the temporary transformation of logos with the Pride rainbow in June showed there are many brands now raising awareness of Pride.
But I have to wonder, how many of those brands took meaningful action to ensure their LGBTQ+ employees felt adequality supported in the workplace?
Action over awareness looks like taking steps to address biases in your hiring process, it's about having an honest look at the culture and even the people who are at management and even board level in your business. And if these individuals don't reflect the diverse team you'd first imagined having, it's then about having honest conversations at board level and taking real steps to implement practices that make hiring a diverse team and supporting them actionable, and not just an idea.
Action over awareness is about difficult and challenging changes for some businesses. You may have seen the recent news of our acquisition of EW Group as part of our ongoing buy-and-build growth strategy.
Established 29 years ago, EW Group provides consultancy and training services to a range of public, private and not-for-profit organisations, helping them to build fair and inclusive working cultures, and tackle discrimination in the workplace, including racism and sexism.
The past couple of years have not only seen a global health crisis but also an awakening regarding social issues. Social movement campaigns such as 'Black Lives Matter' and 'Me Too,' as well as the Government's push for diversity at board level and Gender Pay Gap reporting requirements, have all brought to light key social issues.
How much do businesses really value diversity? 
A step towards taking action over awareness is starting to develop truly diverse teams.
Business leaders are listening and investing in ED&I and mental wellbeing strategies, not only because it's the right thing to do, but also it has been proven that diverse and inclusive workforces perform better.
In their 2020 Diversity Wins report, McKinsey and Co found that 'companies in the top quartile for gender diversity on executive teams were 25 per cent more likely to have above-average profitability of outperforming others' and that teams with higher diversity in ethnicity consistently outperformed.
My recent poll on LinkedIn asked my friends and colleagues in the business world to share where they are on this journey, and I was delighted to see a lot are already taking action or planning to do so.
However, a third of respondents professed to needing some help in this area.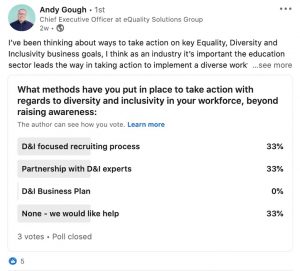 Actionable steps for businesses
McKinsey and Co's 2020 report concluded that businesses require both a systematic approach and bold actions to strengthen inclusion. To conclude this month's piece, I've shared some of my own thoughts that we are currently exploring to which I feel other North East businesses could consider to take a pragmatic approach to taking action over awareness.
Partnership with a charitable organisation which aligns with your values to achieve your goals
This year we saw the return of Skittles' limited edition white sweets, with the message that Pride is the only rainbow that really matters in June, and donations made from sales towards LGBTQ+ charities.
As a brand, Skittles is trusted within the LGBTQ+ community, ranking as second on Gay Times' list of brands committed to Pride in the research Pride Over Pinkwashing. This is certainly not a case of 'pink washing'.
One of the suggestions I'd make for any business looking to take action over simply raising awareness is to look for specific charitable organisations to partner with. Look at how you can support grassroots communities and make a real difference to people. We will be asking our teams what local charities are important to them as we consider this initiative.
Build a better business plan to support ED&I
Support for ED&I needs to start at the top, with buy-in from board members and a shared understanding of the need for representation at all levels.
An initial step would be to look at your current management and board members and recognise where there is a lack of representation. As McKinsey and Co suggest in their report, 'companies should focus on advancing diverse talent into executive, management, technical and board roles'.
Implement new recruiting practices
Recruitment can be a strong tool, alongside supporting existing staff advancement into management positions.
What is crucial is that we don't see positive discrimination, in which an individual from underrepresented groups is appointed to a role without the proper qualifications or merits, creep into our recruitment processes.
We need processes that remove bias from recruitment decisions, choosing the right candidate for the role, but ensuring that roles are made attractive to underrepresented groups in order to attract diverse candidates and encourage applications
Communicate flexible, supportive staff packages and benefits
Do you advertise your maternity packages alongside duties when you advertise roles? Are you making potential applicants aware of flexibilities or supportive packages that are tailored to neurodivergence that provide them with the tools and environment to do their best work?
If not, that may be the pointer to why we aren't attracting a diverse team, and it's time to rethink how we advertise and communicate what benefits and support packages we offer to teams in order to attract diverse employees.
Develop an inclusive environment in your workplace
It goes without saying that people should feel as though they can be themselves in the workplace.
But developing an inclusive environment at work is vital and the responsibility falls on the shoulders of us, as business leaders.
As McKinsey and Co suggests, 'managers should communicate and visibly embrace their commitment to multivariate forms of diversity, building a connection to a wide range of people and supporting employee resource groups to foster a sense of community and belonging.'