Business & Economy
Ad Gefrin reveals first whisky as it counts down to £14 million distillery and museum opening
A whisky maker has launched its first drink ahead of a £14 million distillery and museum opening.
Ad Gefrin has unveiled Tácnbora.
Bosses say the whisky, which translates as 'standard bearer' in Old English, will "pave the way for its gin and single malt in years to come".
Its launch builds on work to create a distillery and museum in Wooler, Northumberland, which Ad Gefrin says will "reveal the fascinating history of Northumberland's Anglo-Saxon 'Golden Age'".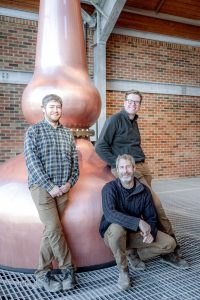 Celebrating the launch of its inaugural whisky, Ben Murphy, director of distilling, said: "Tácnbora features Scottish and Irish whiskies, reflecting two of the peoples that would have made up the Anglo-Saxons of Northumbria (Scottish, Irish, English and Scandinavian)."
Ad Gefrin's distillery and museum is scheduled to open in early 2023.