Business & Economy
Armah Switchgear on growth trail after Washington factory move
A power systems firm has its sights on a staff surge after shifting to new premises.
Armah Switchgear has moved to Hillthorn Business Park, in Washington.
Bosses say the base will help the company bolster its workforce by half across the next three years, with its factory expected to be operational by late autumn.
Founded in 1991 by Alan Hawkins and Andrew Mayo, the 64-staff firm provides power systems for major construction projects around the UK, with work to support Tyne Bridge floodlighting matched by schemes on The Shard and Everton Football Club's Goodison Park.
And Alan says moving to the £80 million, Legal & General-backed Hillthorn Business Park – in the process leaving behind nearby Glover Industrial Estate – puts it well placed to continue its success.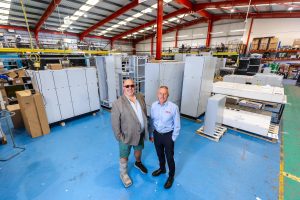 Alan Hawkins, Armah Switchgear co-founder, right, with Councillor Graeme Miller, leader of Sunderland City Council
Alan said: "We're desperate for space and the move to Hillthorn will allow us to double the factory floorspace.
"It's a really good location and is only about 500 yards from the site we're on now."
The company received support from Sunderland City Council's business investment team to secure its new home.
Alan said: "We've been looking for premises for about five or six years, but there's such a high demand for factory space in this area.
"Sunderland City Council knew what I was looking for and flagged Hillthorn Business Park as a potential option."
Councillor Graeme Miller, leader of Sunderland City Council, added: "Armah Switchgear is a great example of a Sunderland company having a big impact on national industry.
"It is a real success story, and I look forward to watching it grow from its new site."