Business & Economy
Beanies brews up for success with PD Ports partnership
A coffee maker is full of beans following a landmark delivery.
Beanies Flavoured Coffee has received its first direct Indian shipment.
The operator worked with PD Ports to secure the Chennai-exported cargo, with the load arriving at the distribution firm's Teesport hub.
Bosses at Darlington-based Beanies, which makes and sells a range of flavoured coffees, say the tie-up is much more "efficient and convenient" than previous arrangements.
Mark Stangroom, sales and marketing director, said: "Having this shipment arrive in Teesport is great for us as it's so close.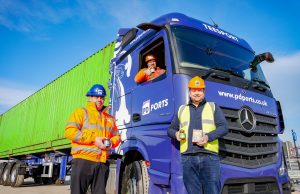 "Last time, this shipment was delivered to London, and we then got it transported to us.
"It really highlights the amenities we have on our doorstep in the Tees Valley, and how the region plays such an important role in imports and exports."
Geoff Lippitt, PD Ports' chief commercial officer, added: "We are delighted to be providing the logistics and transport services for another fantastic local company.
"We respect and admire the determination of smaller and emerging businesses such as Beanies, which are the foundation of industry in the Tees Valley.
"As the region's largest private employer, we have a responsibility to play in supporting the growth of SMEs, and are wholly committed to supporting the local supply chain."