Business & Economy
Boxer turned investor's 'dream comes true' with £250,000 gym deal
A 'rags to riches' national boxing champ turned property investor has gone back to his roots with a £250,000 deal.
Grant Brotherton has completed a "dream come true" agreement for the gym that launched his career in the ring.
The former England schoolboy titleholder says the move will allow him to repay a community that gave him so much as a youngster.
Citing the influence of the gym's former owner, known as Mr Crick, Grant says he is relishing the prospect of helping others take the path to success, using the lessons he learned in the squared circle and his experiences of overcoming drug addiction, alcoholism and a suicide attempt.
He said: "My adversity in life has been matched with the tenacity to get back up, no matter how many times you are knocked down – just like in the boxing ring, as my coach taught me.
"I remember when my family couldn't afford my £30 a week boxing academy fees, and Mr Crick offered my dad a job and gave me weekend work.
"A gym member also gave me £100 to buy the kit I needed.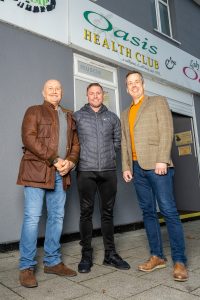 Grant Brotherton, centre, with Robson Laidler Accountants director Martin Wardle, right, and former mentor Mr Crick
"Their help allowed my family to send me to the International Boxing Academy, and I went on to captain England and received ten England vests, along with two national schoolboy titles, as well as turning professional in mixed martial arts.
"Without those kind gestures, I would not be the man I am today.
"I am so gratified to be buying the gym building from the very man who helped me become a better person."
Grant received financial and tax advice from Robson Laidler Accountants, in Jesmond, to secure the deal.
Director Martin Wardle said: "It was a pleasure to help Grant with his dream of buying the very building that made such an impact on his life and contributed to his success.
"The gym is built on strong foundations, and we are confident it will maintain positive financial health."