Business & Economy
Britishvolt agrees factory deal to support Northumberland development
A company behind an 3000-job Northumberland vehicle battery factory is opening a sister £200 million-plus base.
Britishvolt has agreed a deal for a West Midlands plant.
Bosses say it will allow the business to "rapidly ramp up cells that are production ready to be made in larger volumes" at its factory in Cambois, near Blyth [pictured above].
The firm expects its under-construction Northumberland plant, expected to open in 2024, will make around 300,000 batteries every year, creating 3000 direct jobs and up to 5000 supply chain roles.
Paul Franklin, Britishvolt property director, said: "This is another important milestone.
"I am delighted to see Britishvolt lead the UK's journey into re-industrialisation with the first full-scale battery gigaplant.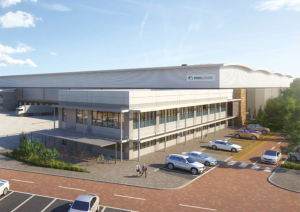 "The new scale-up facilities [pictured above] will help the UK build on its homegrown battery intellectual property and level up the country ready for the energy transition."
The announcement comes after Britishvolt last week agreed a €36 million takeover of Monbat Group's German-based subsidiary EAS.
The company says the move for the battery cell maker "underscores its drive and determination to offer best-in-class solutions to customers".
EAS has more than 25 years' experience of developing and producing large format cylindrical lithium-ion battery cells, with its apparatus used globally across the aerospace and defence, marine and automotive sectors.
It also works with NASA.