Business & Economy
Council reveals first look inside Darlington's new £8.3 million Innovation Central
Council chiefs have provided the first glimpse of an £8.3 million office development they say will strengthen a town's place as a "key player in the life sciences sector".
Work is nearing completion on Darlington's Innovation Central, which will provide office and laboratory space for start-ups and small and medium-sized firms (SMEs).
Based on the town's Central Park business and education hub, the venture will sit alongside Teesside University's National Horizons Centre bioscience building, the institution's Darlington campus and innovation firm CPI.
And Darlington Borough Council bosses have hailed its potential, saying it will "stand out to both new and established businesses looking for a place to grow".
The project has been jointly funded by Darlington Borough Council, the European Regional Development Fund and the Government's Getting Building Fund.
It has also received £3.55 million from Tees Valley Mayor Ben Houchen and Tees Valley Combined Authority.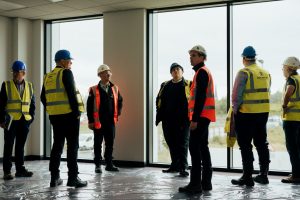 Councillor Jonathan Dulston, leader of Darlington Borough Council, said: "Innovation Central is a great addition to Central Park, and is another step forward in our long-term strategy.
"It is first-class, and I look forward to welcoming its first tenants."
Councillor Alan Marshall, cabinet member for economy, added: "Central Park is going from strength-to-strength and becoming a real hive of activity.
"It is also in a prime spot for any start-ups looking to make the most of Treasury North coming to Darlington."
The positivity was echoed by Mayor Houchen.
He said: "Central Park is already one of the jewels in the crown of our life sciences sector, and Innovation Central will provide top-quality space for even more innovative SMEs."
Innovation Central will be operated by North East BIC, which already oversees the neighbouring Business Central office block.