Business & Economy
'End the rhetoric and hand North East powers to shape its destiny', IPPR North warns Government
The UK is more regionally divided than ever, with Government policy undermining its so-called levelling-up agenda, according to new think tank findings.
IPPR North says that despite numerous pledges, Downing Street's flagship regeneration programme is failing the very people it aims to support, with ministers "missing in action".
According to its State of the North report, the area is missing out on major investment and job creation.
It says the Government-controlled Levelling Up Fund allocated just £32 per person in the North in 2021, with every job created dwarfed by the creation of nearly three in London and the South East.
Furthermore, it says in-work poverty increased in the North from 3.4 million people in 2009/2010, to 3.5 million in 2019/2020.
Such metrics, says IPPR North come despite the area demonstrating its potential – with the region responsible for generating 51 per cent of England's renewable energy stocks.
Speaking to North East Times, report author Amreen Qureshi [pictured below] said the "country is more regionally divided than ever" and urged the Government to end its bombastic approach.
She also called for further powers to be devolved to regions such as the North East, to allow local leaders the chance to dictate investment and regeneration programmes.
She said: "Rhetoric about levelling-up is high, but the Government has been missing in action.
"Centralised funding that doesn't match previous pots of money it replaces, patchy regional investment, a decade of cuts in local government spending and lack of a coherent system of devolution are having a negative impact, reducing the opportunities available to people living in the North East.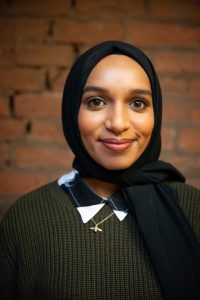 "That's why levelling-up is urgent – but it cannot be delivered by central government alone.
"Despite all this, there is reason for optimism.
"Communities, local authorities, mayors and businesses across the North East have been levelling-up for themselves in innovative and brilliant ways.
"This can be seen through the rise of social enterprises, as companies find ways to run businesses that give back to communities; through community and resource centres, offering residents in some of the most deprived parts of the North East support to find jobs and lead healthier lives; or through citizen's assemblies on climate change, led by the North of Tyne Combined Authority.
"Northern excellence should be fully unlocked – but for this to happen, central government must let go of power, shifting it from Whitehall and putting it into town halls across the North East."