Business & Economy
Entrepreneur Rez delivers Go NokNok to 'revolutionise' parcel sector
An entrepreneur has launched a service he says could "revolutionise" parcel delivery.
Rez Gachcar has created Go NokNok.
Operating as a "post office on the side of your home", he says the venture – which can be managed through an app – will help reduce a national £2 billion package and parcel theft bill.
Planning to roll the product out nationally, he aims to attract at least 1000 subscribers in the first 12 months of its launch.
Rez said: "People are having to make journeys to the post office or an Amazon locker for parcels while, at the same time, millions of packages a year are going missing because they are dumped in a bin or by the side of a property.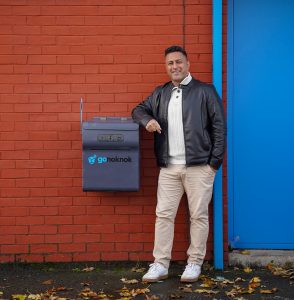 "This is the perfect solution to those problems, and the feedback we've had is that it's going to revolutionise the industry," said Newcastle-based Rez, whose portfolio also includes the Mud Daddy portable pet washing device.
He added: "It means no more trips to the post office or delivery depot with a car stuffed with packages.
"If you are an Etsy trader, you can safely leave packages for collection, and if you are selling some unwanted items on Vinted, then this is perfect too, as it means no more annoying journeys to your nearest depot.
"And it also means less petrol, which helps the environment."