Business & Economy
Firefighter backs psychotherapist behind a new approach to mental health
An experienced firefighter – diagnosed with PTSD and depression following years of exposure to traumatic incidents – is backing plans for a new North East mental health centre.
Daniel McManus has backed Forest Hall psychotherapist and social enterprise Changing Minds with Pick up a Penny CIC founder Sara Young's blueprint to deliver increased support.
Her vision includes a commitment to create a network of mental health centres offering a broad church of pioneering psychotherapy techniques that include eye movement desensitisation reprocessing and neuro feedback.
The first centre, to support adults and children, is planned for Cramlington and has already received a positive reception from Northumberland County Council and a £90,000 deposit on the land with the promise of more from an anonymous businessman.
It follows support from Barclays Bank and Stephen Harrison, founder of brick maker Forterra, who has offered free building materials for the centre.
And Daniel – watch manager for County Durham and Darlington Fire and Rescue Service – has now added his backing too, following support he received from Changing Minds with Pick up a Penny CIC after a traumatic work experience.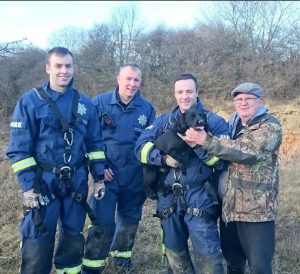 Daniel McManus, second from right
Things came to a head a few years ago when he helped a lady who had collapsed on the seafront.
The 38-year-old married father-of-two, from North Shields, received therapy in 2018 after his family and employer encouraged him to talk about his issues, retaining the services of a psychotherapist on Dan's behalf.
He's now channelled his experience of therapy and works as part of a team of active firefighters and corporate fire service staff who make up the volunteer trauma support team as one of the coordinators signposting others within the service.
He said: "We were first on the scene and administered lifesaving CPR that I continued in the ambulance all the way to the hospital, where shortly after arrival she was unfortunately pronounced dead.
"I'm not sure why this incident impacted on me more than others, most likely it was just one too many traumatic experiences, the last straw.
"I went back to the station and had a cup of tea feeling completely numb.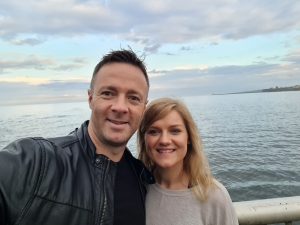 "I felt lost and without empathy or sympathy; I was on the run. I didn't want to be in a similar situation again and at my lowest point I was having suicidal thoughts.
"This went on for months.
"Changing Mind's With Pick Up A Penny CIC provided me with a route out from a very dark place."
Sara said: "We set up this social enterprise to offer an alternative mental health service for people of all ages.
"Mental health covers a plethora of presenting issues and I believe in an integrative approach.
"Our work often comes from people needing to engage at crisis point, when other services have either let them down, or not provided the therapy that individual needs.
"Often in more male dominated environments there can be issues with communicating, with emotions bottled up, which is particularly adverse when combined with trauma."
Daniel said: "The therapy I received has enabled me to understand that not talking about these things is not an option and can lead to suicidal thoughts or worse."