Business & Economy
FulwellCain submits plans for 'transformational' 8450-job Sunderland film studios
Plans for a "transformational" £450 million film-making complex have moved forward.
FulwellCain has submitted a blueprint to council officials for the Crown Works Studios venture, in Sunderland.
Tipped to create and support 8450 jobs, bosses say it will act as one of "Europe's largest facilities" and could annually generate as much as £334 million for the local economy.
Set for land at Pallion, they say the 1.68 million square foot scheme – named after the shipyard that once stood on the site – will include 20 sound stages for feature film and television productions.
If approved, work could begin next year and be completed by 2027.
The endeavour is led by global entertainment company Fulwell 73 – spearheaded by Sunderland-born Leo Pearlman alongside Gabe and Ben Turner, Ben Winston and TV star James Corden – and Cain International.
Leo, Fulwell 73 managing partner [pictured, below], said: "Sunderland City Council has shown its commitment to our plans with this application, and we have demonstrated ours too, with everything lined up and ready to go should we gain approval and get the support we need from the Government.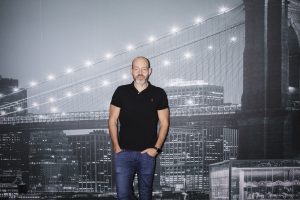 "This is a transformational plan that will reinvigorate not only the city and region's economy, but will represent a shot in the arm for the UK's creative industries and we are determined to do everything we can to ensure the impact of the studios are fully understood and supported."
Councillor Graeme Miller, leader of Sunderland City Council, added: "This represents an important step forward for the city, underlining our commitment to a scheme that will be just about the most ambitious catalyst for economic development seen for decades in the North East.
"It requires support, and that's clear, but – as a council, working with FulwellCain – we have absolutely thrown our weight behind this to ensure everything is lined up to make it a reality."