Business & Economy
Furniture firm Barker and Stonehouse 'thrilled' as £5 million Gateshead store 'opens new chapter'
A furniture firm says it has "opened a new chapter" in its near 80-year history after cutting the ribbon on a £5 million shop.
Barker and Stonehouse is now operating from a base on Gateshead's Metrocentre Retail Park.
The venture is the family-owned business' 12th main store, and was opened by actress Joanna Lumley.
Featuring a café bistro run by North East restaurateur Daryl Chadwick, the endeavour – based on the site of a former Snow + Rock outlet – also includes an events and co-working space known as The Nook, which will be used by designers, makers and interior and design influencers to deliver programmes for customers and the public.
James Barker, managing director, said: "While Barker and Stonehouse is a national brand with stores across the country, the North East is very much still our home, so we are thrilled to be investing in the region.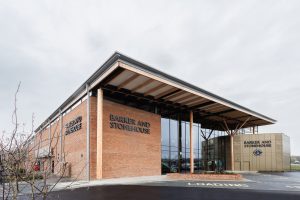 "The Gateshead store opens a new chapter and has some fantastic unique design features I'm hoping our customers will really enjoy.
"The store has been designed to be a really restful, organic space, and showcases some truly exceptional furniture."
The company was founded in Stockton in 1946, by James' grandfather Charles Barker and Alex Stonehouse.
It has since grown to employ more than 440 people, and has an annual turnover of nearly £100 million.
Alongside its 12 main stores, the firm operates two concept stores – in Fenwick's flagship Newcastle shop and Bentalls, in Kingston upon Thames – two outlet stores and four warehousing and distribution centres.