Business
Gap Group (NE) Limited helps celebrate REPIC recycling milestone
A UK recycling first has been marked by a national organisation boss' visit to a North East firm.
Recycling Electrical Producers Industry Consortium UK (REPIC) chief executive Louise Grantham toured Gap Group (NE) Limited's Gateshead base to celebrate the country hitting three million tonnes of recycled waste electrical and electronic equipment (WEEE).
Bosses say the figure is the equivalent of REPIC achieving the Environment Agency's annual target for all UK compliance schemes combined for six years running.
REPIC is a not-for-profit producer compliance scheme that works with members, such as Hoover and Panasonic, to ensure effective and compliant product recycling.
Officials say that is done in partnership with waste management companies like Gap Group, which recently became one of only two organisations with facilities in the UK to achieve WEEELABEX accreditation in recognition of it recycling all noxious gasses and associated materials.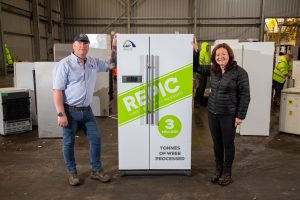 Peter Moody, group managing director, said: "The achievement of reaching three million tonnes of recycled WEEE is a real accomplishment and something the REPIC team should be extremely proud of.
Peter Young, Gap Group (NE) Limited's operations director, said: "We have worked well with REPIC for a significant number of years and hope our relationship will only get stronger as we continue to invest in new and improved technology."
Louise added: "We are proud of our achievement.
"We also recognise that significant milestones are not achieved alone but in collaboration with all of our partners.
"At a time when the recycling of e-waste has never been of greater importance, it is important to recognise what can be achieved when we work collectively."