Business
HMRC confirms major 9000-job Newcastle Pilgrim's Quarter office move
Thousands of civil service roles are moving to a city centre after bosses agreed a major office deal.
HM Revenue and Customs (HMRC) is switching to Newcastle's Pilgrim's Quarter.
Officials say around 9000 staff will be based at the nine-storey development, which will sit as part of the Government Hub network and operate as the largest of HMRC's 13 regional centres.
Confirmation of the deal comes after HMRC earlier this year revealed it was leaving its Benton Park View site.
Workers from that office, and a sister base in Washington, are expected to move into the Newcastle hub in 2027.
Councillor Nick Forbes, leader of Newcastle City Council, hailed the announcement as "fantastic news for Newcastle and anyone who has a stake in the success of the city centre".
He said: "Having a new development for 9000 workers in the heart of the city will be great for transport operators, retailers and the hospitality trade.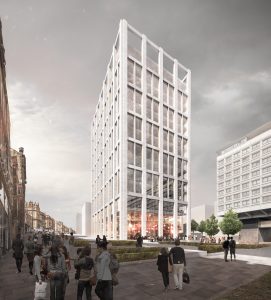 "It will not only boost our economy but bring huge social value to the city as it continues to be transformed after the pandemic.
"It shows confidence in our vision and the £50 million city centre transformation plan we launched earlier this year, and comes on the back of organisations like Home Group, Homes England, Monstarlab and others choosing the city as their first choice for attracting and retaining great people.
"All these developments will bring a huge economic stimulus, which is just what we need, and I wholeheartedly welcome it."
Jim Harra, HMRC's chief executive and first permanent secretary, said: "HMRC has had a longstanding presence in Newcastle and the wider North East.
"Signing the lease for the new regional centre is a clear demonstration of our commitment to the area, its economy and our employees."
Steve Barclay, chancellor of the Duchy of Lancaster, added: "Moving 9000 staff into one city centre site will deliver fantastic footfall for local businesses while also making the Government property estate greener and more efficient."