Business
JDR Cable Systems secures £130 million deal to build Cambois plant
A subsea cable maker is pressing ahead with 170-job factory plans after finalising a £130 million Government deal.
JDR Cable Systems is building a base in Cambois, near Blyth, Northumberland.
Bosses say the site – earmarked to open in 2024 – will expand the business' product range in the rapidly-growing global renewable energy market.
The company has been backed by a UK Export Finance Export Development Guarantee, from the Government's Offshore Wind Manufacturing Scheme.
Tomasz Nowak, JDR chief executive, said: "Now, more than ever, it's critical to push forward with the UK's offshore energy ambitions, and we are delighted to take this major step forward in delivering the new site at Blyth."
JDR's investment marks another significant boost for Cambois, with vehicle battery maker Britishvolt also building a plant on former Blyth Power Station coal yards.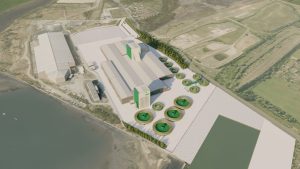 Reacting to the news, Jeff Watson, chair of regeneration organisation Advance Northumberland, said: "This is a fantastic milestone for JDR's investment into the county.
"The new facility will solidify our status as a leading investment location in the UK for renewable energy, as well directly contribute to the Government's net-zero agenda."
Alongside its Cambois expansion, JDR is spending £3 million on machinery at its longstanding Hartlepool base, which it says will boost production by nearly 25 per cent.
James Young, the company's chief strategy officer, added: "The energy transition will only accelerate, meaning more power from larger turbines, installed farther offshore and with higher voltage subsea cables to connect them.
"The North East is the ideal base from which to serve the largest offshore renewable energy market in Europe, and we're delighted to be able to announce these major investments in Blyth and Hartlepool."