Business
'Just the beginning' as work starts on £400 million SeAH Wind Teesworks plant
The start of work to create a £400 million Teesside wind turbine parts factory represents a "remarkable turnaround story" from a "jobs disaster", a senior Government minister has said.
Business Secretary Kwasi Kwarteng today (Thursday, July 7) hailed the beginning of construction on SeAH Wind's Teesworks plant as a "vote of confidence" that is "re-industrialising this part of the world".
Based on former SSI UK steelworks land – left idle since the firm's 2015 collapse – the 750-job base is expected to make up to 150 turbine monopiles every year when it becomes fully operational by 2026.
The hub – described as the largest of its kind globally – will sit alongside other energy-based developments at Teesworks, such as a Circular Fuels' waste-to-energy plant and the Net Zero Teesside Power carbon capture project, which officials say will put the region at the forefront of the global green revolution.
And Mr Kwarteng, who attended the ceremonial launch of SeAH's 1.13million sq ft factory as Prime Minister Boris Johnson announced his resignation, said its arrival, and that of the wider Teesworks scheme, represents a huge watershed moment.
He said: "I wouldn't have missed this for the world, despite what is going on in Westminster.
"SeAH Wind (and the other operators confirmed on the site so far) are re-industrialising this part of the world.
"What happened in 2015 was a disaster; 2000 jobs evaporated, and the future was very uncertain.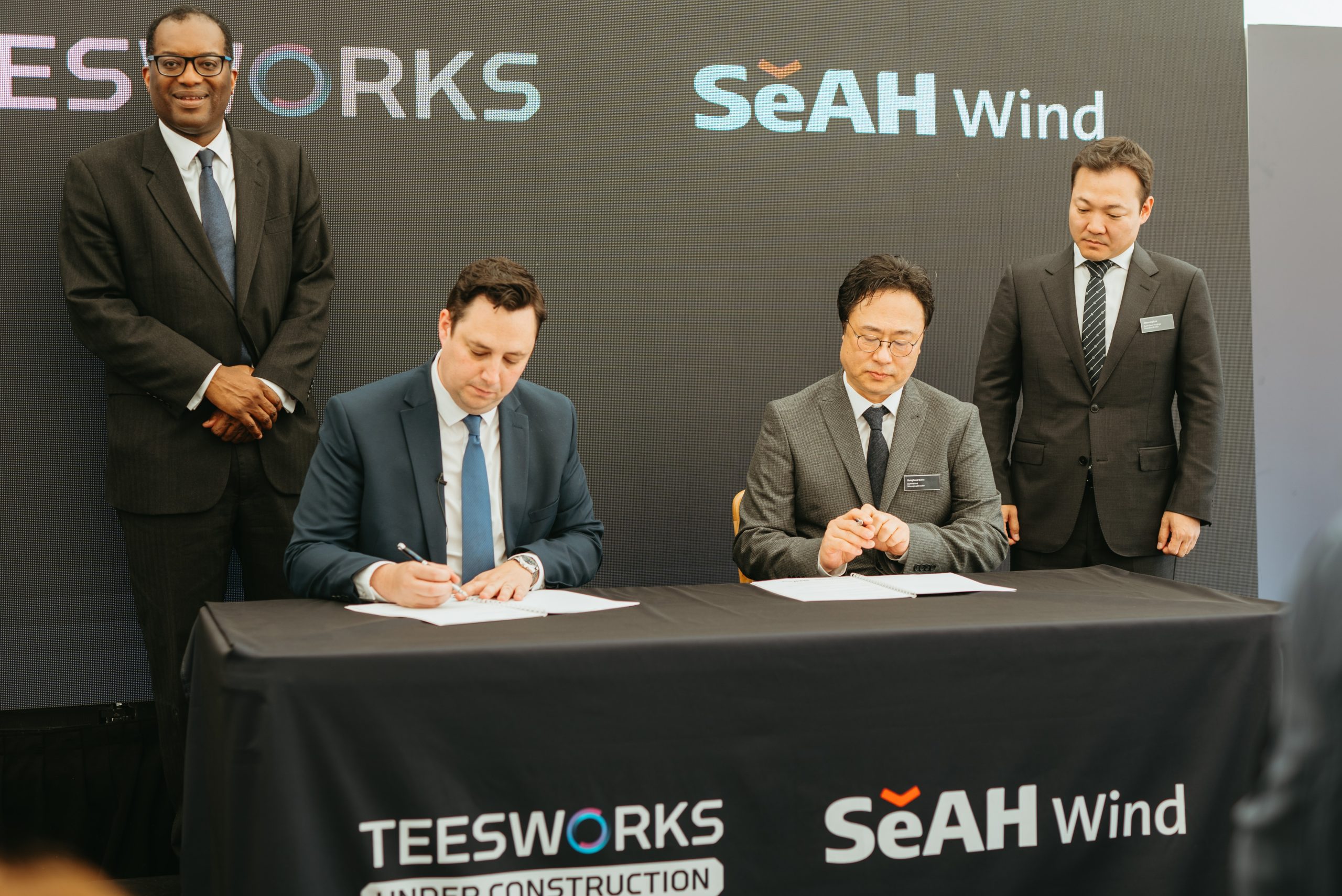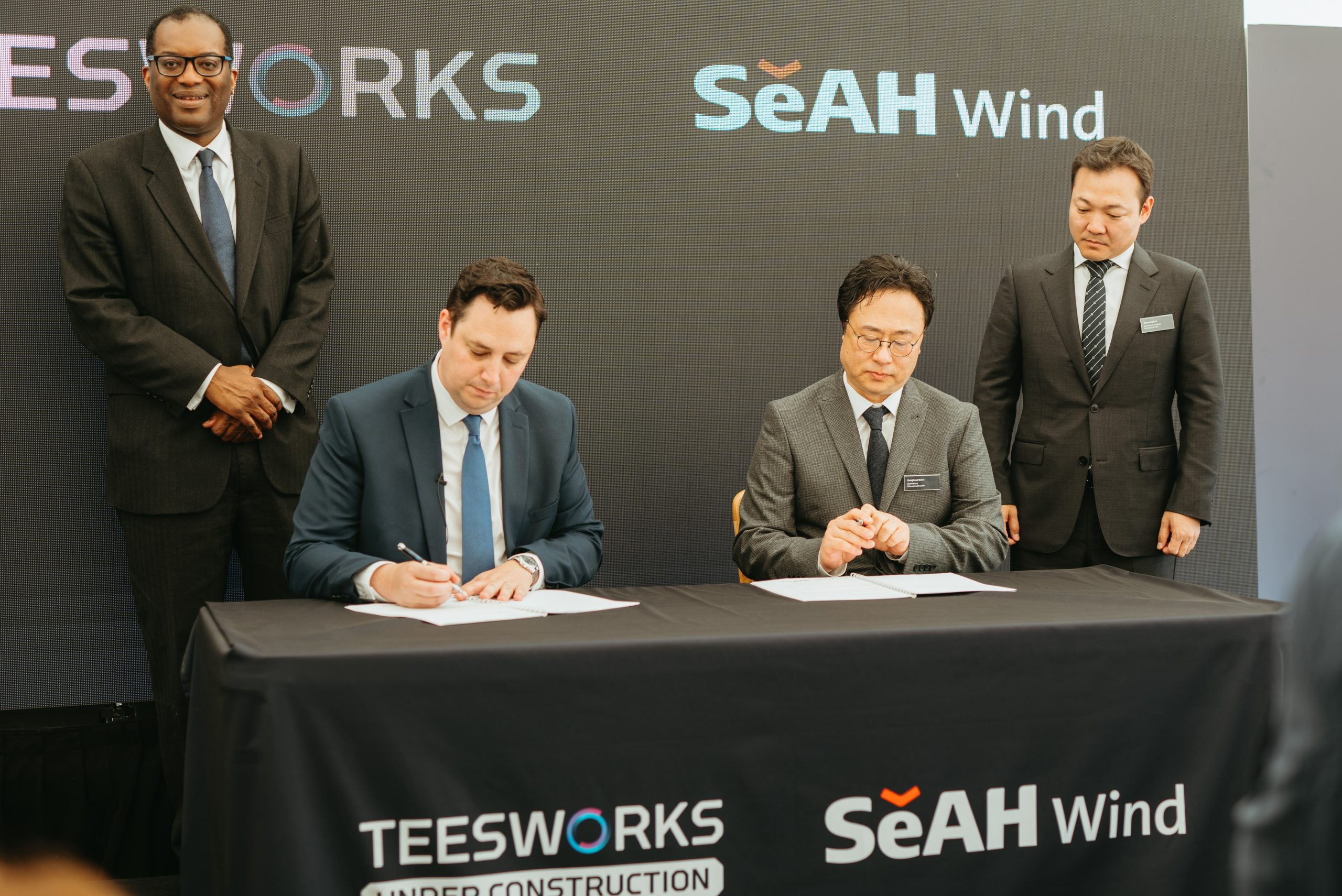 Tees Valley mayor Ben Houchen officially signs Teesworks' deal with SeAH Wind, watched by Business Secretary Kwasi Kwarteng, far left
"It's a remarkable turnaround story; SeAH have given a vote of confidence in the UK.
"And this is just the beginning. This is not a final story, or the final chapter."
His positivity was echoed by Tees Valley Mayor Ben Houchen – who has overseen Teesworks' fruition since the launch of the South Tees Development Corporation in 2017 – who said "big promises were now being delivered."
He said: "If we look back to where we were five years ago, when we set up the South Tees Development Corporation (in the aftermath of SSI UK's liquidation), there was a lot of concern and huge question marks about what this site would become.
"It has been a huge challenge, but what we have shown is that this site is not a problem for Teesside, and that it can be a jewel in the crown for what the UK economy is striving towards.
"This site is going to deliver something special, and work starting on SeAH Wind's factory is a milestone in the journey.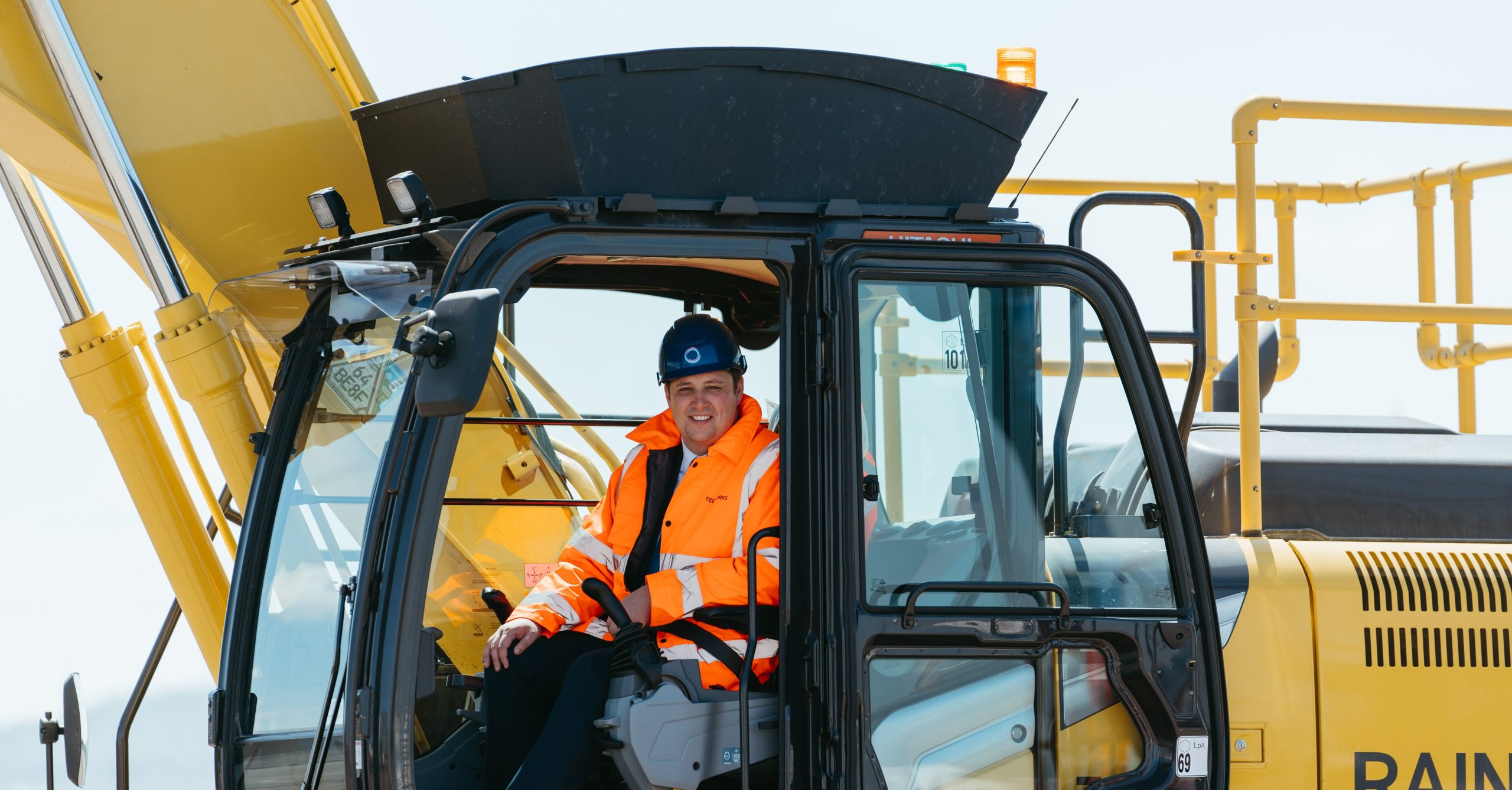 Tees Valley Mayor Ben Houchen, pictured during the ground-breaking ceremony for SeAH Wind's Teesworks plant
"We made some big promises, and we're now delivering on them."
Joosung Lee, SeAH Steel Holdings' president and chief executive, added the factory – which marks the company's first investment outside its native South Korea – was an equally landmark moment for the business in extending its presence across the energy sector.
He said: "This is a massive factory that is bringing manufacturing back to Teesside.
"It is a big investment for us, and it isn't just another addition to our global network.
"It is going to completely re-write our story too."
The sprawling steelworks site stood idle for years after SSI UK collapsed under the force of sunken prices and overseas steel dumping.
Its failure cost thousands of direct jobs, including many across generations of families, as well as a significant number in the supply chain.
See the July/August edition of North East Times Magazine for a comprehensive look at the Teesworks development, with a tour of the base and interview with Tees Valley Mayor Ben Houchen