Build & Sustainability
Landid lauds 'brilliant' start as first tenant secured for Riverside Sunderland scheme
Bosses behind a major city centre office development have hailed a "prestigious" coup after securing their first tenant.
RSA Insurance (RSA) is shifting customer service staff to the Faber building, in Sunderland, from Doxford International Business Park.
Developer Landid says the move represents a "brilliant" start for the project, which also includes the Maker building.
Backed by Legal & General as part of a wider £100 million commitment to Wearside, officials say the blocks will provide 150,000 sq ft of Grade A office space on the Riverside Sunderland development when they open in 2024.
James Silver, Landid managing director, said: "We're developing two stunning buildings which are not only game-changing for Sunderland, but will enhance the North East commercial property market with their quality of design and sustainable credentials.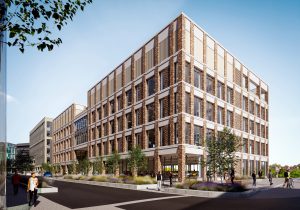 "It's brilliant that the market has immediately responded, and that Faber will become home to such a prestigious business, securing many jobs in the city."
David Wilkinson, RSA's Sunderland site leader, said: "We have been operating in the region for many years and are looking forward to continuing to have a presence here.
"We are looking forward to working with the developers and talking to our colleagues to ensure this new space offers a workplace that works effectively for them and us."
Peter McIntyre, executive director of city development at Sunderland City Council, added: "More offices and homes in the heart of the city will bring people who will spend their money and support the economy in the area.
"I'm delighted that this plan will soon bear fruit."