Business & Economy
Leading commercial property figure Kevan Carrick receives honour
A well-known commercial property and regeneration sector figure has received an accolade.
Kevan Carrick has been made honorary life president of the North East Initiative on Business Ethics (NIBE).
The JK Property Consultants co-founder said he was "delighted" to receive the title, with NIBE officials praising his "energy, commitment and vision".
Working at the forefront of change since the formation of the Tyne & Wear Development Corporation, Kevan helps investors, developers and occupiers across areas such as acquisitions, lease renewals, reviews and dispute resolution.
His portfolio spans numerous economic regeneration and property projects, including Tees Valley Mayor Ben Houchen's purchase of Teesside International Airport.
"I am delighted to receive this honour for doing something that I am so passionate about," said Kevan, who is co-founder and a past NIBE chair.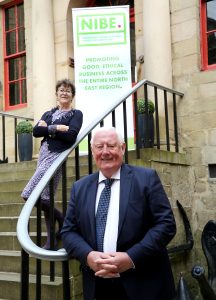 He added: "I have simply brought the values and ethical approach to business that I have lived by over many years.
"Many sectors, through the impact of the economy and government intervention, are being disrupted greatly and going through a period of turbulence and change.
"Despite the complexities we are now seeing, there is always a way forward if you adopt a culture and set of values, based on responsible and ethical business."
Caroline Theobald, co-chair of NIBE [pictured, above, with Kevan Carrick], which acts as a focal point for good business behaviour, said: "Kevan is one of the most prominent and highly respected business people in the region.
"His energy, commitment and vision was key to NIBE gaining traction very quickly with a wide range of businesses and from the region's university sector.
"Now, more than ever before, companies are being challenged to demonstrate they not only talk about being transparent, responsible and ethical, but show the evidence – and that is what we will continue to champion at NIBE."