Business & Economy
Major jobs boost as Newcastle International Airport unveils Ryanair base and flights partnership
An airport has revealed a £140 million-plus carrier investment it says will create hundreds of jobs while expanding its European reach.
Newcastle International Airport has agreed a deal with Ryanair that will see the low-cost carrier create a two-plane base at the site.
The partnership – which will build on existing Ryanair flights at the airport – will see the operator launch 12 new routes to destinations including Milan, Riga, Chania and Zadar, in Croatia.
Bosses told North East Times the agreement is "very significant for the airport and the region", coming as it does after EasyJet decision to close its base at the site amid an operational restructure.
Airport bosses say Ryanair's investment – which takes its routes from seven to 19 at Newcastle – will create more than 60 direct jobs across pilot, cabin crew and engineering and support service roles, and a further 400-plus indirect posts in the region.
Nick Jones, the airport's chief executive, said: "This announcement from Ryanair to base two aircraft here for summer 2022 is very significant news.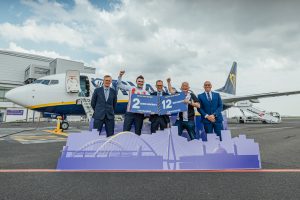 "Ryanair's investment is a sign of growing confidence and will provide the public with a great selection of new destinations and extra weekly frequencies, providing more options for leisure and business travel.
"These new routes, alongside extra capacity on current services to destinations, provides our customers with choice not only on where to travel but also on the length of time when visiting friends and family, on holiday or away on business."
Graeme Mason, the airport's planning and corporate affairs director, told North East Times: "When an airline makes a decision to base itself at an airport, it is a big decision.
"And this is also a sign of the confidence Ryanair has in this airport and the strong relationship we have.
"This is a major milestone – Ryanair could have based these planes anywhere in Europe."
Eddie Wilson, Ryanair chief executive, added: "We are delighted to launch a new UK base, which represents a $200 million investment at Newcastle.
"This development will create over 60 direct jobs and offer our UK customers a host of European hotspots to choose from next summer, including popular destinations such as Paphos, Chania, Menorca, Ibiza and Zadar.
"This shows what you can achieve if you take visionary decisions."
See September's issue of North East Times Magazine for more on Newcastle International Airport's new partnership with Ryanair