Business & Economy
Matfen Hall 'providing taste of real luxury' after multi-million-pound refurbishment
A luxury hotel and country estate has reopened following a multi-million-pound refurbishment.
Matfen Hall has undergone significant transformation.
The Northumberland-based Grade II-listed building's Great Hall has been restored, with suites and bedrooms refurbished, a new bar and mezzanine created, and spa and wellness facilities refined.
The works follow the venue's takeover by Walwick Estate Group, and James O'Donnell, Matfen Hall's head of commercial development, said the changes have dramatically improved guests' journeys.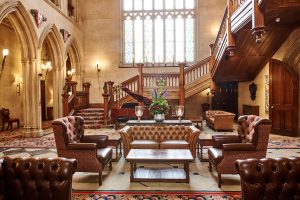 He added: "It's been no small undertaking.
"We are delighted to get back to looking after people, giving them a taste of real luxury."
Walwick Estate Group – which also owns Walwick Hall, near Hexham – bought Matfen Hall from the Blackett family several years ago.
Former owner Sir Hugh, the great-great-great grandson of the man who built the hall, inherited the property and estate in 1968 and, in 1999, spearheaded a project to open a 31-bedroom hotel.