Business & Economy
'Maximising the opportunities to make a difference to patients'
Three years since the commercial enterprise team's formation within The Newcastle Upon Tyne Hospitals NHS Foundation Trust, its associate director Wayne Elliott assesses its progress and the difference it makes to patients' lives. 
The commercial enterprise team came together in 2020 at the height of the pandemic, and oversees a diverse portfolio of projects across diagnostics, innovation, research, education, training and pharmacy.
Our team has a variety of expertise, skills and knowledge gained from NHS and commercial backgrounds, which means we can offer a wide range of support for colleagues and partners in our own organisation, regionally and nationally.
We are here to support with taking a business or commercial approach to developing new or different ideas, which could be for a product or service or simply an improvement that could benefit patients or staff.
We help with pricing strategy, business planning, marketing and communications for commercially viable ideas and developments.
For other projects, it may be that income-generating opportunities are less, but we can offer insight and support from different perspectives for the innovation and business planning side of things.
Any money we help bring into the organisation through commercial activity is reinvested into NHS services, to ensure we continue to deliver the best possible healthcare.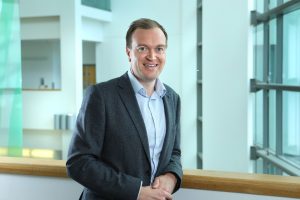 Associate director Wayne Elliott
To date, we have contributed £7 million towards NHS services.
We have a wealth of assets in Newcastle Hospitals, including world-class facilities and exceptional clinical, research and operational expertise, plus innovative and driven colleagues with fantastic ideas for improvement and innovation.
One of the team's current priorities is to ensure we have a strong strategy in place for growing the trust's commercial income, building and developing relationships across the organisation, wider NHS landscape and industry.
Our commercial strategy group facilitates free-flowing discussion and challenge around shaping the pillars of our work and how we are impacting patient care.
Two of our biggest projects have been to support two 'spin-out' labs – Novopath and the North East Innovation Lab – in commercialising diagnostic services, helping them grow, achieve and maintain financial sustainability, and explore new markets.
It's been really rewarding to be involved in Novopath's work with AMLo Biosciences, which is helping create a new test for early-stage melanoma skin cancer.
Another exciting project has been our work with the trust's new clinical skills academy, which will train thousands of staff.
We helped to develop the business plan, supporting with commercial forecasting and pricing, with a view to developing the commercial side of the offer.
We're also delighted to have extended our role for another year as an InSite test bed – one of only ten across the country – for the NHS Clinical Entrepreneur Programme, which involves testing and evaluating the latest solutions to improve patient care and workforce support.
I spent 19 years learning my skills at Greggs, covering project management and operational delivery, before moving to work in the product development team and then in commercial planning and forecasting.
I love the job and working in the NHS. It can be complex, but the reward is knowing you are helping patients.
People are at the heart of what we do, and we want to maximise the commercial opportunities we create to make a difference to patients and their health.