Business & Economy
Mind Active hails 'big difference' to services after £3000 Newcastle Building Society support
A charity improving the lives of older people is celebrating its 20th anniversary with a £3000 funding boost.
Mind Active has been backed by Newcastle Building Society.
Bosses say the cash will make a "big difference to what we can do" by easing financial pressures caused by the cost of living crisis.
The Bedlington-based organisation operates across the Castle Morpeth, Wansbeck and Blyth Valley areas, delivering events and activities such as exercise sessions, fellowship groups, concerts, picnics and school and animal visits.
It also works with bereaved carers and families.
Stephen Ward, the charity's founder, said: "Keeping active, both mentally and physically, is the key to our beneficiaries feeling they are still valuable members of society.
"And as we celebrate our 20th year, we're looking to keep doing as much as we can to make a difference to the lives of our older local residents and their families.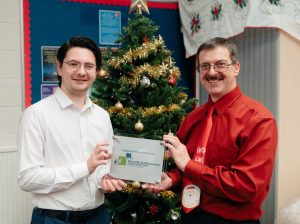 Mind Active founder Stephen Ward, right, celebrates its Newcastle Building Society support with Jack Proud, the mutual's community assistant apprentice
"The funding has come along just at the right time, especially with the cost of delivering our work continuing to rise, and it'll make a big difference to what we can do."
The cash boost was awarded by Newcastle Building Society's Community Fund at the Community Foundation, which offers grants to charities and community groups based in and around the areas its branches serve.
Vannessa Hudson, secretarial administrator at the mutual, added: "Mind Active's proactive approach and the longstanding commitment of its team are clearly having a hugely positive impact across local communities.
"We're very pleased to be supporting such an effective and impressive charity."
Since its 2016 launch, Newcastle Building Society's Community Fund at the Community Foundation has contributed more than £2.3 million in grants and partnerships to charities and projects across the region.