Business & Economy
More work, more staff and new offices for design north
Tyneside workplace design specialists Design North has moved into new offices to accommodate its growing team.
An influx of work for hotels, offices, apartment buildings and university buildings has led to the recruitment of five new designers.
And while there has been a surge in demand for Design North's more traditional services, there has also been great interest in the company's 'Hypercave' garages designed to house supercars, while Design Director Scott Stewart is talking to Jordan about working with the sportswear giant's Jumpman brand.
"It's been a crazy few months – we've been so busy with so many different and exciting projects," said Scott.
One of those projects is working with Newcastle-based The Inn Collection Group.
"We're working on the interior design – and some external design work – on 13 pubs and hotels for The Inn Collection. We're currently on-site in Northallerton and we're busy with designs for other hotels across The Lakes, North Yorkshire and the North East," said Scott.
"It's interesting work as though there is a brand look, every hotel is very different and we want to reflect that in our work," he added.
Another large project Design North has been working on is Newcastle University's new £60m Stephenson Building which is replacing the 70-year-old original building.
"The Stephenson Building will be an iconic entrance to the university's engineering department and we've been working on its interior design for some months. The lockdowns gave us plenty of time to research and develop our designs as building work obviously came to a halt.
"The building will be full of advanced technology and our designs needed to reflect that cutting-edge approach."
New and advanced technology will also be a feature in Design North's Hypercaves. Scott and his team are currently on site installing a Hypercave in North Yorkshire. Hypercaves ensure top-of-the-range cars are parked in the very best of luxury surroundings.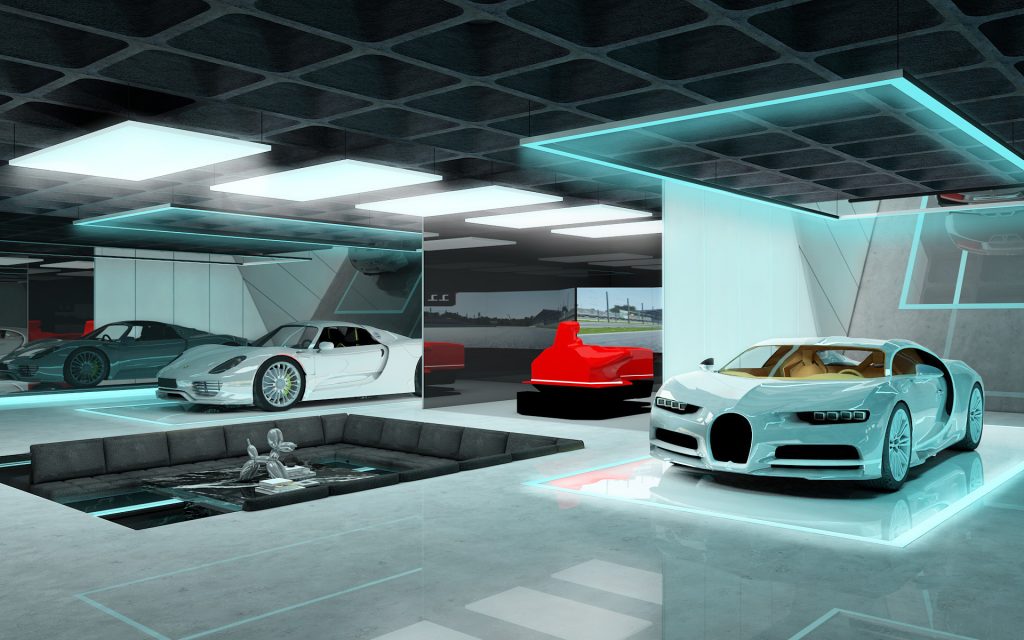 "We're putting in a Formula One simulator and the Hypercave will have AI technology for its lighting.
"We've had interest from people in South America, the States and the Middle East – as well as across the UK and Europe. The brand is becoming a fashion label for garages and customers are also asking us to work on their homes as well as their garages.
"Our work with Hypercaves has also led to an approach from a film production company who want to talk to us about building a futuristic garage set."
And while talking to millionaire supercar owners, Scott is also talking to Jordan about collaborating with the Jumpman brand.
Discussions started after Scott put some design ideas for their On the Wall sneaker boards to display high-end sneakers on social media and had a huge reaction, including a response from legendary sneaker makers, Jordan.
"I've always been a huge fan of Jumpman sneakers so I was thrilled when we had a message from their base in Portland, Oregon, showing their support," said Scott.
In the meantime, Design North's new designers under the watch of Scott and Strategic Director Jacqui Martin are busy helping to transform a luxury apartment development in the old Allied Irish Bank on Collingwood Street, Newcastle. They're also working on an office development in Grey Steet.
Scott, an interior architect specialising in medical and care interior design, completed a degree in interior architecture at Kent Institute of Art & Design. After working in London, Kent-born Scott moved to the north east to work on the interiors of Newcastle pubs and clubs.
He then became an architectural assistant at Blyth Valley Housing, working on renovating social housing, before moving to Medical Architecture, the global architecture and healthcare planning practice based in Newcastle, as an interior designer. From there, Scott moved to Ward Robinson before co-founding Design North in 2017.
Wallsend-born Jacqui completed her degree in interior design and architecture at Nottingham Trent University before joining BDG Architecture, an influential London practice. She then moved to DEGW, one of the founders of modern workplace design, as a senior workplace consultant.
She was appointed senior interior designer at Faulkner Browns in Newcastle in 2006 and then set up her own company, Third Space Design in 2012 before co-founding Design North with Scott.
For more information about Hypercave, On the Wall or Design North, go to www.design-north.co.uk