Business & Economy
New jobs as Steel Benders UK unveils Hartlepool expansion
A steel processing firm is creating jobs in a £2 million factory move.
Steel Benders UK is switching from Middlesbrough to a six-acre Hartlepool site.
Bosses say the expansion will deliver at least 15 new posts and provide "a basis of growth for years to come".
They add its new home, on the footprint of Caparo's former steel plant, on Hartlepool's Brenda Road, "will increase capacity and create greater options", with its move planned to take place over the next two years.
Tania Cooper, managing director of the company – which presently employs more than 30 staff from a site on Middlesbrough's Dockside Road, and counts the marine, defence, renewable energy, petrochemical and civil engineering sectors as key markets – said: "This will be the first time we have had a site that is fit-for-purpose.
"There will be huge opportunities coming up in the months and years ahead; this represents a huge step change for us, leading to us becoming more diverse and able to work in larger markets."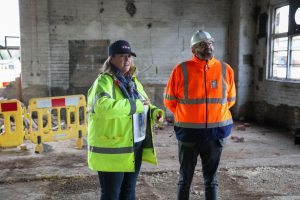 Tania Cooper, Steel Benders UK managing director, shows Councillor Mike Young, leader of Hartlepool Borough Council, around the firm's new home
Tania revealed renovation of a derelict brickhouse has already started, adding that when complete, it will include office space and provide room for the North of England's only 8x2m fibre laser cutting bed.
She added: "It was hugely important to stay in the Tees Valley because we have a number of significant contracts here.
"Hartlepool had the right location for us and the right piece of land; this represents a huge vote of confidence in the organisation and team."
The business was supported by Hartlepool Borough Council and a Tees Valley Combined Authority grant to make the move.
Councillor Mike Young, leader of Hartlepool Borough Council, said: "This is fantastic news for our town and the wider business community.
"This investment will be bringing new jobs, and it is great to see the growth and success Steel Benders UK has seen over the last few years."