Business
New recruits bolster North P&I's Sunderland Marine division
A global marine insurer has strengthened a division with two appointments.
North P&I has welcomed Pete Thomas and Laura Gilbert to its Sunderland Marine operation.
Pete has joined as deputy business claims manager, with Laura taking on the role of underwriter in Sunderland Marine Group's owners' fixed premium P&I team.
They join more than 80 staff who have been recruited by Newcastle-based North P&I across operations since June 2020.
Pete has more than 17 years' experience in senior claims roles with several mutual and fixed marine insurers in the London market.
He was most recently QBE's head of P&I claims Asia, in Singapore.
Laura brings considerable underwriting experience to North and Sunderland Marine, after more than seven years with British Marine, as well as particular insights into markets including the UK, Russia and Australasia.
Nick Wolfe, deputy global director (underwriting), said: "We are delighted to welcome Laura and Pete to the team.
"Pete is very well-known in the market and his skills will be invaluable in helping us to maintain our renowned service levels.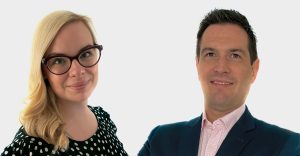 "Laura's experience, acumen and strong broker relationships will be pivotal for the team and for its ability to deliver service excellence outside its current core business areas.
Paul Jennings, chief executive at North P&I Club, added: "It is great news to have Pete and Laura on board.
"Recruiting, retaining and rewarding high-quality people is a cornerstone of our success and we have continued to invest in our workforce despite the continuing challenges posed by the pandemic."
North employs more than 300 people in Newcastle and has a further 110 staff in offices around the world.