Business
Plans approved for £500 million Newcastle 'global exemplar' in ageing population work
A £500 million development focused on next generation products and support for the ageing population has been approved.
Newcastle City Council has backed plans to transform a former hospital site into a hub that will operate as a "global exemplar (in) enabling people to live longer, healthier lives".
Bosses say the 29-acre scheme – which will extend the existing Campus for Ageing and Vitality on the city's old General Hospital base – "will link research and innovation, and provide unique solutions for living, leisure, learning and employment".
They say the project will feature residential and commercial properties, with assisted living housing, 'high' care home accommodation and retirement living space.
Work on the development, which is led by Newcastle University, is expected to take around ten years.
Professor Chris Day, the university's pro vice-chancellor and president, said: "This incredible vision will establish our site as the world's premier centre for healthy ageing and living.
"It will bring together the three pillars of health, wealth and wellbeing.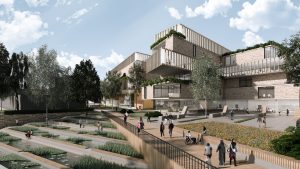 "We are delighted we can go ahead with our exciting plans to put ageing and health at the heart of a flourishing community, which will bring together research, innovation, commerce and living."
The university is working with Newcastle City Council; Newcastle upon Tyne Hospitals NHS Foundation Trust; Cumbria, Northumberland, Tyne and Wear NHS Foundation Trust; Newcastle Gateshead Clinical Commissioning Group; and the North of Tyne Combined Authority.
Professor Jane Robinson, pro vice-chancellor for engagement and place at Newcastle University, added: "By 2040, one in seven of us will be aged 75 or over.
"Building on our key strengths, including the National Innovation Centre for Ageing, we are bringing together world-leading academics, industry, public sector and local communities to help find solutions to complex challenges of an ageing population."
Officials say the site will carry out research in areas that will include the development of precision diagnostics and therapeutics, and ways to tackle mental health issues and health inequalities.
They add a key focus will be on multiple long-term conditions that increase with age, such as dementia, frailty and reduced mobility.
Studies will focus on new devices, products and medications, interacting closely with the National Innovation Centre for Ageing and the National Innovation Centre for Data, which are both based at Newcastle University, on Newcastle Helix.
The outline masterplan for the site was developed with GSS Architecture, while Newcastle University has selected Genr8 Kajima Regeneration as preferred bidder for the principal development partner.
Kate Pix, Kajima Regeneration director, added: "The scheme will create local jobs, new homes and much needed support and care facilities."