Business
Protium to build North East's 'largest green hydrogen facility' on Teesside
An energy firm has revealed plans to build the North East's "largest green hydrogen facility" on Teesside.
Protium has secured space at Wilton Universal Group's base on the River Tees, near Middlesbrough.
The firm's plans include building a hydrogen production plant to generate renewable green hydrogen energy, which bosses say will supply local manufacturers once operational.
The project is expected to be completed by 2026, subject to planning and engineering works.
Protium's arrival comes after the Government earlier this year announced a £3 million investment to develop the Tees Valley as the UK's first hydrogen transport hub, which it says could create up to 5000 jobs.
Chris Jackson, Protium chief executive, said: "The project will allow us to work with local businesses to decarbonise their operations, and the area's deep industrial legacy provides the perfect infrastructure foundations for us to leverage.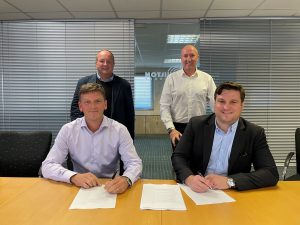 Back row, from left to right, John Clipsham, Protium chief commercial officer and Bill Scott, Wilton Universal Group chief executive. Front row, from left to right, Steven Pearson, Wilton Universal Group managing director and Jack Eastwood, Protium chief operations officer
"The growing hydrogen hub offers a faster route to market for the deployment of this clean energy source, so we're very excited to be part of the transition to a greener economy and future in the heart of the Tees Valley."
Bill Scott, Wilton Universal Group chief executive, said: "In addition to expanding our own capacity, the acquisition of the Haverton Hill site will enable other companies like Protium to take advantage of Teesside's exceptional skills and expertise in the energy sector and our location within the freeport, and to play a major part in this area's contribution to the energy transition and low carbon future."
Tees Valley Mayor Ben Houchen added: "I am delighted Protium will be developing a green hydrogen production facility in Teesside, contributing to making our region the leading production site of green hydrogen fuel in the UK.
"From carbon capture to offshore wind and hydrogen production, Teesside is at the forefront of delivering the Government's ambitious target for the UK to be net-zero by 2050."