Business & Economy
Watershed day as work begins to tear down Redcar's historic blast furnace
Demolition has started on an iconic monument of Teesside steelmaking.
Redcar's famous blast furnace is being torn down to make way for the Teesworks development.
The flattening complements work on other buildings, such as the Redcar Coke Ovens, with bosses promising the entire site will be cleared in a year.
When finished, they say the work will free up 600 acres of land for future investment at Teesworks.
Recently confirmed by Government as the site of England's largest freeport, Teesworks is earmarked to house a GE Renewable Energy wind turbine blade-making factory and the Net Zero Teesside Power carbon capture, utilisation and storage power plant.
Mayor Houchen said: "This marks the beginning of the end for the Redcar steelworks as we've known it.
"We're accelerating our plans to make the land investor-ready as soon as possible and take advantage of the opportunities our freeport status brings.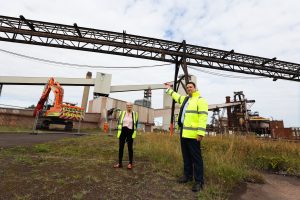 Tees Valley Mayor Ben Houchen sounds an air horn to begin demolition work alongside Councillor Mary Lanigan
"This is one of the biggest, most complex and condensed demolition projects ever to take place in the UK and it's happening right now on our doorstep.
"While the steelworks played a vital part in our communities, I've always been clear we need to look to the future."
The blast furnace started production in 1979 and was first mothballed in 2010 before being restarted by SSI UK when the Thai company took over ownership from Tata Steel in 2012.
However, when SSI entered liquidation in 2015, the furnace – and steelworks as a whole – fell silent, with the loss of more than 2000 direct jobs and many more in the supply chain.
Reflecting the importance of the works on the area, Mayor Houchen says its past will be preserved through the independent Teesworks Heritage Taskforce.
Working with plant managers, Historic England and former steelworkers, he says the group will capture the site through photography, videography and 3D modelling and recover important artefacts.
Mayor Houchen added: "This is a highly emotive subject for many, and they should rest assured the taskforce has been doing a fantastic job of making sure the site's past will never be forgotten."
Councillor Mary Lanigan, leader of Redcar & Cleveland Borough Council, said the work will strike a balance between the successes of the past and the potential of the future.
She added: "There is a real sadness to see some of these iconic structures come down.
"But we must grab with both hands opportunities to attract the industries and businesses that will provide the high-quality jobs our people deserve for generations to come."