Build & Sustainability
Sunderland City Council move edges nearer as bosses agree headquarters sale
A deal has been struck to convert a council headquarters into a 280-home development.
Vistry Partnerships North East will transform the site of Sunderland Civic Centre into an estate comprising one to four-bedroom properties.
The local authority is leaving the Burdon Road base for the new City Hall, which is close to completion on the former Vaux brewery site, as part of the wider Riverside Sunderland redevelopment.
Demolition work could get underway early next year.
Bosses say Vistry's plans will create a "mixed tenure community of open market and affordable homes", adding they will "include attractive areas of amenity space and enhanced pedestrian and multi-user links to the city centre, Ashbrooke and Mowbray Park".
Councillor Graeme Miller, leader of Sunderland City Council, said: "We're delighted the sale is moving forward.
"The transformation of our city is gathering momentum, and as we prepare to move into City Hall, we're pleased to have rapidly secured a new use for our old estate in tandem.
"This site is well-positioned to add to the city's residential offer, based on the edge of a community that will ensure it delivers a stunning new place to live that increases the city centre population and footfall, supporting the daytime and evening economy."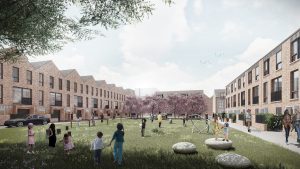 An artist's impression of Vistry Partnerships North East's planned development
Sean Egan, managing director with Vistry Partnerships North East, added: "We are confident this development will be instrumental in improving housing choice, employment opportunities and will regenerate a key, high-profile site in Sunderland.
"We will create an attractive new residential quarter, with contemporary homes of the highest quality."
The new homes are part of a wider plan to build more than 7000 properties across the city by 2030.
Among other developments moving forward are coastal communities being created by Avant Homes and Miller Homes at Seaburn; family homes being delivered by Miller Homes, Story Homes, Duchy Homes and Bellway at Potters Hill/Burdon Rise; and a £40 million scheme by Karbon Homes in North Hylton.
The council announced plans to move from its civic centre base to Riverside Sunderland in 2019.
Bringing together a range of public sector partners, that will work from the 190,000sq ft office space, Sunderland City Hall is being funded by institutional investor Legal & General, which is also working with developer Landid to build two, adjacent, speculative offices.
Officials say the move will "enable the council to deliver services from a modern environment, where residents can access a range of services under one roof".