Build & Sustainability
Surgo Construction named contractor for Bede Homes' £15 million Yarm scheme
A housebuilder has appointed a contractor to deliver a £15 million estate on the site of a former hotel and nightspot.
Bede Homes is working with Surgo Construction on Beck View, in Yarm.
The scheme, which will feature 21 five-bedroom properties, will transform land once occupied by the Tall Trees Hotel.
Joe Docherty, Bede Homes managing director, said: "We are tremendously excited about this development, and there has already been significant interest because of the wonderful location.
"Surgo is a long-standing and respected contractor, known for building quality homes across the North East, and we are delighted to have appointed them to build this flagship development.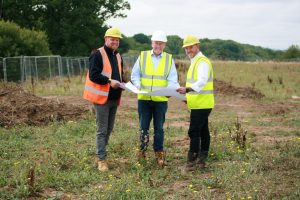 Pictured, above, from left to right, are site manager Andrew Laidler, Joe Docherty and James Walker
"The previous landowners had planning permission for 35 homes, but we decided to reduce the density because we were mindful of concerns about over development.
"These will be stunning homes in a stunning location."
James Walker, Surgo managing director, added: "Our extensive experience makes us the perfect project partner to construct the homes at Beck View."
Gateshead-based Bede Homes was established in 2016 by Andrew Burnett and Richard Buckley.
They were later joined by Hellens Group chief executive Gavin Cordwell-Smith and Joe, who previously led Tees Valley Regeneration and the housebuilding division of Home Group.