Business
Vision 2031: The dawn of a new industrial revolution
Welcome to VISION 2031, an exciting campaign launched by North East Times Magazine, alongside partners Northstar Ventures, main sponsor Northern Accelerator, EY, Jackson Hogg, Lloyds Bank and Weightmans. Over the coming 12 months, VISION 2031 will lay out a blueprint for how our region can lead the next chapter in global industrial progress across the following ten years, by spearheading a new Knowledge Revolution. Guided by expert insight and opinion, VISION 2031 will highlight the North East's position at the point of pioneering change, focusing on groundbreaking innovation across sectors including manufacturing, health and technology, and key social and environmental advances that will spur economic success. Across the year, a series of high-level round table discussions, featuring individuals from leading organisations in the North East and beyond, will scrutinise the area's existing strengths and growth potential. Covering a diverse range of sectors, from advanced manufacturing and gaming, to examining how digital advances have improved efficiency and education in the workplace, the events will also look at tailored wellness, assessing the North East's work around improving life expectancy. Furthermore, they will analyse a future cities and towns network capable of retaining and attracting talent, while making the region a healthy, active, dynamic and affordable place to live. In the first of a number of articles, Steven Hugill speaks to Northstar Ventures' Dominic Endicott about the North East's central role in the first Industrial Revolution, and how it is primed to lead the way again.
Look back over the centuries, and the North East's innovation roll call is as long as it is revered.
From rail pioneer George Stephenson to Sunderland-born lightbulb creator Joseph Swan, Sir Charles Algernon Parsons' multi-stage steam turbine and Dorman Long's delivery of superstructures including Sydney Harbour Bridge, the region has made – and continues to leave – an indelible mark on the world.
A powerhouse of invention, it added significant charge to the first Industrial Revolution, changing lives forever and fuelling global economic growth like never before.
Now, though, it stands ready to seismically transform society again, by driving industry into a new innovative and sustainable frontier: the Knowledge Revolution.
And with as much as £50 billion investment tipped to be fed into the North East over the next decade, Dominic Endicott, board member and venture partner at Newcastle-based investment house Northstar Ventures, says the region is ready to flourish once more.
He says: "The North East, like many regions, failed to maintain the productivity and relevance it enjoyed at the height of the first Industrial Revolution – but we now have a new opportunity.
"Thanks to advances in sectors as varied as ageing, electric vehicles, quantum computing and space, our region can be a cornerstone of the next Industrial Revolution.
"We are rapidly accelerating into the artificial intelligence economy – the UK is the number two tech base in the world after Silicon Valley – and the North East can take things to another level.
"Our region has things to offer the world again, and by growing and leading the Knowledge Revolution, we can also put the North East at the forefront of the Government's 'levelling-up' agenda.
"We have the potential to create a very powerful, self-fulfilling, dynamo."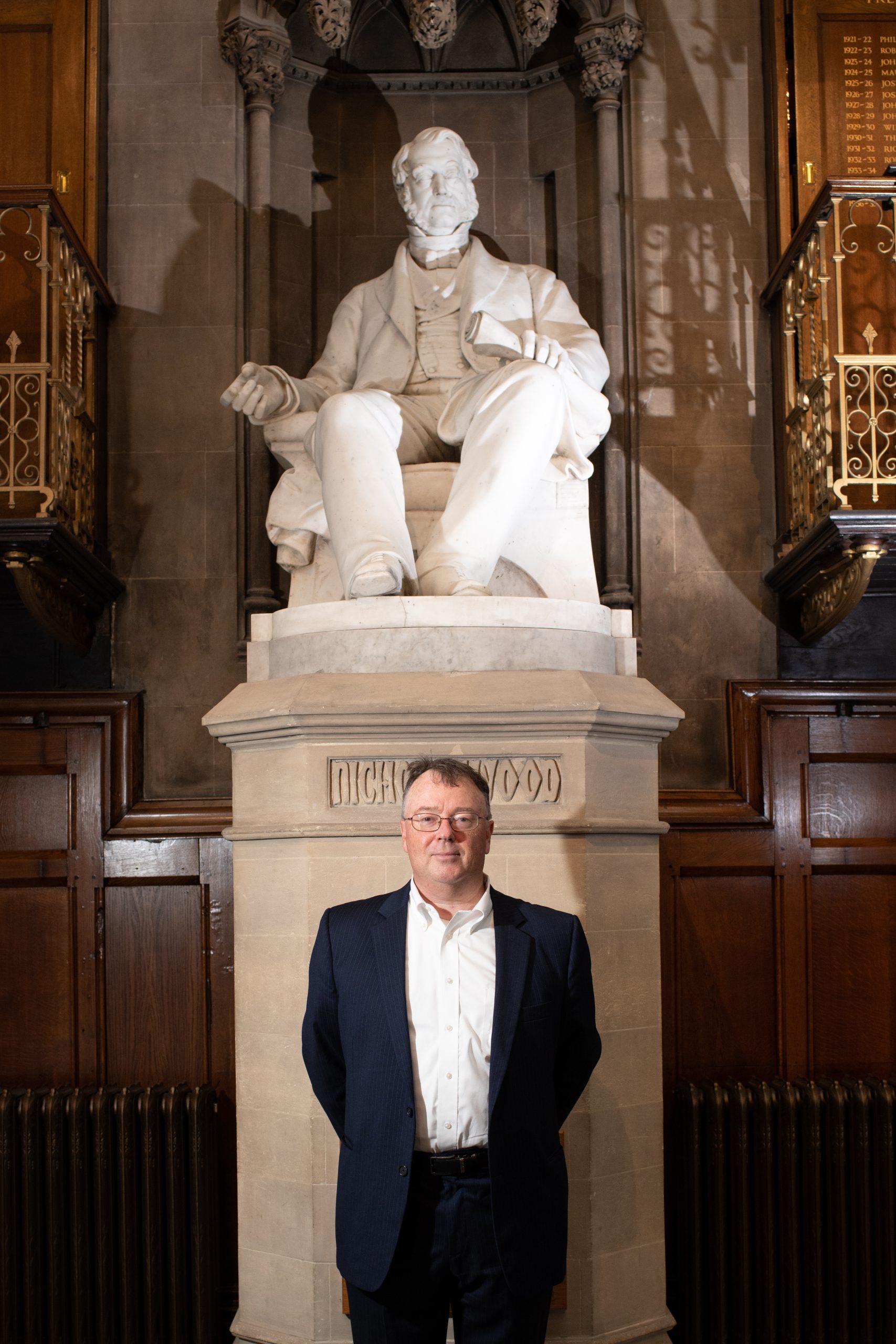 Just as it was with the first revolution, a central strand in ensuring the North East breaks fresh ground will be industrial development.
And much is happening already, certainly across the green economy. From Nissan's £1 billion plans to build a battery factory and new zero-emission car on Wearside, to Britishvolt's 8000-job vehicle power pack hub in Cambois, near Blyth, Northumberland, and the conversion of Redcar's former SSI UK steel site into the Teesworks low-carbon freeport, the region is leading the way on sustainability.
But spades in the ground, says Dominic, are just one facet of a much wider toolkit needed to make the Knowledge Revolution a reality.
A balanced future economy, where financial progress is matched by social and environmental development will, he says, be key, as will a symbiosis between innovation and academia, to conceive, incubate and nurture start-up ventures into high-growth firms. Highlighting Washington-based Advanced Electric Machines, which spawned from Newcastle University five years ago and now supplies electric motor and powertrain systems globally, Dominic says: "The first Industrial Revolution began outside university, but academia is going to be integral in creating the new economy of the Knowledge Revolution.
"And we are in a fortunate position of having a critical mass of good and varied institutions across the region.
"Our network of universities are now collectively comparable in research capability to London, Oxford or Cambridge, and can cornerstone regional transformation, spinning out the best technologies into scalable global companies.
"We need a pipeline that goes from university research projects to things like the Northern Accelerator collaboration programme, where ideas are turned into companies and receive venture capital to spin out, scale up through growth capital and private equity, and eventually reach IPO level.
"And by having these companies, that are solving real problems, that have global ambitions and that want to build something really big, we will increase the amount of capital flowing into the region, allowing us to do even more."
Another factor in the balanced future economy, so intrinsic to spurring the Knowledge Revolution, says Dominic, is place-based regeneration, wherein a rich innovation ecosystem is complemented by an environment that magnetises talent from the UK and beyond.
He says: "Our network of cities, towns and villages must once again become frontier places, which convince graduates to stay, and attract the best individuals from afar to start businesses, bring up their families and create generational wealth here.
"To do that, we must create compelling stories that speak to those people and show them they don't need to go to London and be another cog in a machine.
"We need to convey a sense of magic and desire that makes them want to help make our region an even more amazing place.
"We must also support the evolution of our places into healthy, active, dynamic and affordable areas for individuals, families and communities to thrive.
"They must be attractive from a commercial perspective but be environmentally aware too, with good train links and strong walking and cycling infrastructure boosting connectivity and increasing health and wellbeing, all while reducing vehicle pollution.
"And to that end, a lot is happening.
"There are a number of developments underway in Newcastle, such as the Helix and Pilgrim's Place, and Darlington – the birthplace of the railway – is going through a revival too.
"Middlesbrough is doing some interesting things, Sunderland has plenty of ideas and Durham wants to add a new university campus."
Dominic adds: "The Knowledge Revolution is a serious opportunity. "It can radically transform the 50 per cent of GDP most crucial to social, environmental and economic growth.
"We need to be loud, proud and tell our story.
"Our time has come again to be the region where things are happening bigger, better and faster than anywhere else."
VISION 2031 partners:
DR TIM HAMMOND, PROJECT LEAD FOR THE NORTHERN ACCELERATOR AND DIRECTOR OF COMMERCIALISATION AND ECONOMIC DEVELOPMENT AT DURHAM UNIVERSITY:
"The next ten years will be a period of economic and social transformation.
"The pandemic has already had a huge impact upon where and how we work, and the role of technology and innovation in supporting this transition.
"The future of place, how we use our spaces in towns and cities, and the drive towards net-zero, present a range of social, environmental and scientific challenges.
"New technologies will be needed to address population health and ageing, the future of work, new properties of materials, sustainable engines and vehicles.
"The use of data, artificial intelligence and the integration with cloud technologies will be critical in realising these ambitions.
"The North East universities have a key role in supporting this transition through their provision of skilled graduates and postgraduates, and through their strong research bases closely aligned to these future needs.
"The Northern Accelerator is delivering an integrated approach to commercialise research across the universities of Durham, Newcastle, Northumbria, Sunderland and Teesside.
"It has transformed university spin-out performance through the embedding of strong management teams, provided proof of concept support and delivered business start-up training to cohorts of future academic entrepreneurs.
"Supported through ERDF and Research England's Connecting Capability Fund, the Northern Accelerator has developed a very strong commercialisation ecosystem and is working with private and public sector partners to position the North East as a 'living laboratory' to support the development of new products, services and business models.
"A key element of this programme has been the close partnership with Northstar Ventures, to develop and fully deploy a seed investment fund, and we are now working together to develop a much larger venture capital vehicle, Venture North, to provide improved access to finance for spin-outs.
"Looking forward, we are determined to ensure the Northern Accelerator continues to deliver these benefits and more.
"We want to ensure our spin-outs have every opportunity to grow and succeed.
"Venture North will help to achieve this, but we recognise a 'whole system' approach is required, to create an environment where our businesses can thrive and in which they support the major societal needs in 2031 and beyond.
"The Northern Accelerator is therefore very happy to work alongside North East Times Magazine and its partners to support the VISION 2031 campaign, which seeks to influence how the region responds to the exceptional in developing the new knowledge economy."
RICHARD HOGG, CHIEF EXECUTIVE AT LEADING SPECIALIST RECRUITMENT AND OUTSOURCED PEOPLE SERVICES PARTNER JACKSON HOGG:
"We're very excited to be a part of VISION 2031, and to be making a difference in the future of industry in the North East.
"The North East was integral in the first Industrial Revolution and has the capability to play an important role in the future of emerging technologies.
"Jackson Hogg is a people- focused business, and we believe in the power of the knowledge that is sewn into the fabric of the North East through our talented people, world-class universities and innovative companies.
"VISION 2031 is a campaign built on the excellence in the North East, and exists to highlight this.
"We are an entirely independently owned North East business, and have a vested interest in the development of the region.
"More than that, though, we believe in the people of the North East, and we believe the region could become a powerhouse in the tech and digital spaces not just nationally, but internationally.
"We have a unique viewpoint of the talent and business leaders entering the region, and this, along with the great work being carried out at the universities, is an exciting prospect.
"The North East is already showing its worth across the board, but especially within sustainability technology, and this innovation, while exciting, is just the start when it comes to the potential of the region."
GARY CHAPMAN, DIRECTOR INDUSTRIALS AND INFRASTRUCTURE AT LLOYDS BANK; CO-HEAD OF NORTH REGION:
"We're excited to be involved in VISION 2031, a campaign dedicated to realising the opportunities in the North East.
"As a region, ours has long been at the forefront of groundbreaking advances, and it is ready to lead again on the Knowledge Revolution.
"From its cohort of excellent universities to its many established and start-up businesses, the region is at the head of pioneering work across areas including ageing, data and sustainability.
"And we are committed to supporting its success.
"Our aim is to deliver an incremental increase in financing to areas that need it most that, over time, will help support job creation and wider economic prosperity.
"The way we're going to do this, is by playing a 'convening' role between local partners and communities.
"In doing so, we hope to start understanding the specific needs of each region and their bespoke economic recovery plans.
"We want to bring together all the necessary partners to drive fundamental growth.
"That's not just the private sector – but the public sector and third sector, as well as the local enterprise partnerships and metro mayors – to find a common purpose."
Mark Burton, head of UK regions at Lloyds Bank, adds: "Our cities and regions are being renewed on a scale not seen since the 1950s.
"That renewal is essential to build sustainability and contribute to our collective net-zero goals.
"We have a once-in-a-generation opportunity for investment, and I would urge businesses to take advantage of it."
MIKE SCOULAR, EY OFFICE MANAGING PARTNER FOR NEWCASTLE:
"The North East is a historic, industrial heartland that has as much to look forward to as it does to celebrate from its past.
"Being at the forefront of cutting-edge sectors – like carbon capture and storage – demonstrates the North East's innovation heartbeat, built on centuries of invention, revolution and modernisation.
"That's why, for a firm like EY, the North East is an exciting place to do business.
"By working collaboratively alongside local businesses, government, universities and institutions – the very fabric of the region – EY is committed to being part of of the transformation through combining global expertise with a local footprint.
"When it comes to the 'levelling-up' agenda, EY doesn't just believe it's the right thing to do; we practise what we our preach.
"EY offers a unique prospect for local people to stay and work in their local economy, without the need to move away to further their career.
"It's opportunity based on ability, not geography.
"The North East is also well positioned to attract fresh talent from other parts of the UK, especially since the events of the last few years have seen people reconsider their work-life balance.
"Transport links that include road, rail, ports and planes make it greatly accessible to both domestic, European and international travel, which is enhanced by the relatively low cost of living.
"Through our work with international, national and local clients in the North East, we want to continue creating innovative solutions that grow the local and national economy, provide opportunities and tackle inequality.
"To EY, that is the essence of building a better working world."
CHRIS GRAHAM, PARTNER AND HEAD OF NEWCASTLE OFFICE AT WEIGHTMANS:
"It gives us great delight to be supporting VISION 2031.
"As a leading UK law firm whose roots stretch back as far as the Industrial Revolution, we have long championed and nurtured the commercial sector.
"So we are thrilled to be involved in a campaign that not only marks past achievements but creates a platform to deliver the next phase in this great region's story – the Knowledge Revolution.
"With its fantastic quintet of universities, established businesses trading domestically and globally, and a thriving ecosystem of innovative start-up ventures across myriad sectors, the North East is ready to stand at the vanguard of change again.
"Our engineers and manufacturers once helped build the world and, through the Knowledge Revolution, our region can do so again, thanks to advances across areas such as ageing, data, electric vehicles and the drive to net- zero.
"When we merged with Watson Burton LLP in 2019, we expanded our business but also embraced the pioneering spirit and history of the North East – and we're committed to making sure that legacy continues."
"Through a people-focused approach, we provide bespoke services to clients across the full spectrum of industry, from the built environment and health to energy and utilities, local government, manufacturing and many more.
"And we will use the skills and vast knowledge and expertise of our teams to fuel the Knowledge Revolution.
"The North East has already achieved so much.
"But a new chapter awaits – and we are committed to playing our part in its success."
Vision 2031 is a 12-month print + digital campaign, delivered by North East Times Magazine and Northstar Ventures, with the support of Northern Accelerator, Jackson Hogg, Weightmans, EY and Lloyds Bank.