As a television reporter, Phil Forster regularly interviewed the high-fliers of the footballing world. Today, though, he's focused not on soaring on-field talent, but making Teesside International Airport take off again after years of decline under previous ownership. Here, Steven Hugill speaks to the broadcaster-turned-managing director to learn more about his life in front of the camera, how he pivoted into the aviation sector and why his airport turnaround plans are only just beginning.
Phil Forster was once a familiar face on the small screen.
As part of Sky Sports' news reporting team, he regularly brought jubilation – and equal amounts of despair – to fans of the region's football clubs.
From delivering live match updates to Hartlepool's Jeff Stelling on the channel's flagship Soccer Saturday show, to press conference and training ground interviews, he covered everyone from polished Portuguese superstar Cristiano Ronaldo to the more rugged semi-professionals of the non-league scene.
Today, though, he's focused on entirely new goals. And they have nothing to do with the Beautiful Game.
As managing director of Teesside International Airport, he's responsible for making the site fly again.
And like a football manager sweeping into a new club, he's wasted little time in putting his stamp on things.
Under previous owner Peel, a metaphorical fog had hung heavy over the airport, the associated stuporific atmosphere creating an opaque outlook. 
Today, though, like the vapour trails of overhead planes, the miasma has burned away.
After Tees Valley Mayor Ben Houchen fulfilled a 2017 election pledge to return the airport to public ownership, a fresher feel now lays across the site and its runway; positivity has overtaken pessimism, connection replaced separation.
The feeling is demonstrated inside its terminal, where aged legacies of the base's nadir have been flattened to create bright, modern lounges, bars and cafes, a duty-free store, a slicker security check area and Bannatyne's first-ever airport express spa.
The scene is replicated on the apron stands.
Where once Amsterdam and Aberdeen were the site's staples, sunshine breaks are back on the boards, with TUI and Irish carrier Ryanair taking flyers – served by new departure gates – to holiday hotspots including Alicante, Majorca, Corfu and Faro.
And Phil couldn't be happier with the progress.
He says: "There are so many different plates spinning; every day is different and it's a thoroughly exciting time.
"We're effectively starting on a blank page, but that's great because it brings so many opportunities.
"And I've got a team around me that would run through a brick wall for this airport – they are so passionate about seeing it succeed."
It could, though, have all been so different. Having cut his teeth across the region's football scene, Phil moved to Scotland to cover the game north of the border and, such was his passion for broadcasting at the time, he even attended a screen test for ITV's This Morning.
But, when he and his partner discovered they were expecting their first child, they moved back to the North East, with Phil pivoting his career in the direction of another passion – aviation.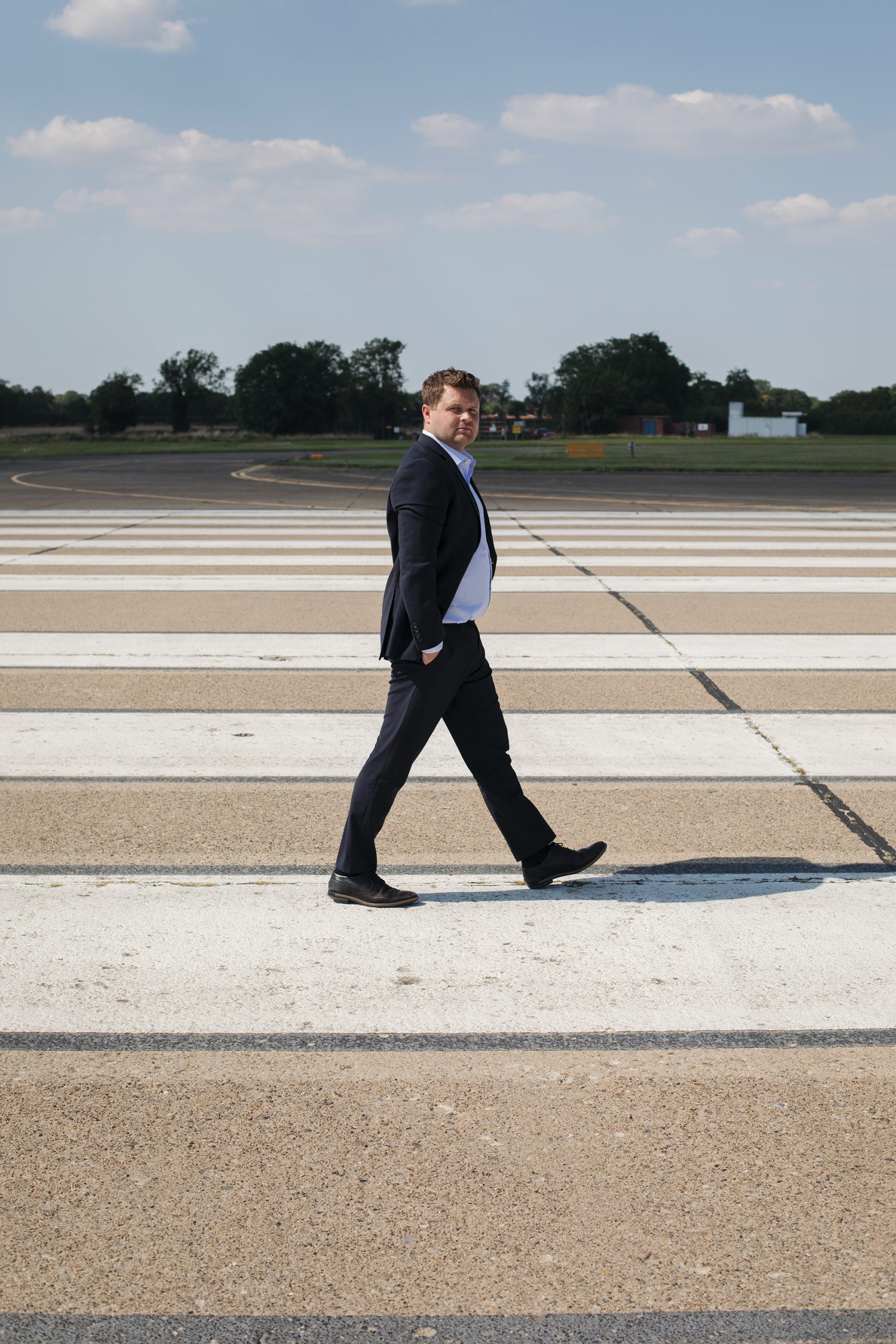 With his microphone and broadcaster's overcoat hung up, he embarked on a role with Newcastle International Airport, where he formed an instant bond with chief executive – and former Football League referee – David Laws.
Helping drive the base's development across a four-year period – which included significant terminal refurbishments and flight launches – he followed his boss to Leeds Bradford Airport, where they laid foundations for that site's renovation too.
It was, says Phil, a real period of learning, the lessons of which he's now putting into practise.
He says: "I loved my time with Sky – I did four years and it really helped me develop as a person.
"Things like public speaking and engagement, which are so common in my current post, don't faze me because of my broadcast background.
"I'd always been interested in politics, local government and transport, and when I saw the role with Newcastle, I thought, 'why not?'
"And working alongside David really helped me.
"You take different advice from different people, but David was the first person who – pardon the pun – took me under his wing and saw potential in me, which I'll always be grateful for. 
"He exposed me to the commercial and aviation worlds, filled me with confidence and taught me so much about leadership and how to handle situations and people."
After initially joining as Teesside's head of airport development, to be the "eyes and ears" of the ownership transition, Phil was promoted to commercial director during the pandemic, before being handed the managing director role.
And he's not stopped since.
Like the football managers he once interviewed, a white board hangs on his office wall, tactics squiggled in black ink.
But it's not just Phil's vision that's aiding the airport's progress – a national focus is providing a spotlight to shine too.
The base sits within Teesside's freeport, the commercial boundary that gives operators numerous tax and trading benefits, and is also a short drive from Darlington, where the Government is shifting more than 1000 civil service posts from London across departments including the Treasury.
Phil says: "I'd always watched with interest the situation at Teesside, and I was delighted to be given the chance to play a part in taking it forward.
"And it's a fantastic time to be here, given the amount of opportunity across the region now.
"Being able to say we're part of the UK's largest freeport, and that the Government is moving departments to Darlington, is really adding significant weight to the North East's stature.
"And it's helping the airport, because it is giving fresh exposure we're able to emphasise with the investments we're making.
"My job is to knit all of the pieces together to deliver success, and the great thing is, with investments like the Government jobs, I keep on getting more pieces to play with."
He adds: "And things are coming together. 
"This airport has always had the surface access and infrastructure; we can serve Teesside, the North East and Yorkshire, because Tees Valley has one of the UK's fastest-moving road commuter networks.
"It's got a catchment area of 5.2 million within 90 minutes' drive, and the A1 and A19 are on the doorstep.
"What it didn't have was the route development, but we're working on that, and the initial results are very positive.
"This summer – owing to the pandemic – has been the first where airlines have been able to take a proper look at things, and what they've seen is our phenomenal load factors, with flights going out full."
Business and leisure flights, however, are only one aspect of the masterplan, says Phil, with significant investment in the airport's commercial offer equally crucial to its turnaround.
As he talks, over his shoulder labourers in high-visibility jackets and hard hats scale scaffolding to finish another phase of redevelopment work.
Across the way, ground lies broken where a link road will eventually stand as a gateway to the £200 million Southside Business Park, which Phil says will create as many as 4400 jobs by providing 1.9 million sq ft of distribution and industrial space on the opposite side of the runway.
Elsewhere, existing tenant and global plane maintenance, removal and overhaul firm Willis Lease Finance Corporation – alongside wholly-owned subsidiary Willis Aviation Services – has submitted plans to create a £25 million, 200-job base, and is also set to expand the Jet Centre, which delivers ground handling support.
And fellow longstanding resident Draken Europe – formerly Cobham Aviation – is building a second hangar, due to create as many as 30 jobs, which will extend the use of Dassault Falcon RAF training planes in Teesside's skies and bring Alca L-159E 'Honey Badger' combat jets to the region.
Phil says: "If you get an airport right, it brings jobs, increased GVA, inward investment and inboard tourism; its influence is immense.
"And there are so many opportunities for us on the commercial side.
"This airport sits in a freeport, has more than 800 acres of land to develop and a runway, which at 2291 metres long, can take any aircraft.
"We've got fantastic potential with freight too.
"We have plans to bring fully-loaded cargo aircraft in, which will make a major difference to the economic side of the business, while allowing us to play our part in the North East's prowess as an exporting region.
"But we can go beyond that, owing to Teesside's central position on the map.
"With freight, for example, we can very easily serve the North East and Yorkshire, but can truck things to other parts of the UK too, because we're not constrained when it comes to road links.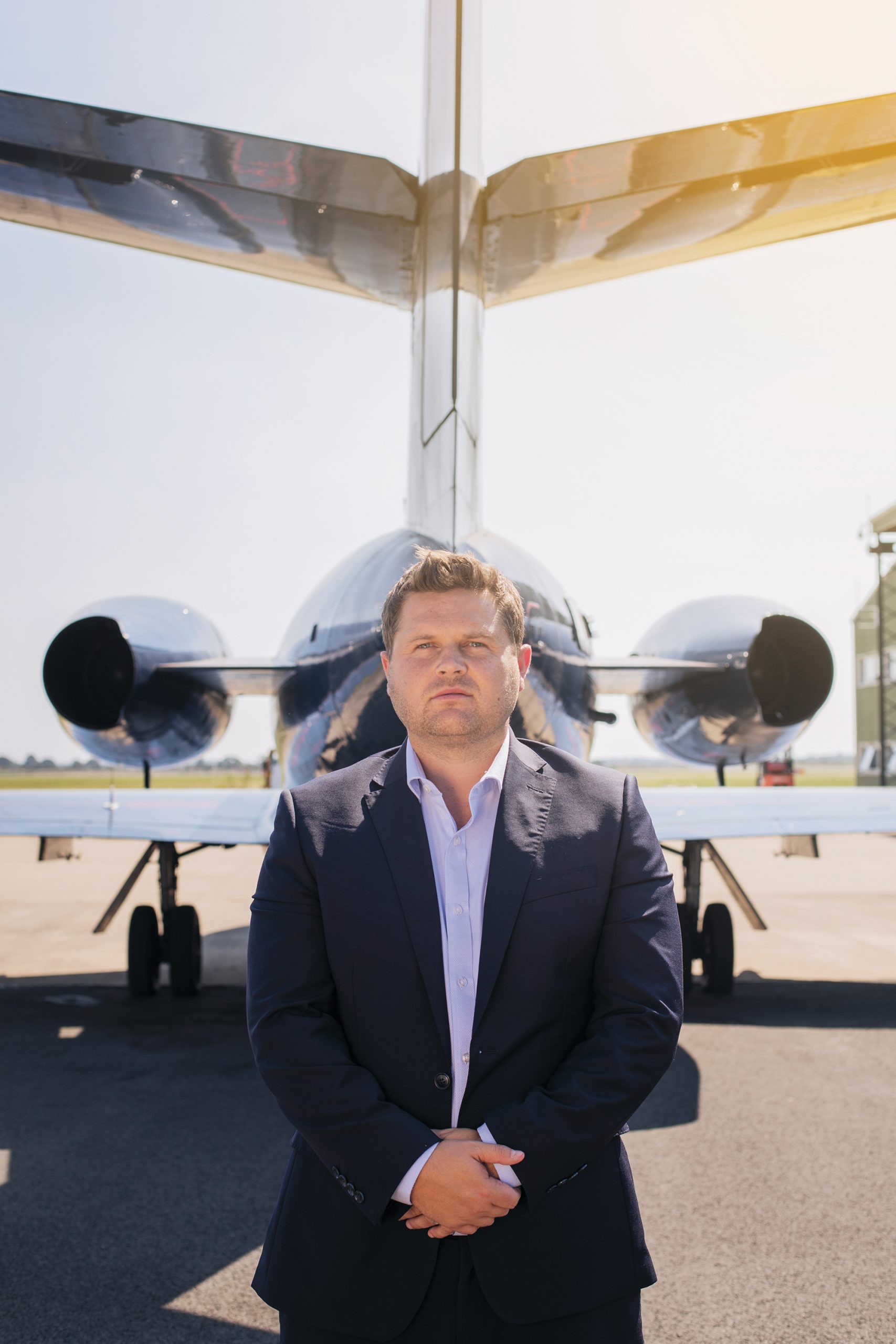 "And operators are seeing that landscape.
"Willis has extended its agreement because it can see the opportunities at the airport and the levers for growth across the region.
"It's the same with Draken."
A further component in the commercial expansion, reveals Phil, is a major low-carbon drive, with a blueprint in place to make the base the UK's first hydrogen-ready airport, along with producing its own sustainable aviation fuel (SAF).
With hydrogen-powered and electric vehicles, from cars to tugs, already in use, Phil says the site is well placed to harness the expertise of the area's process sector, notably a £1 billion investment into SAF by Saudi-based Alfanar Group and the Net Zero Teesside endeavour, which is primed for land on Redcar's Teesworks.
Known as the Lighthouse Green Fuels Project, Alfanar says its 240-job venture will make SAF from household and commercial waste at scale.
Led by BP, Net Zero Teesside will feature two hydrogen production plants – HyGreen Teesside, which will make green hydrogen through water electrolysis using renewable power, and H2Teesside, which will produce blue hydrogen from natural gas.
Phil says: "I'm really excited about what we can do around the net-zero agenda. 
"And we can genuinely lead the way on SAF, thanks to things like Alfanar and Net Zero Teesside.
"Teesside's industrial cluster is massively to the airport's advantage, because it produces more than 50 per cent of the UK's hydrogen.
"And what we're doing is getting noticed.
"We had the chief executive of the Civil Aviation Authority of Singapore visit to talk about our work with hydrogen, and we've got other airports wanting to chat too.
"That makes me very proud, and shows the level of our progress."
However, despite the ground made, Phil says much more remains to be accomplished.
For while the airport may be flying again, he wants it to soar.
He adds: "Teesside is back on the map, not just as a region but as an airport, and we're getting into the next phase of growth.
"The first was getting the airport back, and you have to take your hat off to Ben, who came up with the vision to do so. 
"The second was developing flights and the terminal, which we've done, and are continuing to do, and the third is around enhancing the estate, which we've started.
"We've achieved so much in a short space of time, but we're not resting on our laurels; we want to be ahead of the curve.
"And everyone here is working flat out to deliver success – we can see the opportunities and we don't want to pass any of them up."
He adds: "There is a pride about the airport again – people are wanting to fly out of here once more and businesses are seeing the potential.
"Things are starting to tick, but you never get a second chance to make a first impression.
"The job will never be done."