Arts & Culture
On the cover: Si King, The Hairy Bikers – A taste of something new
The nation's food habits and choices are evolving and diversifying, and the North East is leading the revolution. Street food was already becoming more than just a fad before the pandemic and is gaining momentum again as our high streets, restaurants, bars and hotels reopen. Across the region, and in fact the whole country, local authorities are embracing the street food scene. Street food has brought a vibrancy to the eating experience and an excitement created by the sights, sounds and smells from a broad spectrum of cuisines. For nearly 20 years, popular TV travelogue chefs the Hairy Bikers have raved about street food to their millions of BBC viewers, and a good number more through their cookbooks. So when Si King – one half of the famous culinary biking duo – approached the city of Sunderland about hosting a food and music festival, how could it say no? Here, Colin Young speaks to Si to get a taste of the street food scene.
The Hairy Bikers have been travelling the globe on their motorcycles for nearly 20 years.
Si King, from Kibblesworth, Tyne and Wear, and Barrow-in-Furness-born Dave Myers met on a TV set, formed an immediate bond, then convinced the BBC to let them film a travelogue across the North of England and won millions of fans almost overnight.
The looks, the laughs and the leathers have kept them on our screens, and their adaptation to healthier cooking and lifestyles has maintained their place as the nation's favourite cooking couple.
And with the pair taking a break from filming for the year, Si has got on his bike – literally – to bring some of his favourite street foods to the North East.
He started with the Soul Food and Music Festival – which included the Souled Out Music Festival – across a June weekend in Sunderland.
The event, sponsored by Sunderland City Council and Sunderland's Business Improvement District (BID), was Si's brainchild – he handpicked the food vendors, including Scream For Pizza, Dosa Kitchen, burger specialists One Dining, Caribbean food from The Calabash Tree, Nan Bei, which sells Chinese dumplings and the cover star – Goodtimes Tacos.
And he performed with his group, The King Cush Band, in afternoon sessions on a Keel Square stage.
"I've never been nervous about cooking," he says. 
"We served three-and-a-half thousand people in a huge theatre in New York City, and it didn't touch the sides because we knew what we were doing.
"And I've always got my best mate next to me saying, 'you've forgotten the recipe again, haven't you?', and I'm going, 'I have no idea what I'm doing!,' but that's what we love.
"We're natural performers, but I definitely get nervous before I go on stage and play with the band.
"There's no complacency with that – we can blag the cooking and have a laugh and get away with it, but not with the music we play.
"And we've not made it any easier for ourselves with five-piece harmonies and a full brass section.
"It's like the North East Fugees – it's hilarious. I love it."
He may have been studiously bashing away in the background on stage on the old Vaux site in mid-June, but the percussionist wants to sing from the rooftops about the North East food scene too.
The Souled Out event was one of his gifts and it attracted hundreds of visitors to Sunderland city centre over three mainly sunny days, acting as a literal taster of what is to come for the area.
The transformation of Sunderland continues at tremendous pace and, following the opening of the Fire Station performance venue at the turn of the year and the nearby City Hall, there are plans to develop the listed Stables at Sheepfolds, concentrating on areas for outdoor music and food. 
Proposals at the former Crowtree Leisure Centre site include a food hall too.
And the festival allowed Si to bring some eclectic tastes 'home' to a willing and hungry audience.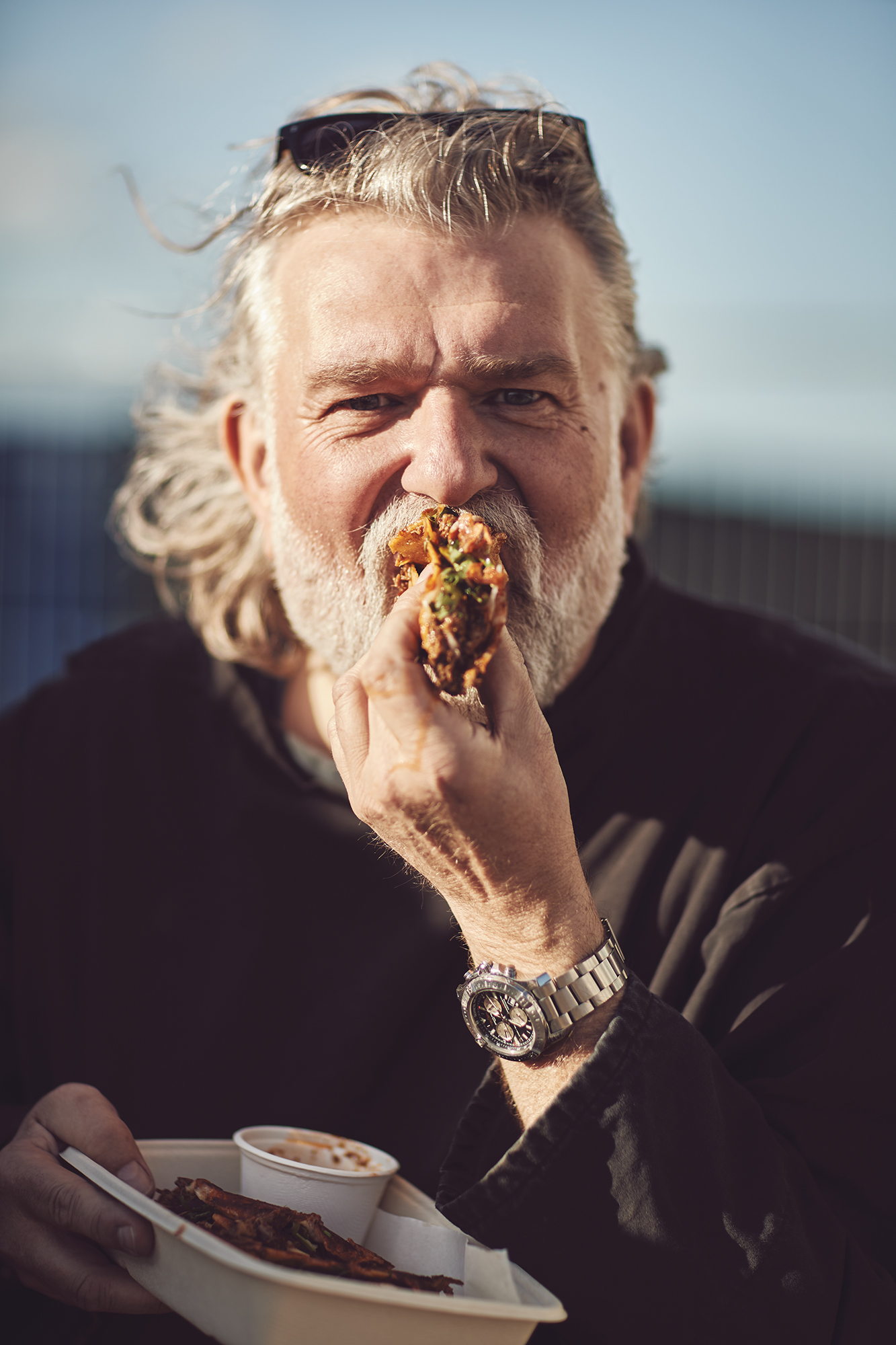 He says: "It was a wonderful opportunity to promote great produce and food which is cooked incredibly well; what better way to do that and to say this is who we are?
"We know how to party up in the North East like nowhere else in the country – and I don't care what any other part of the country says.
"When we party, it's 'Where the Wild Things Are'.
"It's great because we are good at it; hospitality and warmth and kindness are tantamount to the character and personalities that we are in the North East.
"Through music, through our culture and through food we showcase our identity, and I'm enormously proud of it.
"Dave and I did a programme about the North and this whole area, and what we found is that there's an eclectic community supporting a culture of international street foods across the region, and in fact right across the country.
"Seeing a load of vendors all the way through the city centre of Sunderland was epic. 
"It had that sense of hearing and seeing and smelling first and then eating some great food; that's how it works. 
"We're very careful about recommendations because what we like is always so subjective, but it doesn't matter. 
"You know what Dave and I are like, we don't care what we eat, it could be egg and chips, as long as it's good eggs and great potatoes.
"It's about the love and care and simplicity of things, but it could also be the love and care and complication of things and everything else in between.
"We've been four-and-a-half times round the world on motorcycles, and if there is one thing I've learnt, just because you don't understand something and it's not particularly your culture, there's absolutely no reason to take the moral high ground because you don't understand it.
"World music, different cultures and the application of faiths around food and celebrations – you don't need to be afraid of them."
Finding unhindered support from leading figures in the city, such as council leader Graeme Miller and Sunderland BID chief executive Sharon Appleby, also gave Souled Out significant momentum, Si says.
"People came and could taste, hear, smell and see things happening," he says. 
"That's incredibly important; it was such a privilege to bring this to Sunderland.
"Sunderland has never lost its character and its personality, but it has lost its way of telling everyone about its character and personality.
"Everybody involved from the city was really excited about what we wanted to bring. 
"When we had the initial conversations, they said, 'you are good at what you do, we know it will be a quality event, let's do it'.
"There was also an understanding that things have to be for everybody; you can't price people out of things.
"We have loads of ideas that we can bring to the city centre, but it's pointless if people are not going to support us.
"And you can feel that there's a real willingness and desire for these type of events in what is going to be a world-leading city on the North East coast.
"The council is putting together other events across the summer, which will give people a new enthusiasm for the city that is tangible."
There is no doubt the food and catering industry has changed dramatically since the Hairy Bikers first zoomed on to our screens in 2004; they have launched an online weight-loss programme and the contents and ingredients of their 26 cookery books over the years have evolved. 
The North East continues to produce little gems, as well as exemplary local produce, and Si is satisfied that independents will continue to thrive.
And with his close friend and sidekick sidelined by the cancer treatment he announced earlier this year – "he's going canny", says Si – he plans to take the music and food extravaganza to other locations and build on the success of the Sunderland event.
He says: "Given our geography, the main frustration for me in the North East is that we don't shout about it quite as much as we should, and there isn't a cohesive strategy that promotes the whole region, and I mean a proper cohesive strategy. 
"If you look at the comparison with Cumbria or North Yorkshire, or the whole of Yorkshire, for instance, they are incredibly adept at promoting their produce and what they do with it.
"In the North East, we still have that 'steady on, calm down, let's just gan canny' attitude. 
"People are trying, which is good, but the endeavour needs to be more rooted in reality with real co-ordination.
"I am enormously pleased about what is going on in the North East and that there is a healthy culture and subculture of food. 
"It is of a good quality, which sometimes doesn't translate to the restaurant trade but certainly does in terms of street vendors. 
"The level of innovation and creativity for all of that is really encouraging.
"At the minute, I just think there are a couple of city centres particularly that are flagging, and they need a bit of love.
"And the way you do that is reduce rates, so people can make a living out of the products and food they make.
"But until there is a legislative willingness to do any of that, we will continue to struggle.
"All you can do is try, and I am not here to criticise but to support and encourage. 
"We can always do better because the food industry is ever-evolving and dynamic, so you have to keep ahead of the curve."