Arts & Culture
New creative and cultural network Generator Union launches
Talent development agency Generator will bring the creative industries and the associated supply chains together in a collaborative network of freelancers, SMEs, cultural venues and corporations to support jobs, growth and development throughout the North East.
Launched at Newcastle's Live Theatre by Generator's new CEO Mick Ross, Generator Union is born out of the former Digital Union strand, with a renewed focus on the arts, culture and creative sectors. Whereas Digital Union's focus was on tech and digital, the network will focus its efforts on delivering Generator's new vision, which realigns the agency's output back to its roots as a driving force behind the music and performance industry in the North East.
Through partnerships with some of the region's leading businesses, creative trailblazers and cultural venues, the network will offer a range of exclusive member benefits including events, seminars, lectures and talks, unrivalled networking opportunities and chances to promote jobs, news and offers to Generator's huge online and offline communities.
It's hoped membership of the network will foster collaboration and innovation amongst members, encouraging, for example, cutting-edge tech businesses to collaborate with the region's theatres to create new work or connecting the region's burgeoning screen industry with emerging musicians to deliver unique experiences for audiences.
Believing in true access for all, without barriers, membership of Generator Union starts with a free tier for freelancers, start ups and students, gaining them access to the entire network and the region's leading cultural and creative figures and all the events and opportunities available.
SMEs and larger enterprises can then choose from a range of pricing options in a 'pay-what-you-feel' model, helping to keep access to the network free for those starting out or flying solo. High-level partnership and 'friends' packages are also offered to organisations who align with Generator's mission, with paid members and partners enjoying premium benefits like promotion in the network's monthly newsletters, a place in the online members directory and opportunities to speak at or host events for the membership.
Members will also gain access to third party offers, have the ability to share exclusive promotions and offers with other members and earn discounts on Generator and its partners' popular paid events, including the brand new Generator Live emerging music festival.
Establishing the network marks a key milestone in Generator's transformation over recent months as it adopts a new vision and mission under its new leadership team. With a focus on retaining talent and creating much needed skilled employment in the arts, culture and creative sector in the North East, it is hoped the opportunities generated by Generator Union will encourage more of the region's top talent to remain in the area, helping to establish a thriving music industry in the North East with a buoyant and successful supply chain to support it.
Generator have already signed up a number of partners and friends from launch, including leading FE and HE colleges Newcastle College and Gateshead College, cloud accountancy firm Blu Sky, legal firm Mincoffs Solicitors, Middlesborough Council and Signpost Productions with more partners set to join in the coming weeks.
Emma Whitenstall, Generator's Strategic Partnerships Manager and Generator Union lead said: "We are absolutely thrilled to be launching Generator Union, a network that truly represents what we believe in – a collaborative creative & cultural community for the region. We are here to connect and unite talent, be a catalyst for collaboration and support & empower a new generation of creatives. To be able to lead on this for Generator and connect with so many incredible, talented people and innovative organisations is a huge privilege for myself and the whole team at Generator.
If you want to support the growth of the sector, believe in the power of the community we urge you to get involved!"
Claire Fenwick, marketing and business development manager, Mincoffs Solicitors is proud that the firm is backing the new network: "Generator is a brilliant force for good for the creative and cultural sectors in the North East, so we were delighted when we were invited to be a partner of Generator Union. The initiative has huge potential and we are sure it will be an amazing resource for creatives at every stage of their journey. It is fantastic to have had the opportunity to get involved at its inception and we look forward to seeing how the community grows from here."
Mick Ross, chief executive of Generator discusses how Generator Union aligns with the new vision for the organisation: "We are delighted to be launching Generator Union, our creative and cultural network. I'd like to thank our advisory group, partners, and funders for their support in creating this fantastic initiative. We will lead the charge to grow and sustain the creative and cultural sector by working collaboratively, sharing knowledge, and developing opportunities to achieve common goals.
Promoting the region as a thriving community that attracts talent, develops skills and supports the next generation of creatives, the network will unite the creative and cultural sector whilst aligning with our vision to create a sustainable music industry in the North East that ensures access for all. This will be delivered through 4 key pillars – partnerships, talent development, skills and community and we look forward to watching the network's growth support the sector and its supply chain."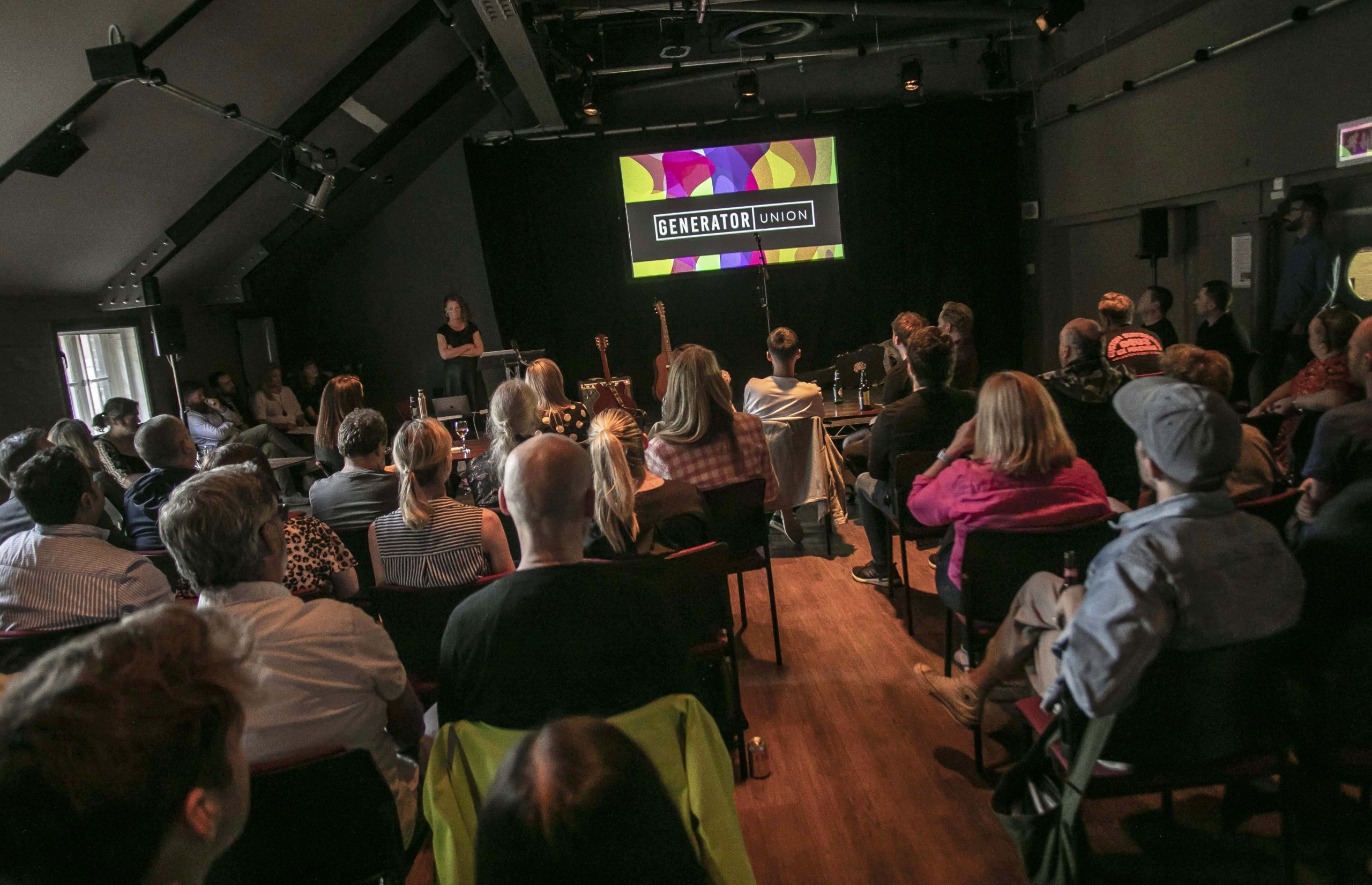 Membership sign up is open now at generator.org.uk/generator-union/
Photography credit: Victoria Wai