Featured
Showcasing our region's many opportunities
The UK Real Estate Investment and Infrastructure Forum conference in Leeds firmly threw the spotlight on the North East, with many exciting projects and future investment opportunities highlighted to national and global delegates. North East Times' business journalist Colin Young attended the event, and heard from a number of individuals, including Womble Bond Dickinson head of Newcastle office Nigel Emmerson, about why the area has the people, places
and potential to continue growing its presence on the international stage.
Last month, Leeds' Royal Armouries hosted the first UK Real Estate Investment and Infrastructure Forum (UKREiiF).
The three-day event attracted more than 4000 visitors and connected people, places and businesses to showcase the scale of investable propositions they have across their region, and highlight future opportunities to developers, investors and occupiers from across the globe.
The main exhibition hall was teeming with Government departments and ministers, investors, funders, developers, housebuilders, end-users and more.
The 200 local authorities, regions and cities present may have been battling for investment from the 1000-plus investors, developers and occupiers, but there was a collaborative mood, rather than a competitive one, and an acknowledgement that investment must come across the UK if the Government is to fulfil its 'levelling-up' agenda and meet net-zero targets.
Invest Newcastle, who are part of NewcastleGateshead Initiative, led a regional delegation to UKREiiF claiming the central point among the 80-plus stalls in the exhibition hall – not far from County Durham's presence.
Visitors were attracted to the investment proposition, development opportunities and 100-strong delegation, which included recently-appointed Newcastle City Council chief executive Pam Smith, Newcastle University's pro-vice chancellor of engagement and place Jane Robinson, and North of Tyne Authority Mayor Jamie Driscoll, as well as 20-plus private sector sponsors and supporters that included Womble Bond Dickinson, CGI, Avison Young and Ryder Architecture.
When the Invest Newcastle contingent moved from the main hall to the second floor Cinema Stage, next to the main museum, on the first day of the conference, it was standing room only and the venue was packed with the largest developers and investors from across the UK and globe, as well as key players, influencers and decision-makers within the investment and real estate sectors.
They had come to hear from a strong North East panel about what the region has to offer and the attention it has been receiving from national and global investors.
The event was chaired by Michelle Percy, Newcastle City Council's director of place, who sat alongside Jane Robinson; Tom Lynch, group commercial director and senior vice president at ASM Global, the operator of The Sage; Matt Beeton, Port of Tyne chief executive; and Nigel Emmerson, head of the Newcastle office and the national housing group at Womble Bond Dickinson, which sponsored the session.
In her introduction as chair, Michelle warmed the audience by referencing not only Newcastle United's recent £300 million takeover, and the long-term economic and social benefits to the entire city, but the retention of the club's Premier League status the previous night, which even drew a few cheers.
Newcastle, she said – according to The Levelling Up Tech Power League – is the eighth fastest growing city in the UK, having attracted a record number of inward investors, not to mention approval of two multi-million-pound 'levelling-up' bids from the Government and the relocation of 9000 HMRC staff to the city centre, which will have a major impact.
A long-term investor and the region's largest law firm, Womble Bond Dickinson, which has 27 offices across the UK and US, sees Newcastle as a city capable of reaching the top of the Power League chart – as well as making major leaps in the world's biggest football league over the coming years.
It has deep roots in the North East, noting the city as one of the best places in the UK to live, work and do business.
Moving to Newcastle Helix after 23 years on the Quayside, it is committed to playing its part in the future success of the region by leveraging its transatlantic connections so that the North East can continue to be among the best and uniquely positioned for investment for years to come.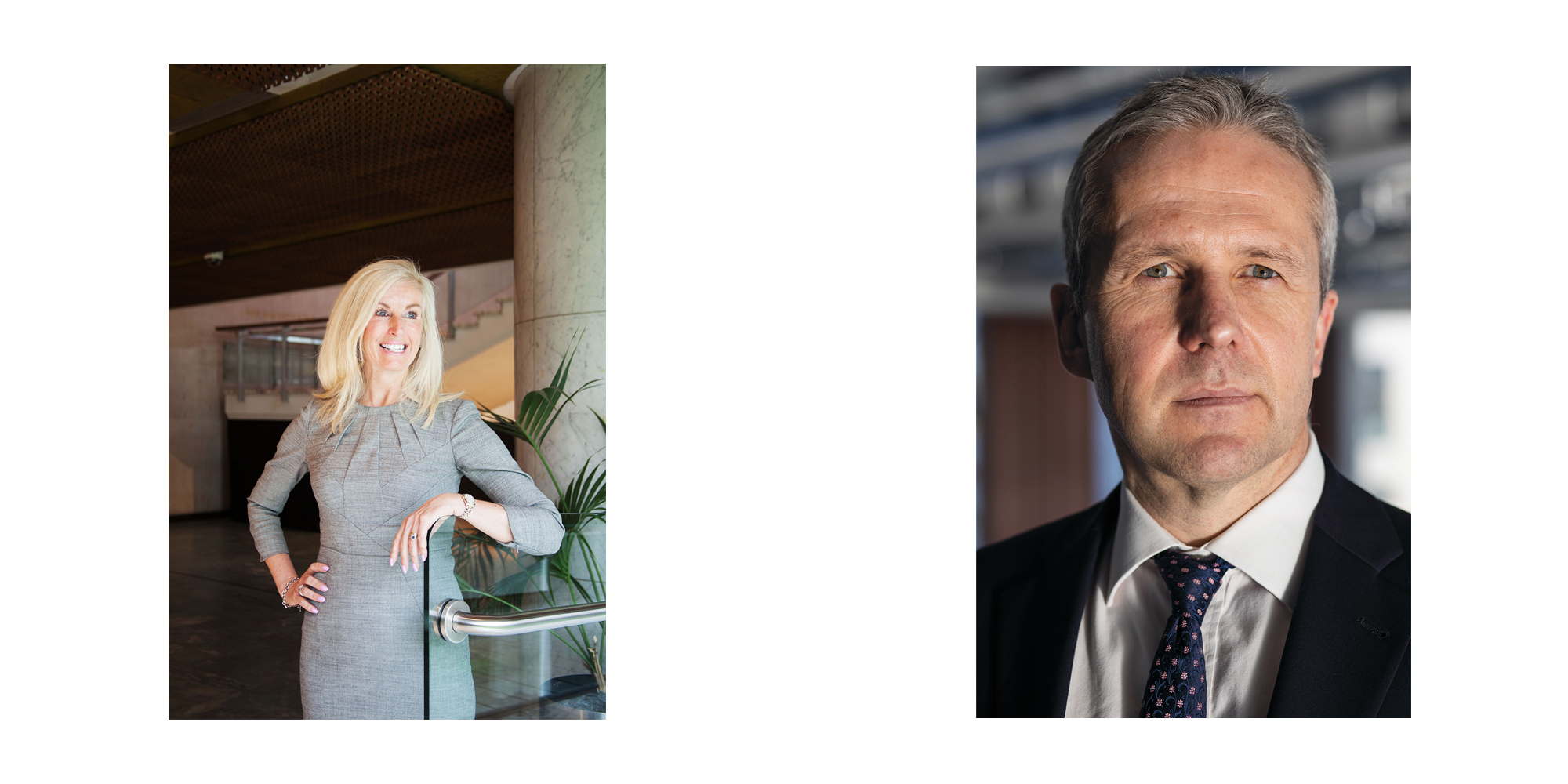 Pictured (L-R): Michelle Percy and Nigel Emmerson


During the event, Michelle highlighted major projects in the pipeline – including the BBC's £25 million commitment to the North East over five years, and the £300 million-plus investment in The Sage, the international venue for world-class business and entertainment on Gateshead Quayside.
The development, operated by ASM Global, is set to support more than 2000 jobs and attract one million additional visitors annually, as well as give a £100 million boost to the regional economy.
She added: "Newcastle is also the first city in the world to have a local authority, hospital trust and university declaring a climate emergency and making net-zero commitments, making the city an international climate leader.
"We have a city with the highest concentration of listed buildings, which makes it beautiful, but, with a population of 249,000, we're also facing challenges for bringing forward residential and commercial development.
"It's important to get the consultation right and ensure we're providing quality, affordable homes and spaces for our residents and businesses.
"It's a challenge, but we have to do it well."
In her introduction to Matt, she spoke of Port of Tyne's ambitious net-zero roadmaps to become carbon neutral by 2030 and an all-electric port by 2040, and the infrastructure which will support sector growth in the north.
With Newcastle University rated first in the UK for sustainable development, pro-vice chancellor Jane needed little introduction and she said the region's academics are leading the way in research, adding the city's approach to public and private sector collaboration will help meet net-zero targets.
Results from the Research Excellence Framework (REF2021) were announced just before UKREiiF, with both Newcastle and Northumbria universities performing strongly in these prestigious rankings.
Jane said the combined research power of Newcastle's two universities will further advance the region's growing reputation for world-leading innovation and, together with Durham, now make a northern research powerhouse.
She added: "We're so proud of this and how we work together with our partners and stakeholders to make a lasting social and economic impact through our research – at home, in the UK and across the world.
"Newcastle and the North East have always been a place of innovation; it's in our DNA.
"We want to make sure we're creating these opportunities through innovation and assist those who want to re-skill and offer real jobs, so they'll stay.
"Data and digital are huge growth areas, and with Northumbria University and colleges, we are working closely with employers to understand the skills requirements needed, because they're evolving so quickly; we need to make sure pathways are set up.
"National research power has increased and it's important to emphasise, with the research taking place at the National Innovation Centre for Ageing and the National Innovation Centre for Data, that we're working in collaboration with our partners to make the most of that research.
"There are lots of ideas and we're really good at making things happen – because we work together.
"Newcastle Helix is a fantastic example of that.
"We're already delivering on net-zero targets in partnership with the city, which really does put us on the map."
Nigel was asked why Newcastle is so special, and he said a colleague from the US, who called him that morning, had helped provide the answer.
He said: "He was talking about bringing a delegation to Newcastle and I said, 'why Newcastle?'
"He said, 'we've done Manchester and London, and we're curious about Newcastle and the North East; we've never been further north than Manchester and Newcastle is very much on the radar.'
"It was great to hear, and he said there were three points – three Ps – people, place and possibilities, and Newcastle has the lot.
"It was voted friendliest city in the country in 2019 and there are 50,000 students in the city centre, who are full of innovation and energy.
"It's a wonderful and beautiful city, with the highest number of listed buildings behind London and Bath, and green areas like the wonderful Town Moor and a real sense of community.
Matt added: "There's real momentum in Port of Tyne, Newcastle and the whole North East – and we're also seeing a lot going on in Teesside.
"People like our ambition and the fact we have a strategy at Port of Tyne to be carbon neutral quickly.
"We're looking to provide skills for today in contracts that last for 60-plus years.
"It will need skills which are not even a thing today, so it's important to have people researching and discovering new skills for young people round the region.
"This is an area which is going to reinvent itself five or six times, and these 'generational markets' are what we need to attract into the region.
"This is not just about the city of Newcastle, but the whole region and creating generations of jobs.
"We want our children to have the opportunities to live and work in our region and further their careers."
Tom said: "Newcastle is a friendly place and a great city to visit, and, in our industry, that is just equity.
"The cultural offer is phenomenal, and it has such powerful pedigree.
"The Sage will be set in a region with a global reputation for its leisure and cultural offer.
"There is continued momentum and you sense things are about to happen.
"It's there, and it's deliverable.
"People come and say, 'wow, Newcastle is such a gorgeous city'.
"They come, not really knowing what to expect, but leave knowing the place and falling in love with it."
The panel also tackled the 'levelling-up' agenda, and Michelle said it was incumbent on all interested parties in the city to be ready for the eventual concrete plans and announcements from the Government.
She said: "The Government is talking about what 'levelling-up' is and how they will deliver it, and they will continue to talk about that; it's critical to be ready and land the investment we want.
"We know the work we've done on the first round of the Levelling Up Fund for ambitious projects in our city centre and for a new leisure centre has been really successful, so we know we have a good model.
"There's a growing sense of confidence on what our key elements need to be.
Matt added: "The whole region sits on the edge of some of the biggest developments and opportunities, including energy security, and we are talking with investors now about investing in the port to meet the challenge."
After the event, North East Times spoke to Nigel and Tom, who were delighted with the response of the packed audience to their collective North East pitch.
Nigel said: "This is a huge event to raise the profile of Newcastle and the North East to attract investment.
"People are curious about what's going on in the North East.
"We're living in a more sustainable world and the North East is leading the way, so it's about raising our profile because ultimately that's good for all of us.
"Newcastle is a brilliant place and things are happening, and it's about getting that message out there and keeping it going."
Tom added: "The word is transformational.
"Newcastle doesn't need to transform but the developments in tech space and culture are creating something new for the region and it's really exciting to be at the start of that.
"The Sage is a meeting of tech and culture and hopefully we can be a catalyst for more."
Across 14 stages, there were key themes and roundtables aimed at leading the industry conversation, including the UK's net-zero target, social value and inclusive growth, the future of real estate, building better communities and inclusive inward investment.
It also provided an opportunity to hear contributions from minister for investment Lord Gerry Grimstone and minister for science, research and innovation George Freeman, as well as high-profile city mayors, such as Andy Burnham and Tracy Brabin, and Tees Valley Mayor Ben Houchen, who was part of a discussion on building net-zero capabilities.
Invest Newcastle also hosted events that presented the ambitious plans for a new 29-acre development built on the former general hospital site, and Newcastle University's vision for it to become the world's premier centre for healthy ageing and living.
On the final day of UKREiiF, a lunchtime fringe event promoted an investor opportunity that exists in the heart of Newcastle's vibrant and dynamic £1.7 billion life science eco-system.
The North East's voice was well represented, with thought leaders from the delegation leading important conversations and discussions, as well as insight into the depth and value of the expertise and opportunity that exists in the region.
Womble Bond Dickinson
www.womblebonddickinson.com/uk
@WBD_UK
@UKREiiF