Ideas & Observations
Interview: Andy Long – vice-chancellor, Northumbria University
'A fundamentally different university'
It has been quite the last 12 months for Northumbria University, having been crowned The Times Higher Education University Of The Year in late 2022. Here, Colin Young speaks to vice-chancellor Andy Long about the accolade's significance, the institution's future plans and why it will continue its social mission to provide education opportunities for all.
It is slightly more than a year since Andy Long first strolled through the corridors and grounds of Northumbria University as its vice-chancellor.
Back then, for all it being a stone's throw from the busy din of Newcastle city centre, he was soon used to eerie silences deep inside the university's grand red brick buildings and thoroughfares.
For the most important ingredients – the students – were largely absent, enjoying their summer recess.
"It was strange," he says.
"It was very quiet because it was August, and my diary was the emptiest it had been in more than ten years."
It is much the same on the day Andy speaks to North East Times.
We meet in his office in the university complex 364 days to the point he first walked in.
"I am no longer new tomorrow," he laughs.
It has been a busy and successful fresher's year for the man in charge, who spent a brief spell working in Newcastle in his formative years.
What is different about the alleyways, halls, bannisters and ceilings compared to early summer 2022, though, are the tall, bright banners proclaiming Northumbria University as The Times Higher Education University Of The Year.
They are everywhere you look, and the university is understandably proud.
Judges noted its "exceptional performance, as well as bold, imaginative and innovative initiatives" during the 2020/2021 academic period.
'The university has done brilliant things'
Background work on the submission had already started when Andy took over from Andrew Wathey, but he still had a key role to play in the university's success, adding the finishing touches to an immense undertaking for the staff now under his command.
Still warming to his new role, the former provost and deputy vice-chancellor of Nottingham University was sent out to be the very public face of Northumbria.
Andy, who has a PhD in mechanical engineering from Nottingham, says: "I learned we were shortlisted before I arrived, so my first contribution was recording a video that went into the judging process.
"I did say in that submission, 'this is my tenth day, I'm not claiming the credit for this'.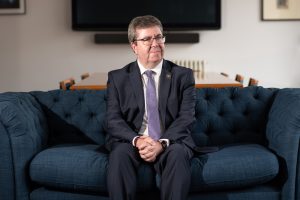 "I hosted the judges and had a hand in deciding what they should see – but that's as far as my contribution went.
"If there was a balance to be tipped at that point, it will have happened because of the people they met and what they saw on that day.
"I told them about the brilliant things the university has done and its plans for the future.
"In particular, I told them what it has done in terms of becoming a research-intensive university, why that matters to our community and students, and what it does in terms of social mobility and raising aspirations and giving people an opportunity, who wouldn't otherwise have had such.
"Then we introduced them to people who had lived the Northumbria story and could bring it to life."
Andy adds: "I was delighted when we won, and I did jokingly say when we collected the prize that I'd been in the job for three months and hadn't I done well!?'
"It was something achieved by everybody in this university.
"My predecessor Andrew was on stage with me, and I was able to credit him for his leadership that got us to this point.
"I'm in a brilliant position, a really fortunate position, in that I've inherited something really great.
"And we can all have a conversation about where to take it next."
'The sense of ambition is palpable'
Those discussions actually started in that first week, with Andy heading off on a mission to get to the heart of Northumbria University.
And what he discovered among lecturers, staff and students was an institution and environment geared for success beyond the award.
"In the first term up to Christmas, I said, 'I want to see every academic and every professional service department for an hour'," reveals Andy, who met the senior management team and more than 300 in the extended leadership team, including all senior staff.
He says: "My only condition was that each of them told me something they were proud of, just to make sure we could have a positive conversation and not just talk about all the things that needed fixing.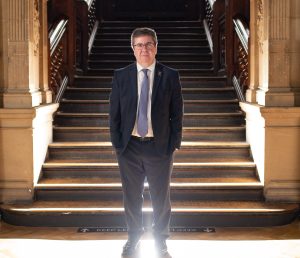 "You can't absorb all of it, but I wanted to get a flavour for how things work, understand people's priorities and their opportunities and challenges.
"It might have been a misjudgement on my part, in that I thought people were perhaps going to want to talk about problems, but most wanted to tell me several things they were proud of.
"That is a distinctive thing about this university; the sense of ambition and pride is really palpable.
"I don't have to try to work to create a positive culture because it was already in existence when I arrived."
Enhancing the student experience
The Times honour marks Northumbria's "remarkable transformation into the UK's first research-intensive modern university".
The strategy, founded in 2008, embedded quality research alongside a social mobility mission and an alignment to business and the demands of the regional economy.
The university has more than 1000 academics working on research, including a team of glaciologists who are studying the effects of climate change on the polar icecaps, and others working on satellite technologies and communications.
Andy says: "I had to set out my vision for the university as part of the interviews to get the job, and I've not kept that a secret from people.
"There is no pushback to this kind of direction of the university, being evermore research-intensive, doing ever higher quality research and, at the same time, enhancing the experience of students.
"And I believe you can do both.
"That's what I set out to do and it continues to be my vision for the university; and it has become increasingly apparent it is the vision of the vast majority of people here too.
"We're developing a new strategy this year, which we will implement next year, and in developing the strategy I'm talking to our university community.
"I've got my own ideas, but I wasn't going to come here and say these are all the things people need to do.
"Let's have a conversation about it, let's make sure that conversation involves the right level of ambition for the institution, and let's set our ambitions and chart the course to that next point for the university.
"And that will be about being even more research-intensive, further enhancing the quality of research and investing in the facilities and teams on our campus to ensure we can do that."
'We do something fundamentally different'
The research-intensive strategy is paying off, but what makes Northumbria University different is its historic appeal to its local population.
Andy, whose daughter was a Newcastle University student, says that will never change, pointing to the statistic that North East learners account for 60 per cent of Northumbria's intake.
He says: "We do something fundamentally different.
"We've got fantastic research happening at the university and students from a much wider range of backgrounds are able to benefit from that than is the case at any of the other research-intensive institutions.
"We will work hard to retain the position of being an institution where, whatever your background, you're just as likely to be offered a place.
"This region has lower levels of participation in higher education than other parts of the country.
"Many universities in large cities recruit their students countrywide, and many recruit largely from the south of England.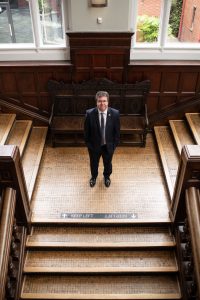 "We could decide to chase nationally, and laser focus on the students with the highest level grades.
"But by doing that, we'd leave behind some students in the North East who might be the first in their family to go to university, for example.
"We're going to make sure we reach out and build and maintain relationships with schools locally, to ensure students from all backgrounds continue to think Northumbria is a university for them.
"It really matters to me.
"I was the first in my family to go to university, having attended the local comprehensive school, and I met different kinds of people when I went to university who would have different opportunities and perhaps different advantages to the ones I'd had.
"I know something about how it feels to come from a particular background and go into higher education without previous experience to call on.
"That was a lot more common then.
"But it continues to be important to provide support for those people who are creating a family first by attending university, to give them brilliant experiences and positive outcomes."
Co-operation rather than competition
When Northumbria University received its Times accolade, Newcastle University was also shortlisted.
It meant, for the first time outside London, two educational institutions from the same city had appeared in the same category.
The first person to congratulate Northumbria University vice-chancellor Andy Long was his opposite number Chris Day.
And the two universities are increasingly working collaboratively on projects, with the relationship extending to Durham, Sunderland and Teesside.
Andy says: "In my first two weeks here, I had a meeting with Chris; he and I get along very well.
"And we agreed that, for example, we would have regular joint meetings of our executive teams, and talk about the things we do together, and what opportunities there are to do more together.
"There are areas where we're going to be in competition.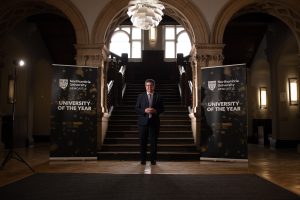 Pictures: Angela Carrington/The Bigger Picture Agency
"We are each other's biggest competitors for students – that will always be true.
"There are areas of research where we've got academics that might be competing for the same grants, although increasingly they're pooling resources and getting together and saying, 'together we can conquer other parts of the country and secure those resources to this city to the benefit of our people'.
"I have monthly meetings with the vice-chancellors from the five North East universities and, of course, we're going to be within the new North East Mayoral Combined Authority.
"And we're talking about what opportunities there will be for the universities and what we'll be able to offer and how we can all work together to the benefit of the region."
The two Newcastle universities also work jointly on outreach initiatives across the city, such as the IntoUniversity Centre, based in Walker, which works with local schools with low rates of participation in higher education.
The Leaving Newcastle Happy recycling and clearing scheme has raised money for the British Heart Foundation, but also ensures students leave the suburbs as they found them.
Andy adds: "There are 50,000 students between us, who are facing many of the same challenges.
"And if we pool our resources, we should be able to support them better than we can individually.
"Increasingly, the competition should be with the wider world, rather than with each other."