Ideas & Observations
Five minutes with… Professor Lynne McKenna
Following a lifelong career in education, Professor Lynne McKenna is preparing to retire from her role as dean of education and society at the University of Sunderland. Here, she tells Steven Hugill about her time in the learning sector, her experiences as a key player in the development of teachers and female leaders, and why her departure won't mean stepping away entirely from academia.
Your career began in the early 1990s, in a South Shields primary school. Was the graduation from early years learning to higher education always the goal?
I had always wanted to be a teacher.
I was the stereotypical little girl who played schools with her sister and friends – and I was always the teacher. 
But I didn't ever imagine I would be appointed dean in the institution where I was awarded my undergraduate degree. 
The road to achieving this position wasn't straightforward, and it certainly wasn't part of a plan.
I began teaching at Lord Primary School, in South Shields, in 1991, and, once I had a year under my belt, embarked on my master's in education at Newcastle University. 
Although I thoroughly enjoyed being a classroom teacher, I was driven by an appetite for lifelong learning and a desire to improve my practice.
My career progressed from teacher to advisory teacher, family numeracy co-ordinator for the borough of South Tyneside, and curriculum development officer in South Tyneside's Education Action Zone. 
At one point, I was working full-time as an advisory teacher and then, on an evening at Newcastle University, delivering postgraduate certificates in education for practising teachers. 
My career in academia really took off in 2001, when I was appointed a senior lecturer in early years education and parental support for learning at Northumbria University.
I also enrolled on a part-time doctoral programme at Durham University. 
I joined the University of Sunderland in 2015 as head of school of education and, in March 2018, was successful in applying for the dean of faculty of education position and in my application for professor. 
In your role as head of the school of education and latterly dean of the faculty of education and society, you've played a key role in shaping teacher training. What is it about that aspect of learning you enjoy?

 
I have been involved in initial and continuing teacher development since 1999, and am recognised as a key proponent of the role higher education institutions play in teacher training across the UK and internationally.
I am a strong advocate for raising the status of the teaching profession and a member of several organisations, including the MillionPlus Deans of Education Network and the all-party parliamentary group for the teaching profession. 
In 2020, I was named a leader in the field of innovation on the list of North Innovation Women and, earlier in 2023, was awarded an MBE for services to education.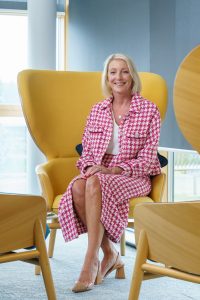 I am regularly consulted by the Department for Education on all things teacher training, and have impacted on national policy. 
I have spoken widely about teacher training and women in leadership, including, in May 2022, at the Department for Education's Women's Network.
The opportunity to raise the profile of women in leadership has been a large part of my work. 
Women in education need strong role models, to help inspire the future generation of female leaders, whether in the school sector or higher education. 
After all, you cannot be what you cannot see.
It was also an absolute privilege to help develop the Department for Education's new flagship international teacher training programme.
You mention your MBE, which was announced in King Charles' first birthday honours list. How did you feel when you found out about the accolade?
I received a letter from the Cabinet Office on the final day of a week-long Ofsted inspection of our initial teacher training programmes. 
I was rather numb after receiving the 'good' Ofsted judgement, and when I opened the envelope, I couldn't believe it. 
I'm truly humbled, but I share the honour with so many talented, inspirational and dedicated colleagues across the school and university sectors. 
I wholeheartedly believe in the transformative power of education, having experienced it for myself when entering higher education as a mature student at Sunderland Polytechnic in 1987.
I'm really looking forward to my investiture and celebrating with my family.  
How do you look back on your time in education, and what are your plans for the future?
I'm proud my tenure as dean has been recognised as transformative.
There have been many innovations, including social work degree apprenticeships, teaching apprenticeships, SEND provision and the international qualified teacher status programme. 
It has been a huge privilege to contribute to the development of the university and to lead the transformation of the faculty of education and society since 2015. 
By the time I retire, I will have spent 33 years in education, 23 of those in higher education, and I have enjoyed every minute (apart from the odd Ofsted inspection!). 
And I don't see my retirement as the end of the work I do, and have been doing, at the university. 
I hope to continue working, just in a different way.