Ideas & Observations
'Major corporations' innovation plans? It's all just Elvis to me…'
Having grown frustrated with the big technology operators and their lack of fresh innovation, Mark Harrison, scale-up partner at RTC North, explains why he believes the King of Rock 'n' Roll is alive – but unwell – in Silicon Valley.
I read with amusement not too long ago how Apple has become detached from reality – whether that be augmented, virtual or actual – with the launch of its first new product in ten years.
Firstly, at $3499, it hardly screams mass market appeal.
And secondly, it's a reboot of the failed Google Glass.
In truth, Apple's last real 'new' product launch was in 2007, with the iPhone.
Since then, there has been the iPad (massive phone) and the Apple Watch (tiny phone), with both more or less pointless, as the iPhone itself is the perfect size to fulfil the same functions.
And it got me thinking.
Much like the latter day, drug-addled, bloated King of Rock 'n' Roll Elvis, Apple – and the rest of the tech giants – have stopped coming up with anything ground-breaking or useful.
Instead, they are knocking out poorly delivered, pointless cover versions in a sparkly suit to distract us, all with the inflated price tag of a cheesy Las Vegas Show.
The big tech companies have stopped developing solutions to actual problems that changed our lives, much as the younger, better-looking Elvis revolutionised the music industry and the lives of the young all over the world.
Tech companies, for a period of 30 years, consistently made products that enhanced our lives and solved real-world problems.
For the last 15 years, however, in search of the next press release, they have delivered a series of solutions that have conversely looked for problems to solve – 'weapons of mass distraction', if you will.
The companies that so improved our productivity through the 90s and early noughties have developed addictive pointless technology to drain us of our attention span and our ability to communicate with one another, and produced a generation that when asked to actually work complain the stress of it is affecting their mental health.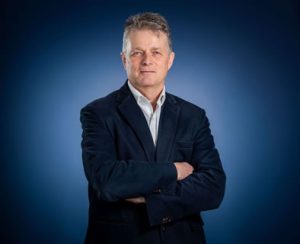 Mark Harrison, scale-up partner at RTC North
My generation just can't hear the nonsense anymore, and have largely retired on the pile of wealth they have accumulated in their homes, having given up explaining you have to earn your place in the world and aren't simply entitled to it.
The greatest minds of a generation have been fully focused on sending you targeted ads, setting the odds on your favourite gambling app or developing crypto currency, leveraging nothing more than the 'bigger fool theory'.
What could they have achieved, had they been focusing on fixing actual problems?
I work with Innovate UK, helping support innovation in this country.
There is an interesting stat that motivated me to joust at this particular windmill; the UK is second in the world for innovation, yet a poor 15th in execution.
This means most innovation and ideas that come from the UK fail to translate into anything meaningful, or are picked up by the Americans, Chinese or a sovereign wealth fund to complete their evolution to an actual sellable product.
Shocking as this stat is, I still see some really frivolous stuff masquerading as innovation.
For instance, one of my favourite recent – and most pointless – examples of claimed innovation is a branded desktop holder for gaming controllers. Another is fake brickwork foils to stick on our 'unsightly' radiators.
I despair.
However, there are some shining examples of innovation that are solving problems of the day, which we have managed to support to bring to market.
These range from using UV light to treat our water supplies, virtual ward technology and treatments for obesity and the resulting diabetes, and, locally, using virtual reality to train people working in dangerous environments without having to risk their lives.
Why are innovative companies failing?
Well, it isn't for the want of support or advisory programmes, Innovate UK being just one of the funded schemes available to firms.
The real reason is that even the really good ideas are hopelessly undercapitalised.
If the major corporations really have given up on useful innovation, then the next time they are out touring with their greatest hits, it would be great if they took a couple of the new generation of innovators with them as their support acts and gave them the capital and market access they need to succeed.
Doing what they are now, Suspicious Minds could conclude they are just making us all Lonesome Tonight.
For more information about Scaleup North East, and how its partner-led support helps entrepreneurs overcome a raft of growth barriers, visit www.scaleupnortheast.co.uk/