Promoted
Floating Board for Funky Chunky Furniture
Growth in scaling businesses can often be stifled due to the difficulty of being able to find and afford experienced directors across each function. When Funky Chunky Furniture's Kevin Johnston sought external support to help his company cope with growth demands, he turned to Durham-based IA Growth and its innovative Floating Board Support.
Bringing in external business support can be a costly process. 
It is often a drain on cashflow. There are a range of options on offer.
If it is funded support, it tends to be a short-term intervention based on 12 hours of generic support, and may not be targeted enough to suit the needs of the organisation.
One traditional route is to engage with an experienced business director in a non-executive capacity. 
Typically, however, each non-executive director has their own specialism and sometimes cannot support the full gamut of growth requirements. 
This leads to a collection of people around the table, which can prove to be costly in the short-term.
Another path often tread is to bring in a business consultant. 
Consultancy fees for quality strategy consultants can be well in excess of £1000 per day. 
Indeed, research from NEDBoard suggests average fees for non-executive director engagements to be £15,000 to £25,000 per annum for attending one board meeting per month.
Top-level, proven strategic visionary talent is difficult to find, attract, recruit and retain. 
The current well-documented challenges in the jobs market have led to a scarcity of well-qualified director level support. 
It has also driven up the cost, meaning they have become out of reach financially for many SMEs.
Without a conventional board in place delivering sound business planning, prudent financial management and the correct level of challenge, organisations struggle to attract the right level of investment for their growth.
So, what can entrepreneurs, business owners and directors do?
Kevin Johnston, of Funky Chunky Furniture [pictured, above, right, with IA Growth director Graham Sleep], was faced with this dilemma in 2017.
Funky Chunky Furniture had been trading for four years and was based in a small 'boat-house' on the Tyne, with a turnover of around £250,000 per annum and ten people. 
Discussions about a potential move to larger premises were underway, but the company knew it had to make operational changes to cope with, and satisfy, demand. 
Key questions Funky Chunky Furniture needed fast answers to were:
• What do we need to improve on? 
• Where? 
• When? 
• And how?
These were all new challenges for a burgeoning furniture maker; it simply didn't know what it didn't know.
And as soon as it didn't know the answers to these questions, or necessarily how to get to the 'next-level', it had to bring in some additional help. 
The company was recommended to speak to Graham Sleep, director of IA Growth, to see if he could help move it in the right direction, and enable it to cope with the demands placed on a fast-growing e-commerce business.  
After developing an initial 12-month plan, which helped increase turnover in the short-term, Kevin knew he needed further expansive support to bring the longer-term ambitions to fruition.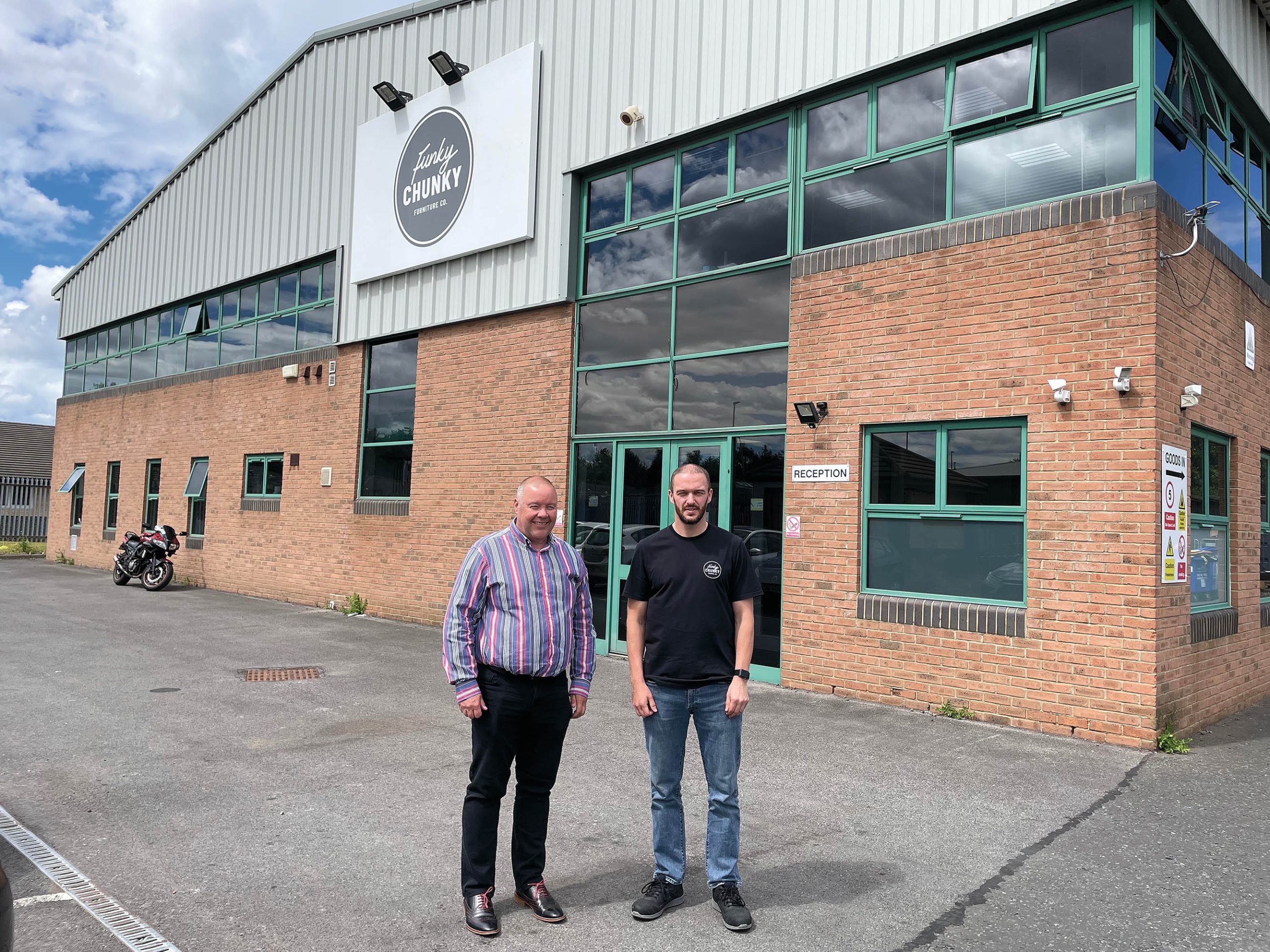 This is where he utilised the support of the IA Growth Floating Board.
This three-year relationship meant Funky Chunky Furniture grew turnover by more than ten times, all while maintaining levels of profitability in relation to sales. 
Originally, the business was built around the highly acclaimed 'Funky Chunky Floating Shelves' to maintain efficiencies. 
The company also moved from three third-party sales channels to one, and expanded into multiple ranges of furniture to further align with its brand values.
IA Growth gave support and advised on strategic sales development, financial planning and controls, operational issues and development of a leadership team, as well as bringing direct challenge and the ability to proactively identify risks, allowing the business to maintain consistent and sustained year-on-year growth. 
Kevin says: "Over the three years of IA Growth's support, we have stabilised in a new facility, positioned and developed our brand, and recruited and developed a leadership team. 
"We now employ just under 50 people, and we did all this without bringing in external investment, which perhaps would have been an easier option.
"Based on what we had seen before, IA Growth had a business proposition that was unique.
"Their approach suited us very well, providing us with the equivalent of three non-executive directors.  
"It was a no-brainer, and the results speak for themselves.
"The fact they were willing to risk some of their own fees based on their capability to deliver growth tells you everything you need to know about them.
"I am a different business owner now than when we first worked with them. 
"They are quietly confident in who they are and what they do. 
"This has now rubbed off on me, and will allow me to take a greater lead for the next phases of growth."