You may not have seen her, but chances are you've heard her. From London buses to television advertisements, audio books, theme park announcements and automated phone lines, Emma Hignett has been an unseen, guiding presence across everyday life for years. And her standing further increased recently, when the capital's £19 billion Elizabeth rail line – complete with Emma's carriage-based commentary – was officially opened by the Queen. Here, the former dancer, radio show host and weather presenter tells Steven Hugill about her career, and the chance moment that put her on the road to voiceover success.
Emma Hignett begins with a clarification.
A good many have asked, and a few more been convinced, but no, she isn't the voice of Alexa.
She is, though, the soundtrack to a great deal else.
From automated phone lines to theme park attractions, English language speaking exams, Spanish tourism videos, toothpaste advertisements and – rather ironically – installation instructions for Amazon's television Firestick, Emma, or more precisely her voice, has been part of our everyday lives for a good while.
Head to London, and her presence is greater still, her measured tones advising millions of residents, commuters and day-trippers on the myriad stops and landmarks across the city's mammoth bus system, Overground train network and the Thames Uber Boat.
And when the Queen officially opened the Elizabeth rail line in late May – the sprawling £19 billion venture also known as Crossrail that traverses London via Paddington and Liverpool Street – Emma was there too.
Every station announcement, on every carriage that runs along the commuter belt route, which stretches as far as Reading in the west and Shenfield in the east, is steered – vocally at least – by Emma.
The numbers are remarkable. And so too is the fact her notices were created not in a famous capital recording hub, but Emma's home-based studio in Staindrop, the County Durham chocolate box village that sits between Barnard Castle and Bishop Auckland.
"I love London, so it's exciting to be part of the Elizabeth line," smiles Emma, revealing the audio streams for the blue ribbon track were created five years ago, when much of the project still resembled a building site.
She says: "A lot of the announcements initially referred to Crossrail, and not Elizabeth line, so I had to re-record those – and I actually did the whole of the Tube network too, in case they need them in the future.
"And it was all done in a box of Kingspan, lined with foam, two floors above the ground floor in my house!
"To see the Queen cut the ribbon and see the excitement – people had queued from 5.30am, if not earlier, to get the first train – was fantastic.
"I was invited to ride the route before it opened, but I couldn't get there, so I spent the evening on Twitter, looking at comments and watching – and sharing – a BBC London film that included a clip of my voice!"
For all the delight and prestige brought by playing an integral role in such a landmark project, life as a professional voiceover artist was never on Emma's radar as a youngster. 
Her passion instead lay in dancing, which saw her tour the globe, performing in East Asia, South America and Europe.
She says: "I went to ballet school at The Hammond, in Chester, after my O levels, and did three years of training. 
"At that point, in the late 1980s, you had to go off and work to get an Equity card to be in a position to apply for better jobs.
"And it was quite common to go overseas to get a card, so I went to dance for an Italian circus touring Mexico.
"I then went to Japan, as part of an entertainment team.
"We had two different shows in a massive resort that was built on a natural hot spa and combined three theatres with three or four hotels, numerous restaurants and a waterpark.
"It was so exceptionally different and difficult too because, owing to the culture, we weren't allowed to mix with other people.
"That meant being stuck together with seven other British girls in their late teens and early 20s for six months, which was hard work.
"I also did a few months in a small theatre in Reims, which was good fun and so much nearer to the UK lifestyle-wise."
However, while France's Champagne capital provided some enjoyment, dancing was losing its fizz.
Troubled by knee injuries, and having grown weary of performing, Emma left behind her ballet turns for an altogether different pivot. 
At the time, voiceover work remained uncharted territory, but treading the boards had provided a crucial – if unknown – legacy.
She says: "All of the British girls I worked with abroad were southern, and I was northern, so I came back with a completely different accent.
"It massively influenced my future – though I didn't know it at the time."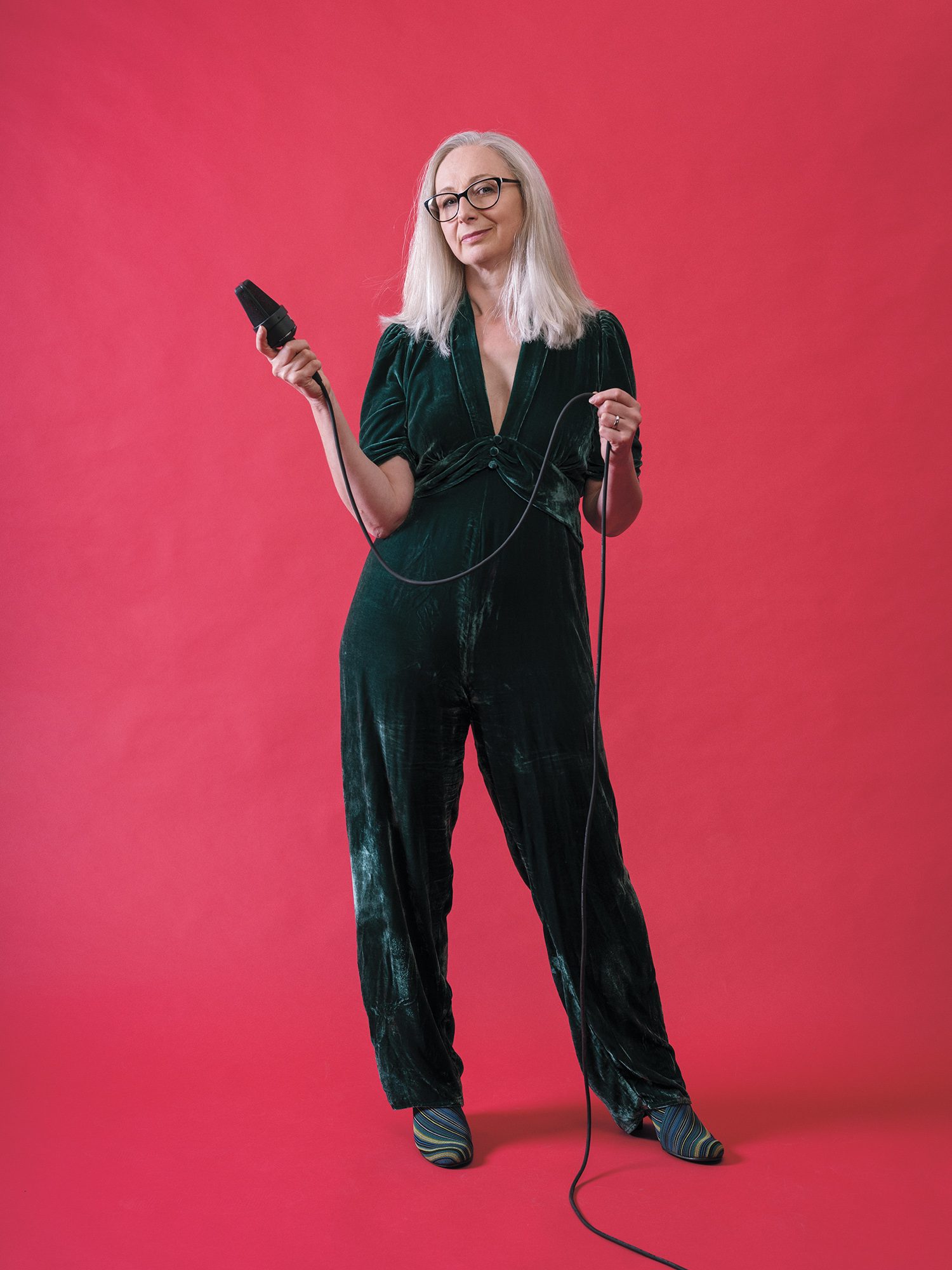 Emma entered the world of radio and television, becoming a recognised breakfast show presenter and the face of Wales' weather, respectively – living up to her father's foretelling during a phone call years previously.
She says: "When I was about 16, my father said he could see me reading the news on television one day.
"And for whatever reason, it just stuck in my head.
"At that point, there were some fairly high-profile people who had started on radio and then gone into television, such as Philip Schofield and Anneka Rice, so I thought, 'well, you start with radio and go into television'."
Aged 22, Emma's first job on the airwaves came in 1993, reporting on the roads with Metro Traffic Control, and she stayed in the industry for more than a decade, adding stints with stations including Jazz FM and Heart FM to her CV.
She says: "I had no history with radio, but I instantly fell in love with it.
"The job I enjoyed most was the breakfast show on Cardiff's Red Dragon FM.
"I presented it alongside Jason Harrold for five years, and it was great fun.
"There was always a lot going on, and I used to get invited to everything in the city.
"Life revolved around work; when I got up on a morning, I needed to know what had happened the night before.
"I vividly remember watching Martin Bashir's interview with Diana – I couldn't do the breakfast show without having watched that, for example."
As well as becoming a familiar voice to Welsh listeners, Emma was a well-known face too, thanks to a role presenting weekend weather bulletins on Harlech Television, which is now ITV Cymru Wales.
She says: "I'd been working for Heart FM in Birmingham, but I wanted to get more television experience, so I picked up the phone to a company called The Weather Department, which provided services for various ITV stations.
"I asked if they were looking for presenters, and they told me that, as luck would have it, they were auditioning the very next day.
"There were three people at the audition: an actress, a journalist and me. 
"The actress acted out being a weather girl and the journalist was more interested in reporting on the process than getting the job."
"That role really opened up another avenue," says Emma, who, by this juncture, had begun taking tentative steps into the voiceover world.
She adds: "For seven years, I was working seven days a week.
"I did five days on Red Dragon FM, spent the weekend working in Birmingham on the weather and on a Monday, after the breakfast show, went to London to voice a programme called The Album Show."
Such was her on-screen delivery that GMTV bosses came calling when regular weather presenter Andrea McLean was preparing for maternity leave.
The pull of radio and short-term nature of the offer, however, meant Emma declined their advances, though her profile did continue to rise, if a little inadvertently.
She says: "I was named the most stylish weather presenter in 1999; there was a television programme on style, and in its first week it covered weather girls. 
"They named me as the most stylish, with Sian Lloyd second, which I found extremely funny, given I had no money for a wardrobe like hers. 
"I used to be a bit creative and wear fun tops, which is what the programme cited!"
Despite The Album Show, voiceover work remained somewhat of a peripheral endeavour.
Emma says: "If something came along, I would go and do it, but I didn't put much emphasis on it.
"I did The Album Show and a few television advertisements for Sensodyne, and I'd pop down to London now and again, but I still didn't see it as a move to the future."
The watershed moment – like so many in life – came almost by accident.
Having swapped Red Dragon FM for Capital Gold London's breakfast show in 2003 – which included a spell alongside infamous talk show host Jerry Springer – Emma decided to move into radio management.
After landing a role with Darlington-based Alpha Radio, she worked during an intervening period as a freelancer, which is when a friend suggested she make her voice heard by Transport for London.
The operator was upgrading its buses and wanted to add a friendly sound to help passengers navigate the city's 19,000 stops. 
Emma says: "She'd been asked to put together ten voices, and urged me to submit a tape.
"I didn't have one, so I wrote down a few bus announcements, recorded them, sent them away and thought nothing more about it.
"Eventually, they whittled the voices down to one male and one female, and then, a few months later, the team chose their favourite to trial on the 149 route.
"And that voice was mine."
In January 2006, test services set off on the 149's route between Edmonton, in North London, and London Bridge – and Emma has been a fixture across the city ever since.
"It was exciting and slightly odd; there had been announcements on the Tube, but never any on the buses," says Emma, who was a guest of honour on the first trial run.
She says: "And it caused a bit of a stir.
"I remember someone in Parliament complaining it was just more ambient noise, but the feedback from stakeholders was great.
"Some bus drivers admitted saying hello to me every morning, and there was one who said I'd helped with schoolchildren.
"Apparently, when my voice came on, they mimicked every word I said, making them the best behaved they've ever been," laughs Emma, who describes her sound as 'not too plummy and a slightly more approachable version of the traditional London accent'.
Being the voice of public transport required a great deal of work, and in the days before her home workspace, Emma decamped to Soho's iconic Trident Studios, once used by artists including The Beatles, David Bowie, Sir Elton John and Carly Simon, to record thousands of notices.
She says: "We did 2000 announcements on a Saturday once a fortnight.
"And we did ten sessions in total, so initially had 20,000 recordings, which included every bus stop in London – at one point, I knew all of the numbers.
"And after those 20,000, there were – and are – regular updates as routes are changed and new stops added or removed.
"I do those at home now, and I record everything twice, so I can choose which I think sounds the best.
"I've gotten better at listening to myself over the years, but if I was using the buses regularly, I'd probably be bombarding Transport for London every week to make changes."
With such a flagship partnership, Emma's portfolio began to grow rapidly.
When Alton Towers wanted a voice to welcome visitors on its Skyride, it chose Emma.
When Visa sought to refresh its customer service phone lines, it did the same.
The list – which also includes work with BP, Go North East, Lego Duplo, KLM and Skype – is extensive.
And it includes the aforementioned Amazon Firestick tutorial, which caused a smile at home.
Emma says: "I'd recorded the introduction in my studio and sent it off, and then, a fair while later, my husband was plugging a Firestick into the television. 
"I was cooking in the kitchen, and he shouted for me to come in to understand how it worked.
"I told him, 'it's ok, the script is upstairs'. 
"He shouted again, so I repeated, a little slower, the script was upstairs, and he eventually clicked!"
Emma adds: "Most of the work is one-offs, but there are others that are more long-term.
"I do a lot with Anglia Examinations, speaking in mocked-up conversations for listening tests taken by people learning English to come and live in this country.
"I'm also now doing audio books for Dorling Kindersley, on subjects like space travel and migrations."
She adds: "It's so nice to have a job that's fun and different every day.
"And I'll never not be grateful to my friend."