Build & Sustainability
£26 million Sunderland rail station upgrade hits new landmark
A £26 million rail hub revamp has entered a new chapter.
Contractors are fitting out the new entrance to Sunderland station.
The improvements, which also include what bosses describe as final engineering works, follow the installation of a roof and glass façade.
The entrance will feature a ticket office and reception, public toilets, retail space and cafes, waiting areas and a mezzanine level for rail staff.
Councillor Graeme Miller, leader of Sunderland City Council, said: "This is fantastic news for Sunderland and the entire North East.
"The station redevelopment is a key part of our plans to regenerate the city and improve transport links for residents and visitors.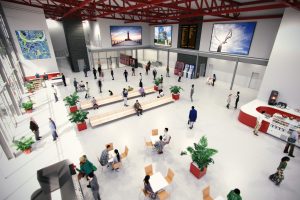 An artist's impression of the new Sunderland rail station entrance
"It also sends a clear message that Sunderland is a city open for business."
Martin Kearney, managing director of Metro operator Nexus, added: "It is great to see this project making such amazing progress.
"We're excited to see the completed development and our new Metro trains taking customers there."
The improvements have been part-funded by the Government's Transforming Cities Fund.
John Williamson, chairman of Vextrix, which provides project and programme management, quantity surveying, contract administration and principal designer services to Northern Trains, said: "The proposed station will pay tribute to Sunderland's proud industrial heritage.
"It will replace a tired and gloomy station concourse with a bright and welcoming gateway to the city of which Northern Trains and their partners are proud to help deliver."