Build & Sustainability
Hydrogen station boost fuels Teesside International Airport net-zero plans
An aviation base will help "pioneer the clean energy sector" with a new hydrogen hub, its boss has said.
Teesside International Airport has been named home to a permanent refuelling station.
The development, led by Element 2, is expected to enter service late next year.
The move follows trials of hydrogen use in cars, trucks, forklifts, vans and tugs, and also comes after airport tenant Willis Lease Finance Corporation unveiled plans to create a green aviation fuel refinery.
And managing director Phil Forster [pictured, above] said it marks a significant chapter in the site's goal to be net-zero by 2030.
Phil said: "We're working hard to make Teesside an airport people can be proud of – and that doesn't just mean flying to the destinations people love.
"It's about acting responsibly, for the good of our local people and businesses, and the future of our planet.
"This hydrogen refuelling station does just that, by proving this new technology is safe and reliable, and can be used across all sorts of applications.
"This makes it clear Teesside is helping to pioneer both the aviation industry and the clean energy sector."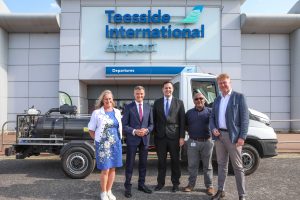 Pictured, from left to right, are ULEMCo managing director Amanda Lyne; transport secretary Mark Harper; Tees Valley mayor Ben Houchen; IVe chief executive Ram Gokal; and Element 2 chief executive Tim Harper
Funding for the scheme came from Innovate UK, and Tim Harper, chief executive at Element 2, said he is "excited" by its potential.
He said: "This is a fantastic opportunity to show how hydrogen can play a major role in the decarbonisation of road transport and airport operations."
As well as airport vehicles, the refilling site will provide fuel for hydrogen vehicles being trialled by local commercial fleets and authorities including IVe, which is working on new vans, and ULEMCo, which is developing hydrogen-powered tow trucks and sweepers.
Tees Valley mayor Ben Houchen said: "Our airport, and indeed our whole region, continues to be at the forefront of the UK's net-zero ambitions.
"This hydrogen station is another step forward in supporting the cleaner, healthier and safer industries of tomorrow."