Build & Sustainability
New development hub 'will put region at heart of food sector's green revolution', says CPI
The North East will operate at "the epicentre of a food industry green revolution" following the opening of a multi-million-pound development hub, a growth support organisation has claimed.
The Centre for Process Innovation (CPI) says its Novel Food Innovation Centre will transform production methods to create sustainable menus of the future.
Bosses say the Wilton-based venture will create and secure up to 50 jobs while drawing fresh investment to the region over coming years.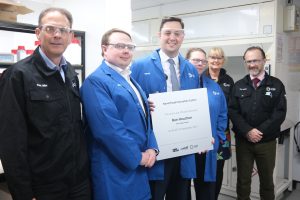 Kris Wadrop, CPI managing director of food, agritech and materials, said: "The UK's food systems need to change.
"The world is faced with a global challenge to drastically cut our greenhouse gas emissions and if we don't act now then the consequences are dire for us all.
"Novel foods have amazing potential to futureproof the UK's food industry."
The endeavour has been backed by £2 million from Tees Valley Combined Authority.
Mayor Ben Houchen added: "This is a fantastic example of how our area is leading the way in developing the highly skilled, innovative industries which will help cut carbon emissions and ensure a greener future for all."