Build & Sustainability
North East Housing Partnership launches to 'tackle social property crisis'
A number of regional housing providers have launched a venture to "tackle the crisis" of a social property backlog.
The North East Housing Partnership says it will "build more genuinely affordable homes" to ease a 40,000-plus waiting list.
Officials say the endeavour will "take on some of the deep-seated problems that have long held us back", by focusing on areas including regeneration, sustainability, employability, health and homelessness.
Harnessing the collective experience of the 17-organisation strong body – which between its members owns and manages more than 214,000 homes – bosses say it will also support the North East Mayoral Combined Authority to deliver significant change.
The alliance includes Karbon Homes, Bernicia, Believe Housing, Castles & Coasts, Gentoo, Thirteen, North Star, Home Group, Livin and Durham Aged Mineworkers' Homes Association.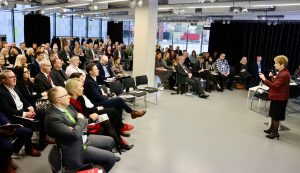 Dame Norma Redfearn addresses audience members at the launch of the North East Housing Partnership prospectus

 
Further partners include Tyne Housing, Johnnie Johnson Housing, South Tyneside Homes, Gateshead Council, North Tyneside Council, Northumberland County Council and Newcastle City Council.
Paul Fiddaman, North East Housing Partnership chair [pictured, top, left], said: "A house is more than just a roof over your head; it's something you can build a life around.
"With new powers and funding, managed and delivered close to local needs, we have the opportunity to take on some of the deep-seated problems that have long held us back.
"However, to make a real success of devolution, anchor institutions across the region need to get behind it, lend their enthusiasm and expertise, and align their own work and investment with that of the new combined authority.
"That's what the North East Housing Partnership is all about."
John Johnston, North East Housing Partnership vice chair [pictured, top, centre], added: "When we invest together, work together and plan together, we can achieve economies of scale, shape supply chains, regenerate communities, decarbonise our region, create and prepare people for jobs and support longer, healthier lives."